Have you ever wondered how students turn just a handful of college majors into the millions of cool careers out there? We did. So we asked them to share their stories, how they got from Point A in college to Point B out there in the "real world."
Today we have a recent graduate and young professional who weathered a storm, thought outside her major, and found a job that fits. After a bit of a bumpy road, she took her interests in audio/visual engineering, music, and the arts and turned them into a great job as a project manager covering intellectual property for an education publisher. So if these subjects pique your interest—or if you need reminding that where there's a will, there's a way—keep reading.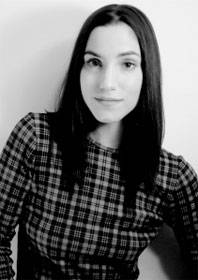 As kids, my sister and I would make our own comic books, movie posters, and trailers through storyboards on Magic Slate drawing toys. We would also play "radio station" with the help of another friend, a Yamaha keyboard, and a Fisher-Price tape cassette recorder and microphone. (Our station mostly played the demo button and the Batman Returns film score. It was cutting edge.)
Strangely enough, these playtime "jobs" kind of roll right into what I do now.
I'm a project manager for the intellectual property department of an educational media publisher. (Say that three times fast.) I manage print, digital, and multimedia products—stuff you might've even used in your college classroom. It's my responsibility to track down anything in those products covered by the "imagination law" and work with a team to acquire rights to use it. This includes fine art, photography, audio, video, music, lyrics, literature, cartoons, magazine pieces, you name it. If it's creative, it goes through us. These types of work are considered intellectual property, and artists, musicians, writers, and their ilk have to be made aware that their creations are being used and agree to our using them.
So, you're probably thinking, beep beep, back up! Are you a lawyer?
No, I'm not a lawyer, though that's a common question I get these days. And since most of the media I have produced or worked on is online, interactive content, I often get clumped in with the field of television production. I don't work in television. I may work with some television sources, but that's different. At any rate, It's an awesome job, and I'm really happy—but it wasn't always this way.
So, how'd I get here? It all started at college. Cue flashback . . .
Freshman follies
I started at Emerson College in 2005 as a broadcast journalism major. But I'd been writing for my high school and town newspapers before I arrived at college, like many of my peers.
My freshman year newsgathering class threw us into the action right away. Thankfully, it helped me to realize that journalism, though an incredible field, was not the field for me. Part of this realization came about when I found that I didn't have what it takes to confront someone who'd witnessed an accident or known a victim. We had two tragedies occur on campus around that time, and we were expected to cover them as student journalists. One of my interviews, where I spoke with a professor at Emerson who had lost a student mentee, was the most difficult interview I have ever done.
I pondered changing my major, but it didn't hit me hard until I found myself sitting at a drum set in the Berklee College practice rooms (these two Boston schools are part of a consortium). I knew I wanted to stay connected to the arts more than anything. I also wanted to learn something new. And, to be brutally honest, I felt that the allure of the camera was far too big a factor in pursuing broadcast journalism. I didn't want to be an anchor anymore. (Disclaimer: I don't think all broadcast journalism is about being on camera. I know many dedicated reporters!)
Changing majors
At the time, Emerson added a slew of new majors, one being post-production. Audio and video editing had always been an interest of mine, but it was one I tossed aside after a bad experience in a high school course. But, considering Star Wars and Jurassic Park were two of the biggest films to impact my imagination as a child, in large part due to their sound and visual effects, I decided to go for it. Honestly, sometimes I wish I had focused solely on sound design, but I hadn't looked into it enough. My advice? Always look into it!
Starting out with video, I nudged my way into audio and music. I worked on campus in the performing arts department and found that musical theater majors were taking music courses at Berklee to count toward their major and minor degrees. I already had a music minor but wanted more of a challenge. I made my case and was allowed to take the courses at Berklee too. I also designed my senior project with a professor in the sound design department, focusing on film score and semiotics. I did all of my internships in recording studios. As a student, you definitely need to take matters into your own hands. Shape the experience you want.
These classes at Berklee and my Emerson internships did two very dramatic things for my career path. One, they took my opportunities for music journalism in a whole new direction. Two, they introduced me to music licensing.
Adventures in freelance music journalism
I received a notice in my Berklee e-mail that the local Fox News channel was launching a site dedicated to music. They wanted student writers and photographers. So I got in touch right away. They didn't care that I was primarily an Emerson student; they wanted someone who could write and had an interest in the music industry. Sign me up! Since I'd kept writing for various sites and the school paper after changing my major, I had clippings to show them. I started out reviewing albums, receiving press kits, and then pitched the idea to interview a band I was going to see. I started covering concerts and coordinating with the various band's tour managers and press for photo passes. I wouldn't be able to do the freelance work I do these days without these experiences. I've written more about this here, but it essentially taught me the ropes of this aspect of the music industry.
While my studio internships were focused on recording and post-production, I helped with business work during my downtime. Someone at Emerson mentioned that music licensing jobs can be a great option for Name That Tune–loving nerds like myself. Being able to identify, place, and know the background of a song was part of the work, so I jumped on the opportunity like a Luigi on a Koopa and started working with the music library licensing and publishing (ASCAP and BMI) at my internship too.
First big-kid job
My first full-time job out of college was as a production assistant at a company that produces e-books. I was responsible for recording the voice-overs, editing audio files, syncing audio, and scheduling recording sessions. Never in a million years would I have thought of this as a possible career based on my college degree. From there I worked as an associate producer in the same office, producing a weekly children's series into a digital format. I recorded the audio, edited video, and pieced each issue together. Despite the fact that I enjoyed the product, my coworkers, and the company, I decided to pursue music a bit more and eventually left to join the audio department at a music company.
While this work focused on the making of music apps, our A&R manager noticed my interest in music licensing, and so I was assigned that task as well. I have to say that my knowledge of music history helped greatly in this job, as I sometimes did research for musical arrangements and public domain music. I loved it. This was audio, Name That Tune, and music research all rolled into one. My office had a hi-hat next to my desk, and my desk had a MIDI keyboard. It was too good to be true!
And it definitely was. I was laid off after about seven months. Thankfully, I had left on good terms with my first employer, and they hired me as a freelancer for production tasks and audio engineering.
The dark times
I'm going to be honest. June 2012 to November 2013 was not a very happy time for me. I touch on this a little in a blog post I ended up writing about being laid off, which I unfortunately wrote just a month short of being laid off again. Oh yes, it was rough.
While looking for a full-time job, my freelance production work and freelance writing kept me afloat. So did blogging. Keeping track of a project related to my field, working at my own pace, helped me in so many ways. It kept my spirits up, it kept me inspired, it provided amazing insight from some professionals I really look up to, and it provided content for job applications and interview discussions.
But I kept hearing the same rejections for almost two years: I had too much experience. I didn't have enough experience. Would I like to do another internship? Can they lower my pay by 50%? They had to cut this job to part time, so no more benefits, but I'll likely work overtime. They've combined this role with two other roles, so I'll need to have more skills. They decided to go in another direction. I seemed too nice . . . okay, seriously? Too nice? That's just lame.
I also couldn't help but notice that all of these rejections were coming from male-dominated workplaces, where a male was eventually hired. If a guy had been "too nice," I think he would have just been viewed as "nice." But I felt endlessly branded as weak for my niceness and pushy for being assertive. I was applying for jobs in Boston and New York, and the longer this went on for, the more I felt like I was losing traction.
Again, I'm being honest here . . . I cried, I got angry, it felt really crappy. I sometimes felt embarrassed, like my life was a joke. What did I do wrong?
The turning point
It was around September 2013 when I applied to a job at an educational media and publishing company I'd found through the "licensing" and "media" keywords in my job search. Not only was it related to my work with e-books and multimedia, since this company had been a client at my first job, but it also incorporated music and media licensing from my other job.
Then a week later I was told the job no longer existed. Oye. But! November rolled around, and a recruiter reached out to me to let me know that the role had been revised, and my résumé had been kept on file and stood out. Was I interested?
Um . . . yes, please!
It was like a Care Bear's tummy shone a rainbow in the cloudy sky that had become my career. I'm very happy to say that I recently celebrated my one-year anniversary in this role.
As for the freelance work, well, you're looking at some of it right here! I'm beyond thankful for the production, audio, and writing connections who have supported me and provided me creative outlets and stability while I was job searching. Every single site I have written for, despite deciding not to major in journalism in 2005, has branched off to another writing opportunity. And, you know what? It led me to a unique beat I not only like to cover but live: careers in the arts.