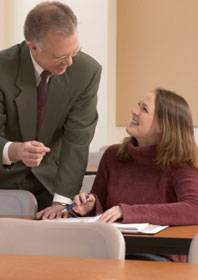 Some college seniors are required to do a senior thesis project. It's a daunting, in-depth assignment that culminates the entire undergraduate experience. Putting together a thesis consumes the lives of many students before graduating. But at one school, you're not just trying to impress a professor—you're handing it in to the college's top man.
At Bard College at Simon's Rock, The Early College, Provost Dr. Peter Laipson is continuing a tradition that started over 20 years ago: he reads every single thesis for B.A. students. In 2011, his first year as provost, he had 61 theses to read—and at about 80 pages a pop, that's 4,880 pages total!
Don't worry, he changed the tradition a little bit so we wouldn't have to read 4,000+ pages. Now, Laipson meets with each student during the spring semester, allowing him to chat and take notes about their projects.
"I still read each one—at least a chapter or two—to make sure my understanding from our discussion was coincident with what they'd written," he says.
The tradition began when Bernard Rogers, Jr. was the provost about 20 years ago, a time when Laipson estimates there only being about 15 to 20 B.A. students.
"I think he read each thesis in its entirety, would internalize the content and then at ceremony preceding the traditional commencement dinner would stand up and make seemingly impromptu comments about each senior's thesis," he says.
He is always impressed with the sophistication of the theses he reads. Some examples include one student who came up with a new technique for staining steroids.
"I was expecting good, long papers," he says, "But in many cases I found not just talent, but a depth of work I hadn't anticipated. The best students are really writing a master's thesis. That was a little humbling."