I've had an interest in photography my entire life, and that interest sparked into a full-blown love affair after I took photography and photojournalism classes in college. My big fancy Nikon was a major investment after I graduated—nonetheless, it was a smart investment considering I spend some weekends aimlessly wandering the city for photo opportunities. But it doesn't take a pro to enjoy capturing your surroundings through pictures.
Higher-level photography is more accessible than ever before: You can see a photo you just took in an instant. Digital point-and-shoot cameras enable you to apply formerly complicated settings simply by navigating a menu of options. Even smartphone apps like Instagram take your image from bland to beautiful just by applying a filter. Nowadays, everyone is a photographer of sorts. With that in mind, I propose a challenge similar to my college campus media challenge. This time, I want you to be adventurous and go around campus taking some photos. You'll thank yourself for having these special memories when you graduate! Here are some ideas for you to get started:
Sporting event
There's an abundance of sporting events on campus, whether it's a Division I televised game, or even a couple friends playing soccer on the quad. Try to take yourself out of your comfort zone and explore a new sport. When I was at school, we were given this assignment for a photojournalism class—rather than doing the typical football or basketball game, I took photos at a rugby match and swimming practice simply because it would be something new and different.
College town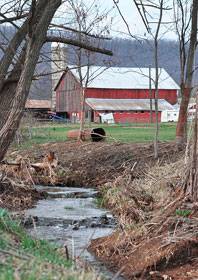 Take a step off campus and see what the college surroundings have to offer. Is it the typical quaint college town? Or are you in the middle of a bustling city? Whatever your environment, go exploring and capture the things that make the area unique—you never know what you'll find. I was lucky enough to have a car my senior year, and after a joy ride with my camera, I stumbled across some beautiful central Pennsylvania scenes (like the image here).
Pride
This may be something as blatant as a famous statue on campus or the fanfare of a pep rally. But sometimes, you can find campus pride in the most hidden places: students in class, a restaurant downtown, or a store off campus. Wherever you go, look for the little things that show just how much people love your institution (I did exactly that and found a lingerie store that had a special high-end line of women's panties—yes, panties—with my college's logo).
Friends
Yes, you'll be taking photos of your friends every weekend. But do something different: photograph them in a special place on campus, in between classes, or when you're just lounging in the dorm room. Or, you could even branch out and take pictures of total strangers (conversation starter, anyone?). Try starting your own tradition—a college friend of mine, for example, took a yearly picture at the Nittany Lion Shrine with her closest friends.
Academia
A pile of textbooks in the library, the huge pillars outside a campus building, or a student studying on the lawn can all be a beautiful depiction of college's primary purpose. Try to make the ordinary extraordinary by using unique angles and different perspectives. One of the best lessons I learned is to never take a picture when you're standing at your normal height—climb a fence or crawl down on the ground to get the perspective you don't quite see every day.
Have any other ideas for photo challenges? Have you ever embarked on your own personal photo shoot on a college campus? Tell us about it in the comments below!