Chestnuts roasting on an open fire
(Open flames aren't allowed in the dorms)
Jack frost nipping at your nose
(More like frostbite chomping on their limbs. Hey, those walks across campus are long and cold.)
Hmmm, let's try this again.
Sleigh bells ring, are you listening
(Ugh, it's another fire drill)
In the lane, snow is glistening
(Yes, snow! Oh no, wait, your student slipped on the ice and got a bruise)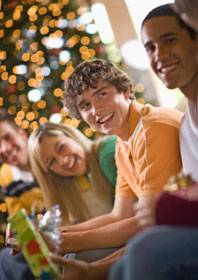 Okay, the traditional, cuddle-up-by-the-tree Christmas your child experienced growing up is hard to re-enact when they're miles away on a college campus. It's not all gloom and doom, of course: there are bountiful holiday campus events, and the surrounding communities will immerse themselves into the holiday spirit through decorations, concerts, shopping sales, and the like. But it still isn't quite the same. Nonetheless, being away from home for the Christmas season makes students that much more eager to trek home for the holidays. So how can you live up to their expectations? You know the drill for most of it: make 10 extra batches of their favorite Christmas cookie; whip out that old, decrepit Santa Claus decoration for the front steps; and have the tree lit up and ready for their arrival. But, speaking of Christmas tree . . . what exactly can you put under there to give your college student a memorable Christmas morning, along with gifts that will be used to the fullest? You're already busy enough this holiday season, so since we're brimming with holiday spirit, we put together this guide of Christmas gifts for your college student, no matter where they are in the college journey.
Freshmen
School supplies: They've got four years ahead of them, most likely to consist of broken pencils, excessive paper usage, and backpacks buckling under the weight of those 300-pound text books.
Agenda: If your student doesn't have one already, an agenda is a great way for them to stay on top of their assignments, meetings, and other myriad priorities they'll have as a student.
Hand sanitizer: Hey, those dorms aren't exactly germ free . . .
A camera: These will be some of the greatest years of their lives. Students should capture them!
A wallet: Give your student one compact case to keep their dorm key, college ID, money, etc. Don't make them use that embarrassing, freshman-identifying lanyard . . .
Swiss army knife: All the tools they need in one tiny, handheld gizmo.
School pride: Help them build up their wardrobe with t-shirts, sweatshirts, pajama pants, and anything else with their college name and logo.
Sophomores
Workout equipment: Oh dear, your student gained the freshman 15, huh? Help them burn it off! Sneakers, weights, or a gym membership can keep them trim.
iTunes gift card: At this point, they might be getting a little sick of the song selection from freshman year . . .
Tickets/gift cards to local places: Your student finally has the guts to go out and explore a little bit. Give them a boost with some money to spend.
An e-reader: Whether they've declared their major, or are still exploring, enable them to download e-books relevant to their career interests.
Movies: Sometimes, they need a break from studying. Get them some DVDs of their favorite movies and TV shows or a Netflix subscription.
Slippers: Give those worn-out shower flip-flops (and your student's feet) a break with some comfy slippers.
Computer speakers: Those tiny laptop speakers were acceptable freshman year. Your student is in the big leagues now . . .
Juniors
Bulk store membership: They grow up so fast, don't they? When you grow up, you need more stuff. Might as well get that stuff in bulk.
A portfolio: We're thinking a nice, leather portfolio or folder for starting their internships—and, of course, for that first job they'll have after graduation.
Outdoor gear: Now that their majors are declared and the tests are tougher, students need to take a break and venture into the great outdoors.
Noise-canceling headphones: Students are at that point in their life when they need to tune out the world and focus.
A goat: Your college students are starting to grow up and care about the world—give an animal to a third-world family in need in their name through Heifer International.
A USB drive: Those papers, notes, résumés, and cover letters are starting to pile up. Give them a personalized way to carry these with them everywhere.
Magazines: They know what they want to do for a living, so help nourish their career interests with a magazine or trade publication.
Seniors
Coffee maker: Be honest: you need this to get through your day. They'll be entering the real world soon, so give the gift of caffeine.
Class ring: Yes, it's a little pricey, but it's a great way to carry their alma mater with them everywhere (without getting a full-body tattoo of the college mascot, of course).
Briefcase: Any work-type bag will do, but make sure they're not walking into an interview with a tie-dye backpack.
Recipes: The complex instructions of Julia Child might not be ideal, but there are easy cook books/websites out there for the beginner.
Business cards: Nothing says "I'm done with college and insanely professional" like some custom business cards for networking.
A houseplant: They can finally start taking care of something, so give them a plant or flower that can grow along with their future.
Diploma frame: It's sweet and symbolic, and will also ensure they graduate on time (right?) . . .
What other things would you give to college students? Conversely, college students: what do you want?! Write your suggestions in the comments below!