Students in the Christian group "InterVarsity" at the University of California, Santa Barbara, took a walk on the "rough" side of town. They spent a Saturday with community leaders, learning about the areas of Santa Barbara that aren't glamorous and touristy—the areas where people struggle daily with homelessness, gang violence, and poverty.
Let them be an example for you. As Christians, we shouldn't remain in the safety net of our own lives, unaware of the adversity others around us may face. The Bible tells us to reach out to those less fortunate than us and be a guide for the rest of the world:
Matthew 5:16 (NIV) - In the same way, let your light shine before others, that they may see your good deeds and glorify your Father in heaven.
Galatians 6:2 (NIV) - Carry each other's burdens, and in this way you will fulfill the law of Christ.
James 2:14-17 (NIV) - 14 What good is it, my brothers and sisters, if someone claims to have faith but has no deeds? Can such faith save them? 15 Suppose a brother or a sister is without clothes and daily food. 16 If one of you says to them, "Go in peace; keep warm and well fed," but does nothing about their physical needs, what good is it? 17 In the same way, faith by itself, if it is not accompanied by action, is dead.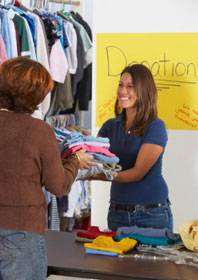 Even if nothing more than a prayer or word of encouragement, we should be able to offer some sort of consolation to people going through hardships. Not all of us are able to give monetary help, but there are so many different ways to be a blessing to others. Volunteering, donating old and unused items, or simply having a conversation with a person in need of someone to talk to are all helpful gestures that require nothing more than a small portion of your time.
And don't have the misconception that only poor, sick, or homeless people need your help. Even the most rich, successful people go through tough times. It's not our place to validate someone's hurt or need, but it is our place to reach out, make an attempt to help, and show others the true love of God.
College can be the perfect setting to show that true love. At school, you'll have an abundance of opportunities like these where you can turn your faith into action, whether it's through a student organization, mission trip, Christian group, or volunteer society. Now more than ever is your chance to work with others and use your steadfast faith to better your world, one person at a time.