When you saw the title of this post, I hope you weren't thinking that this post is all about feminism. That's the one mistake people make in regards to learning about women in college; people have the impression that people who major in women's studies or want to learn more about women are die-hard stereotypical feminists.
Although that may be the case for some academicians, it is definitely not the case for all students who want to focus in women's studies. And even though the field is women-related, there are also many men interested in learning about women. There are over 900 departments, programs, and centers that focus on women and gender studies around the world, so there is no way you can miss out!

Majoring in Women's Studies
Many people decide that they want to focus their academic careers around women's studies, also known as feminist studies in some cases. Classes in this field range from general 100-level classes, which generally show how women play a role in society through economic, political, and social means. In higher-level classes, classes about the place of "femininity" and women in society are more specific. Some of the most popular schools with women studies include University of California–Los Angeles; University of California, Santa Cruz; and Pennsylvania State University. For some more information on the major, CollegeBoard.org has a great website all about majoring in women studies. On CollegeXpress, Editor Jessica Tomer writes about how you can incorporate women's studies into an interdisciplinary major. Click here to read more.
If you're someone who is interested in making this a major, a concern with some people is that they may not know what to do with their major as a career—but have no fear! There are a ton of opportunities for people with feminist studies majors. Because women's studies is a very liberal arts–based major, you will have a huge background in different academic fields as well as women's studies. One option is law school, and from here a student could focus on social and humanities work. Another option is working for organizations or branches that focus on women empowerment. A great example of this is the Feminist Majority Foundation, which is an organization that helps promote women's equality, health, safety, and place in society. Adding to that is the National Women's Studies Association, an organization that helps women transform in the educational and social world.
Getting involved in the world of women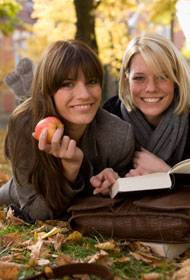 Even if you decide not to major in women's studies, it is still a great idea to get involved in the area—especially for women! It's important to learn about women who made history, and how women play a crucial part in society.
Colleges around the country have different clubs or groups that focus on women and women's empowerment. A variety of schools, have Women Resource Centers, which provide countless information about women in society as well as provide a safe space for women to talk about issues in the community regarding women.
Another simple way to find sisterhood on campus is by joining a sorority. Many women are hesitant to join a sorority or want to go to a school where being apart of Greek life isn't very important to student life. There are of course colleges where the majority of students are a part of Greek life, and there are without a doubt schools without sororities. InsideCollege.com has great lists for both if you're curious!
Whatever your choice is, joining a sorority brings hundreds of girls together in sisterhood to share rituals, traditions, experiences, and stories. Although it's not your typical feminism experience, it is definitely a great way to connect and network with a lot of women that you may not have had the chance to meet otherwise.
My personal note to all female students is to try to get involved with women's studies or organizations in one way or another. After all, we are women, and we have helped shape the world to what it is today, and continue to do so every day! Take a class, join an all-women's club or sports team, or maybe try living on an all-girls floor in a dormitory one year. You never know what you'll learn about yourself!
Fun fact:
In the movie Mean Girls, Lindsay Lohan's character's name was spelt like Cady (instead of, but pronounced as, Katie) because of Elizabeth Cady Stanton, who played a huge role in the Women's Rights movement in the 19th century, and the empowerment of women!