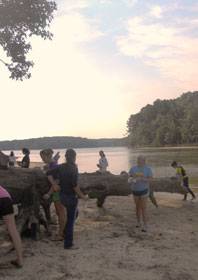 Do you have a passion for art? Do you have an interest in nature? Well, Meredith College, located in Raleigh, North Carolina, had the right idea when they combined both art and nature together!
Beginning this fall, Meredith College will be offering a new course called "Get Outside." Taught by Professor Warner Hyde, this class allows students to get in touch with nature by using materials from the woods outside their campus to create natural art. Students will observe how nature has been perceived throughout history and across many cultures.
Originally offered as an honors course—Environmental Art, Ethics, and Spirituality—"Get Outside" challenges students to step outside of their creative comfort zones, says Hyde. The best part about this class? Students are not required to have any type of art background to be accepted. This is, of course, great for students who have an interest, but may not have taken many art courses before. Hyde believes this decreases the intimidation factor a little bit, and students can use their fullest potential to be creative.
Throughout the semester, students are required to work on a series of art projects. The class begins with students creating a work of art from only organic materials found in nature, and eventually progresses into a project using clay to replicate something or absorb elements from nature, such as twigs or a pinecone.
However, if you get attached to your work easily, this class may not be for you. At the end of it all, students are forced to leave their artwork behind in the woods! According to Hyde, doing this helps create an egoless approach to art for his students. On the bright side, students are allowed to preserve their work in a video or photo before leaving it to the animals.
Underneath it all, the mission of this course is for students to connect spiritually with nature and deepen their personal relationship with the natural world, while experiencing self-exploration and discovery at the same time.
Photo of Meredith students outside collecting materials. Provided by Dick Jones Communications.