Interested in learning how to become a Rockette after reading the last post? Well, you're in luck! I am here to tell you what it takes and just what the choreographers are looking for in the hundreds of girls that audition every year for this honored position.
From San Francisco to Boston, women travel from all over the United States to pursue the opportunity to become a Rockette. But every year, only a handful of dreams come true. Believe it or not, it takes a lot more than some high kicks and smiles to make it onto that stage . . .
Just the beginning: auditions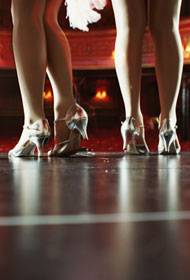 Auditions for the upcoming 2012 Radio City Christmas Spectacular will be held in spring 2012, and are usually held in New York City. It is an open-call process—meaning anyone can show up and audition—and it takes two full days. The women are taught a very basic combination at first, but are expected to learn it very quickly and pick up every little detail. After very little time to perfect it, the women are divided into groups of three to perform the combination. Once everyone has shown their abilities, cuts are made, and the remaining women learn a more difficult combination, usually a tap routine. After everyone has performed, more cuts are made, and the few lucky women left standing return the next day for more choreography.
What are they looking for?
For starters, all performers must be at least 18 years old, between 5'6" and 5'10 1/2" tall, and highly skilled in jazz and tap dancing. In the first round of choreography, the director is simply looking for basic technique—and as more cuts are made—tap abilities and kicks become an important factor as well. The director's eye immediately gravitates to the women that can learn material quickly and have shining personalities while performing. For any performer, passion is contagious, and you want the audience to feel what you feel while you are on stage. It is not any different as a Rockette—if anything you must have the ability to perform and show that you love what you do. Confidence is also a key quality to have as a performer. As long as you relax, smile, and remember why you are there, the choreographers may be giving you a second glance.
You are a Rockette, now what?
Being a Rockette may seem like it's all about sparkly costumes and fun performances, but there is a lot of hard work that comes with the name. There is a reason why the Rockettes are as good as they are and dance in such unison—practice, practice, practice. The Rockettes rehearse six days a week from 10 a.m.–5 p.m., usually between September through November, in preparation for the well-known Radio City Christmas Spectacular. Rehearsals are known to be physically demanding and require athletic abilities. Most days, the dancers will need to bring their strength and stamina to rehearsal in order to keep up with all the jumping, turning, and squatting in their routines. The women find that they are exhausted at the end of each rehearsal, just to do it all again the next day. In a dancer's world, becoming a Rockette is a huge accomplishment, so putting on a costume and being a part of that signature kick line is well worth all the hard work in the end.
Want to see photos, videos, and learn how you can take classes with the Rockettes? Visit www.rockettes.com!