Aided by government funding and other free support, public colleges used to be the clear choice for students hoping to graduate with minimal debt.
Now, not so much.
According to a recent report from the Government Accountability Office, students at public colleges have started shouldering the lion's share of the cost of higher education.
Tuition rose from 17% to 25% between 2003–2012 as colleges attempted to offset decreased state funding, which dipped from 32% to 23% during the same period.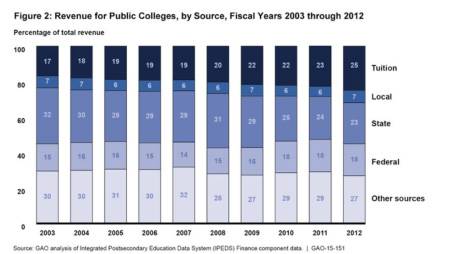 This is the first time the price of tuition has exceeded state funding; traditionally, states have been among the largest sources of financial support for public colleges. In the 1970s, for example, state governments provided nearly three-quarters of public college funding.
But levels have been gradually dwindling for years, and the Great Recession forced even larger cuts.
The downward trend shows no signs of stopping. The GAO believes the resulting tuition increases are making this once-affordable option unaffordable. More than 11 million students attend public colleges, accounting for more than two-thirds of total post-secondary degree enrollment in the United States.
"These increases have contributed to the decline in college affordability as students and their families are bearing the cost of college as a larger portion of their total family budgets," the GAO wrote.
To make matters worse, as state funding has decreased, enrollment from 2002–2012 soared by 20%. The result: median state funding per student declined 24% from $6,211 in 2003 to $4,695 in 2012.
The story isn't entirely bleak. Fortunately, sources of revenue beyond tuition and state funding—including money from federal and local governments—have remained relatively steady.
The GAO is hoping the federal government might be able to work with states to increase affordability. Although the GAO didn't offer any of its own specific solutions, it highlighted some ideas circulating among experts, including linking federal aid amounts with how much states invest and incentivizing students to graduate on time.
The GAO says, however, that neither are perfect fixes, and more must be done. According to a separate study mentioned briefly in the GAO report, 46% of students at 15 large public colleges said they had skipped meals in response to increased college costs.
The GAO report, published last month, was requested by Sen. Tom Harkin (D-Iowa), outgoing chair of the Senate Education committee. The GAO is an independent agency that provides audit, evaluation, and investigative services to Congress.
Read the full report here.