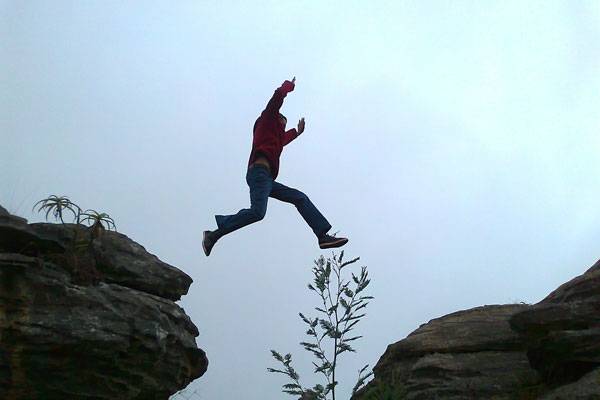 We've all heard the famous Benjamin Franklin quote, "By failing to prepare, you are preparing to fail," and it certainly applies in the race for college admission today. Beyond school, as the necessity to find the right career looms ever closer, many college-bound teens feel understandably nervous about the road ahead. Despite the fact that all the planning in the world won't stop life from revealing itself on its own terms, as a college admission counselor, I do recommend that parents and teens begin with the end in mind, and that requires what I call "bridging the gap between college and career."
We can't always fix a particular destination, but knowing where we're aiming provides good, orderly direction that increases the odds of a positive outcome. After all, the goal isn't simply getting into a good school, or even successfully graduating from one. Over time, the plan needs to evolve from whether and where to go to college and eventually guide each student toward a professional life rich with a sense of purpose and joy. The choice of majors and minors becomes a much easier dialogue when data drives the discourse.
Targeting careers at specific companies can offer students a strategic advantage. Internationally, in countries where local businesses and corporations sponsor higher education, this is the norm. Streamlining the transition from college to career makes sense economically, and corporations know that having first dibs on highly qualified applicants whom they've helped sponsor is good business.
Here in the United States, each year Fortune Magazine produces a list of the best 100 employers based on employee satisfaction. Employees answer questions about management's credibility, overall job satisfaction, and camaraderie, as well as pay and benefit programs and a series of open-ended questions about hiring practices, methods of internal communication, training, recognition programs, and diversity efforts.
Take a peek at this nifty infographic, which details employee satisfaction within a cross-section of American work sectors: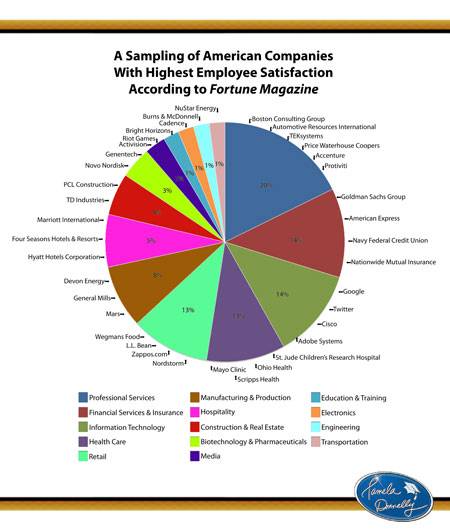 The magazine's list includes an extensive profile for each chosen company, including general information, company perks, diversity demographics, average paid time-off, most common yearly compensation, and hiring/staffing statistics. This selection process is based solely on employee perspective—important, of course, because what better place to work than a company with great employee satisfaction and benefits?
This is where the Ben Franklin's "preparing" enthusiasm comes in. Each of these companies is unique and falls into one of several distinct industries. These classifications are offered here to assist in considering different college majors. Some students may want to choose a focus that they are not only passionate about but that these top companies highly value. A simple cross-referencing of college majors offered at your target schools with this list could provide excellent guidance.
Looking at this table, most of the 100 Best Companies provide what they call "professional services," which are divided into industries. After dividing the consulting companies, we see finance consulting, healthcare consulting, legal consulting, and more. Not all are listed on this infographic, of course, so consult Fortune if you want the full data. What you'll see is that many top places to work are in the financial and insurance industries. Following these are information technology, healthcare, and retail. Correspondingly, five college majors to explore those opportunities for working at a top company include finance, business, accounting, computer science, marketing, and any pre-health major (e.g., nursing, pharmacy, physician assistant, etc.).
An important caveat here: although the 100 Best Companies to Work For list is a useful tool for finding great places to work, it is not all-encompassing. Companies must apply for the list before any surveys are administered to their employees and therefore, any companies that choose not to apply are automatically out of the running. If you're wondering what happened to Apple, Amazon, Facebook, Starbucks, Coca-Cola, Walt Disney, or any other admirable corporations, it's likely this is the explanation. Similarly, some industries such as engineering appear to have particularly low representation; perhaps these employees are too busy putting heat shield protectors on the next spaceship to answer Fortune's 57-question survey. Either way, these companies and industries are also choice targets, so don't pass them up.
If you're already passionate about a major that leads to working for one of these employers, you may have a winning combination. Fantastic! If you're headed in another direction or you're unsure, adding one of these study focuses as a minor could be an excellent plan. It's all about positioning, because if you think getting into college is competitive, just wait until your résumé is among hundreds applying for the same coveted position at a great company.
"Diligence is the mother of good luck" is another great Ben Franklin quote. I would add that diligent parents can help increase the "luck" of college-bound teens, so with that in mind I've created an informative webinar to provide lots of data-driven strategies to help each student target the right major, minor, and career. It's a great place for parents and their teens to come together to open a dialogue about the road ahead. "Bridging the Gap Between College and Career" will take place on April 27, 2015,from 6 p.m.-7 p.m. PDT. Join me as I welcome special guest William C. Guy, CEO of Cornerstone International Recruiting, one of the largest headhunting firms in the world. Click here to register.