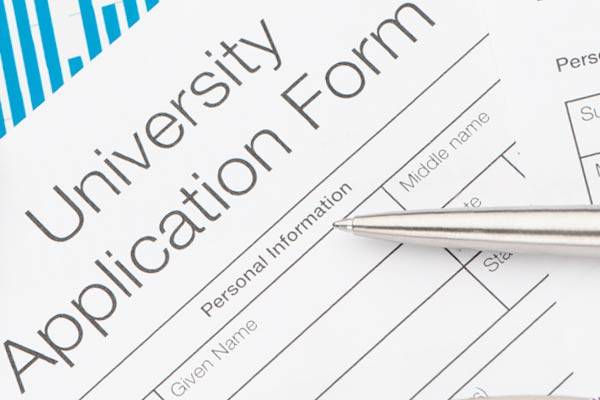 Image via YouScience.com
We've almost come to the end of my college admission timeline series. Now it's time for the real heart of the matter: the actual applications. More often than not, this is the easiest part of the process. It's usually just a matter of filling out your name, date of birth, parents' information, and other basics, much of which you have probably been putting on standardized tests for years. However, these applications can be time consuming. Set aside a day, or several hours at the least, to sit down and fill out all of your applications and any other paperwork you need. In addition to the aforementioned identifying information, which in itself may take a while, you will also need to have your high school transcript and ACT and/or SAT test scores sent to your colleges of choice. The test scores can usually be sent online, but you will probably need to see your high school counselor about sending a transcript. Occasionally, colleges will accept test scores printed on your transcript if your school includes them; if they do, be sure to take advantage of this as it might save you money sending scores via the College Board or ACT.
But you might not be the only one filling out your applications: there is often what is called a "counselor's evaluation" wherein your high school counselor or another administrator from your school fills out a small section of the application about you, usually indicating if you have ever been suspended, failed any classes, or information like that. This counselor's section may also include a list of accomplishments, so be sure to send your counselor an updated version of your résumé.
Another thing you may be asked to include with your application is a letter (or letters) of recommendation from a teacher or another community member who knows you well. This usually excludes parents and relatives. If you need a letter of recommendation, make sure you ask someone who knows you well and who can share things about you that you want your colleges to know. For example, don't ask a teacher whose class you failed. In addition, the prompt for the letter-writer will probably include something about your personal accomplishments, not just your personality, so be sure to give a copy of your résumé to this person as well. Also, and probably most importantly, make sure you ask for any letters far enough in advance. You don't want your application to be late because your recommendation writer didn't have enough time. Give them several weeks, if not months, to write the letter. Also, if you are comfortable doing so, you might want to ask the writer if they could give you an extra copy or write a more general version so you can use it if you need a letter for any scholarship applications down the road.
For more help in filling out your college applications, check out this advice: