College application essays are hard for many people. It's difficult to get started, and college essays are easy to overlook in the midst of GPA requirements, AP classes, and the million extracurricular activities you're putting down on your application. Well, I'm here to say that college essays are important. It's the only way you are able to set yourself apart from the countless other straight-A, perfect-SAT-score valedictorians and sports captains out there. The application essay is your chance to shine and let admission officers know you really are a special snowflake.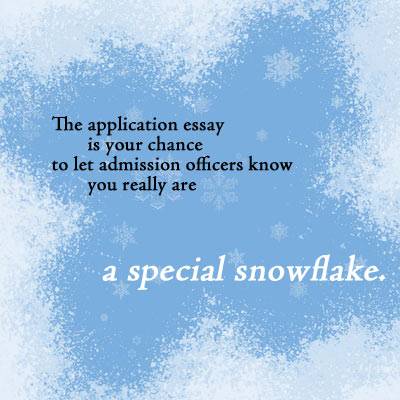 One easy way to do that is to not make stuff up. It seems really tempting to simply pretend that you went on a week-long service trip to Uganda where you helped build elementary schools, but eventually that lie will catch up to you. Not only that, but writing about stuff you did not do, regardless of how well written it is, will always seem a little fake. So instead of making things up, really try and use your own personal experiences.
Well, what if I don't have any meaningful personal experiences? You do. Everyone has some aspect of their life that has made them into the people they are today. Even if your life isn't exciting and full of life-changing experiences, sometimes it's better just to write about a simple experience that changed your perspective on something. Dig deep. One of your life experiences—big or small—shaped you into who are you today and will make a stellar essay topic.
Another tip is to answer the question properly. Nothing is more annoying than sitting down to read an essay that is all over the place and tries too hard to connect dots that don't exist. Try to answer the essay prompt as effectively and true to yourself as you can.
Next: proofread! Have other people proofread! Ask your mom, your friends, your next-door neighbor, and the cashier at the grocery store who always over-bags to proofread! While the content of the essay is the most important part, colleges would also like to see that you passed ninth-grade English. Reading an essay with multiple grammar mistakes is not only indicative of your writing skills, but also makes the admission officers think that you didn't care enough to spend time on the essay to make it perfect.
Lastly, inject your voice into your essay. Let the admission officers know that this is who you are and this is why you should be attending the college of your dreams. Put as much character and personality into your essays as possible, because that is what they will remember in the end. This isn't the same as writing a paper for school, so have fun with it!