Inevitably, you are going to have to write an email at some point in your high school career. Whether it's to request makeup work or to gush to a teacher about how thankful you are for a recommendation, emails are an efficient and convenient way to communicate. Unfortunately, you haven't taken a class on how to write a formal letter since fourth grade, so today you're going to take a master class in professionalism.
Addressing
Regardless of my level of familiarity with the person at hand, I always try to start with "Ms. [Name]:" or "To Whom It May Concern" (the latter is especially useful in addressing an email that could end up in anyone's hands, like an admission department). Just make sure you spell your addressee's name correctly! One time I misspelled the same counselor's last name twice before I caught myself. Taking those extra few seconds to check can really show the recipient that you value them.
Content
Only include what information is necessary! I cannot stress this enough. Instead of "After visiting two doctors and a specialist, I was diagnosed with strep throat and as a result I will be on [medication] for two weeks, and for the first three days of those two weeks I will still be considered contagious and therefore not allowed in school. May I please have the makeup work for those days?" try, "Due to doctor's orders, I will be out of school from [date] through [date]. Is there any makeup work that you can send me?"
Trust me—teachers and counselors spend so much time reading emails, shorter is definitely sweeter. And if you forgot to ask them about a recommendation (or something to that effect), there's no need to write a three-page drama detailing your last week. If you're closer with the person you're emailing, a little explanation might be helpful, but excuses may make them less than eager to help you out.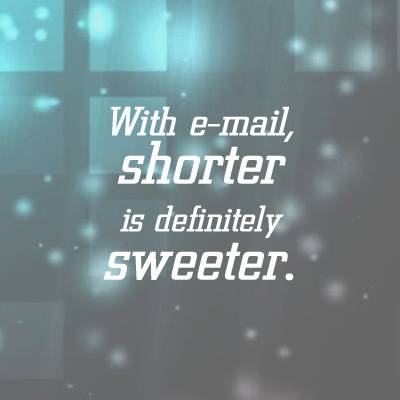 Email early and often
Even if you've already asked someone in person, emailing is often a great way to have that request put on top of that person's to-do list. Like I said, teachers check their emails daily, and admission departments have entire staffs dedicated solely to answering emails, so message as soon as possible to make responding to you a priority.
Closer
Regardless of the content of your email, always say thank you.
Here's a sample for a question about SAT scores:
Ms. [counselor's name]:
I just submitted my last application, and I was wondering: as long as I submit my scores before the day the application is due, will they count as on time, even if the processing time makes them late?
Thanks!
Katie Nagy
It's as simple as that. Happy emailing!