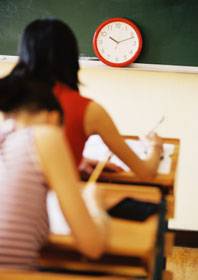 Standardized tests are an important factor in the admission process. Most colleges only require you to submit your SAT Reasoning or ACT test scores, but there are schools that are looking for your knowledge in a specific subject; this is where the SAT Subject Test comes into play.
While this test isn't required for admission to all colleges, it is important to know whether you need to take this particular test before you apply to college. There are about 160 schools that utilize it, and registration is $50 per test ($77 if registering late). But why take it? SAT Subject Tests focus on one particular area of study—there are tests for English, foreign languages, history, mathematics, and science. Taking this test can show how strong your skills are in one area, rather than having an admission committee seeing how you rank overall in the SAT Reasoning which covers multiple areas. If you are applying into a particular program in college, you may want to use this test to show that you are not only interested in that program but are already knowledgeable in it.
Many schools with specialized programs require these tests so they can take the best students with the best scores and ensure that you will flourish in your field of study after graduation. Each subject test only takes one hour, and you can take up to three subjects in one day of testing. So if your college requires multiple tests, you can take them all at once or spread them out over time—but don't bite off more than you can chew!
There are six test dates per year for the SAT Subject Test, so make sure to check your application requirements and deadlines with these dates so that you don't miss anything. If you aren't necessarily a math person and feel that your SAT Reasoning scores may not reflect how well you would do in the English program you are applying to, you could submit SAT Subject scores in English to help prove that your chosen major is something you thrive in. Not all schools require it, but think of the subject test scores as an added supplement to your submitted application—so long as your scores are solid, it's an added bonus to your entire application package!