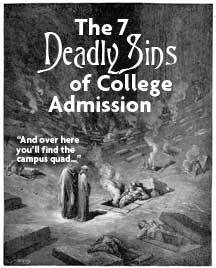 The seven deadly sins were identified centuries ago and serve as cautionary guideposts for human decency. Simply defined, these sins describe behaviors that one should avoid in order to live a virtuous life—but they also represent potential potholes in the road to college. Here's a look at seven vices you need to avoid in the college admission process.
And if you find yourself fearing for your immortal soul—or, you know, your college applications—over these sins, let us know how you're dealing with them in the comments!
Lust
The term "lust" doesn't just apply to the way your heart does backflips whenever R-Patz or J-Law hits the big screen. Lust simply refers to an intense desire for something, such as money, power—or even admission to the "perfect school." Whether your dream school is Harvard or a big-name state school, it's important to remember that there's a lot more to the ideal school than its notoriety or position on certain infamous college ranking lists.
Yes, it's good to maintain a healthy lust for academic success and to work toward being accepted to the school at the top of your list, but don't get hung up on "brand names" and don't worry about where your friends are getting in. Your college experience is all about you, and the so-called "best school" may not end up being the right school for you.
Sony Pictures via uproxx.com
Gluttony
Gluttony refers to over-indulgence, and when it comes to college admission, less is definitely more. It may seem like a good idea to cast a wide net and apply to 30 schools in hopes of giving yourself a dozen or so options, but focusing your efforts on a whittled down list of "likely," "possible," and "reach" schools is a better plan of attack.
Simply put, don't over-indulge in applications. If you know getting into a given school is a shot in the dark, don't waste your time, money, and energy on applying. Instead, put everything you've got into getting into the schools that are best suited to your qualifications and goals. There are hundreds of amazing colleges and universities out there, but you only need to apply to the ones that are right for you.
NBC via mylifethroughkristenwiig.tumblr.com
Greed

The college admission process can be very involved and requires a major investment of your attention. It can be easy to get completely wrapped up in your own little world of tests and essays and applications, but it's important not to get greedy with your time. Try your best not to neglect your obligations to your family, friends, job or volunteer work, or place of worship. Your applications are important, but not more so than your grandmother's 80th birthday or your kid sister's school play. Also, perfecting your time management skills now will serve you well later on in college and in your career.
Sloth
Sloth is laziness. This one's a no-brainer: slacking off will get you nowhere in the college admission process. Take initiative, be aggressively proactive, and avoid procrastinating at all costs. Pay attention to your grades and GPA and give yourself ample time to study for the SAT or ACT. And when you start working on your applications, be sure you never miss a deadline. You might even want to consider applying early. Laziness will get you nowhere, but diligence will take you everywhere you want to go.
NBC via buzzfeed.com
Wrath
Wrath is extreme anger, a feeling that many students encounter at some point during the college admission process. Midterms and finals, standardized tests, busy schedules, and rejection letters can push anyone to their boiling point. But it's all part of a process that will end exactly the way it's supposed to, one way or another, as long as you work your hardest and never give up. When things get stressful, give yourself a timeout and try to see the bigger picture.
NBC via bite.ca
Envy
It's all too easy to look around at your peers, see the schools they're getting into, and beat yourself up. Don't be jealous if your best friend gets into what you think is a better school than the one you're planning on attending. If you've worked hard and applied to colleges that are truly suited to your strengths, interests, and goals, then there's no reason to be envious of the people around you. Everyone's college admission journey is unique: focus on yours and don't waste your time comparing yourself to anyone else.
NBC via buzzfeed.com
Pride
When the fat envelopes start rolling in (and they will!), you should give yourself a pat on the back, but it's also important to remain humble. A lot of people helped you achieve your goals, so a healthy dose of gratitude is in order. Be sure to thank your parents, teachers, counselors, and others who helped you get to where you are. And, as tempting as it may be, you should also avoid bragging to your friends about the school or schools you got into—and remember that your safety school could be someone else's dream school.
Be proud of your hard work and your accomplishments, but keep that pride in check with humility and appreciation for those who've had your back, and don't forget to congratulate your friends on their accomplishments as well.
Paramount Pictures via thoughtcatalog.com
If you find yourself committing one of these sins, take a step back and reevaluate your college admission M.O. A mix of good days and bad days is inevitable, but if you keep a cool head, treat your friends and family with gratitude and respect, and remain focused on the prize, you're bound to have a killer college experience that's as unique as you!