Image via College Raptor
You can curse your luck at a lot of the college search: The cost. The stress. The time. But one thing you can definitely be thankful for in the college admission process is the Common Application, because it's accepted at more than 600 colleges and universities. (You'll find them all listed here on the Common App site.) Instead of writing numerous essays on varying topics and filling out piles of paperwork, one application (for the most part) is all you need. Yet, the Common App can still be a bit of a mystery. That's why we put together a breakdown of its six basic sections and most important parts.
FYI: the new Common App is made available on August 1 every year. To start your application, simply create an account on the Common App website. The entire process is online. This is especially convenient because you can view and edit your application at any time. And for 2016, the number of edits has been expanded to being unlimited, unlike before when the essay could only be changed three times. So whenever you're ready for college, the Common App will be there for you!
"Profile": the basics
Name, birthday—you got this.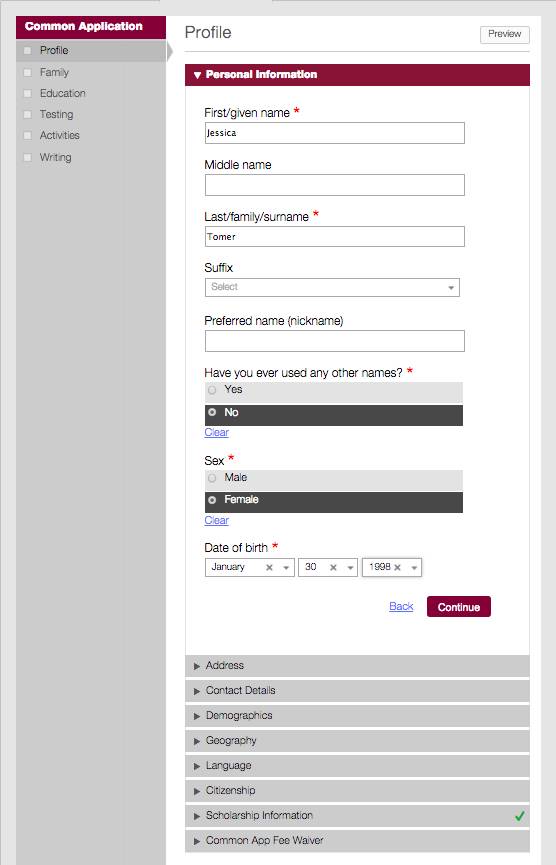 "Family": your parents and siblings, plus their college histories
In addition to filling out the basics about your family, like where you live, the Common App asks for a little extra info about mom, dad, and siblings in this section, including the deets if any of them went to college.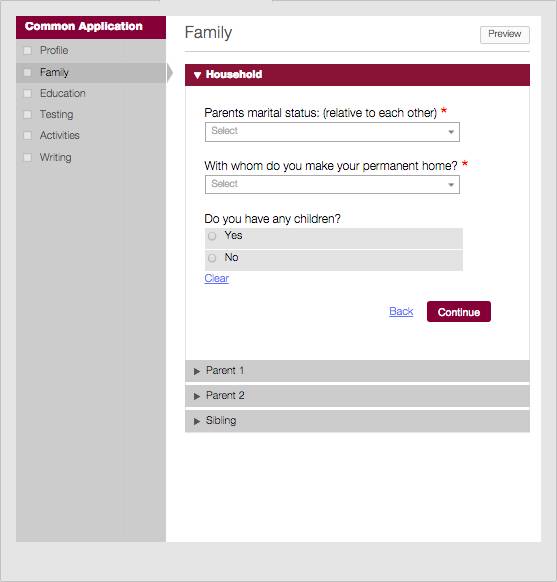 "Education": where you go now and where you want to go next
This is where your high school info comes in, including who your guidance counselor is and how to get in touch with them.
Testing: score you want to report
You probably are already having your standardized test scores (ACT, SAT, AP, etc.) sent to your colleges directly through the test-taking services (like the College Board or ACT). That's why you gave your school info when you applied to take these tests. But you can still include that info here.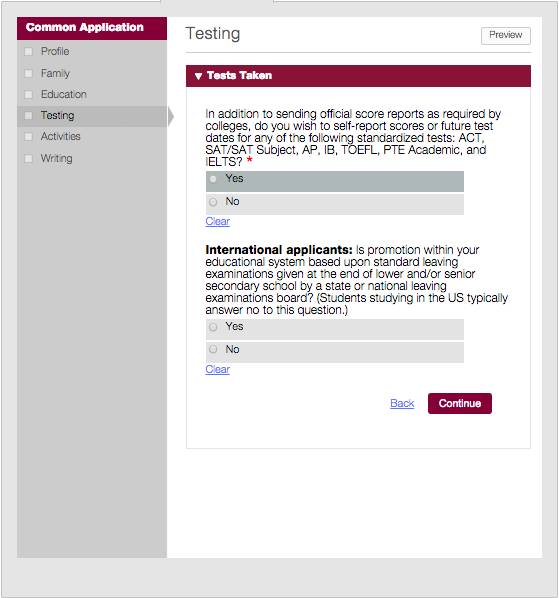 "Activities": extracurriculars and other stuff
The Common App includes a list for high school activities and involvement, which can be a key factor in college admission decision. However, the list is capped at 10 activities, so don't worry about trying to be in every activity under the sun. Remember, it's about quality, not quantity! In addition to the basics like how long you've been participating, just talk about the role you played in the activity, how you contributed to the group, and any special recognition or accomplishments, like being elected treasurer or planning a big event (kinda like a résumé for a job).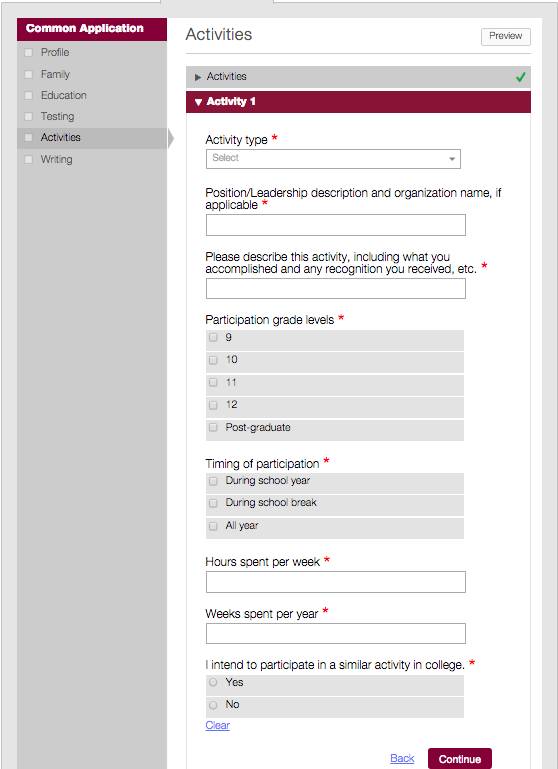 "Writing": the essay (eek!)
Almost certainly the most in-depth component of the Common App, the essay allows admission officers to get to know you for you. The prompts are broad, so you can feel free to explore them as creatively—as long as you keep yourself as the overall topic.
Related: Which Common Application Essay Prompt is Right for You?
Here are examples from the 2015–2016 Common App to give you an idea of what the essay prompts look like (or so you can start writing that first rough rough rough draft):
Some students have a background, identity, interest, or talent that is so meaningful they believe their application would be incomplete without it. If this sounds like you, then please share your story.
The lessons we take from failure can be fundamental to later success. Recount an incident or time when you experienced failure. How did it affect you, and what did you learn from the experience?
Reflect on a time when you challenged a belief or idea. What prompted you to act? Would you make the same decision again?
Describe a problem you've solved or a problem you'd like to solve. It can be an intellectual challenge, a research query, an ethical dilemma-anything that is of personal importance, no matter the scale.
Explain its significance to you and what steps you took or could be taken to identify a solution.
Discuss an accomplishment or event, formal or informal, that marked your transition from childhood to adulthood within your culture, community, or family.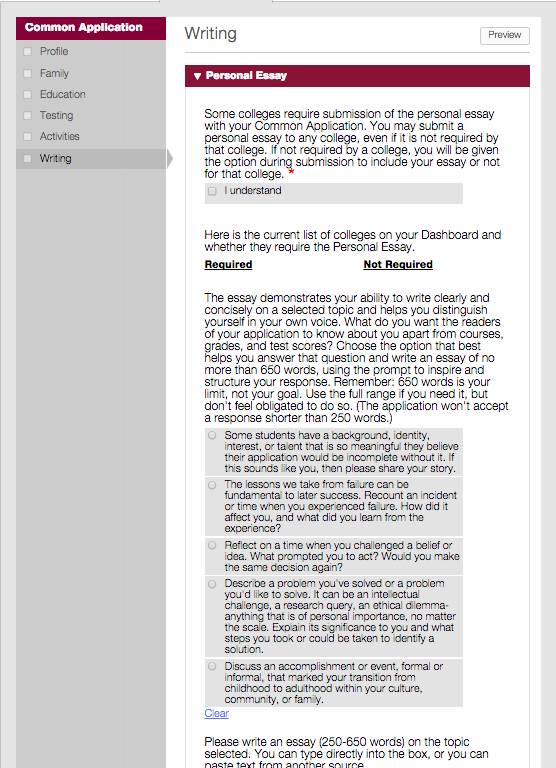 Additional requirements
Of course, no college application would be complete without all the extras. And though they aren't included in the Common App, don't forget, you will still have to get letters of recommendation to submit with the application, make sure your counselor/high school sends in your official transcript, and follow up with the colleges to make sure your standardized test scores arrived.