Thirty-two teams. Thirty-two iconic college mascots. That first round was brutal (but we have a feeling it's only going to get harder from here!). Check out the first-round matchups and results below.
Related: Second Round Results: The Elite 8
Related: Third Round Results: The Final 4
Related: Fourth Round Results: The Championship
Related: Fifth Round Results: The Winner!
The bracket (click to enlarge)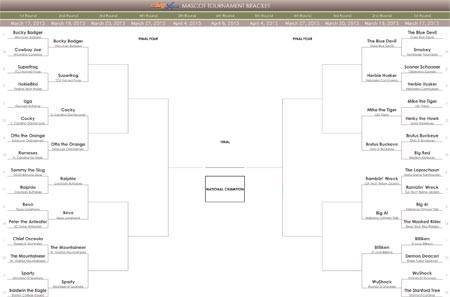 The matchups
Bucky Badger vs. Cowboy Joe
University of Wisconsin vs. University of Wyoming
Cowboy Joe is so stinkin' cute. (Seriously, look at this picture. LOOK AT IT.) But cuteness doesn't cut it against the surly, scrappy—not to mention idolized—Bucky Badger.
Winner: Bucky Badger (University of Wisconsin Badgers)
Superfrog vs. HokieBird
Texas Christian University vs. Virginia Tech
We won't call HokieBird a turkey . . . but he might just be a chicken compared to Superfrog, all spikey and trim and ready for battle. HokieBird is a good ol' bird, but not necessarily the one we want scaring our enemies.
Winner: Superfrog (TCU Horned Frogs)
Uga vs. Cocky
University of Georgia vs. University of South Carolina
Bulldogs are far gentler than people give them credit for, so gentle, in fact, that it's hard to compare with the courtside antics of USC's Cocky. People may love to give Uga a good ear-scratchin', but it's Cocky who brings them to their feet.
Winner: Cocky (University of South Carolina Gamecocks)
Otto the Orange vs. Rameses
Syracuse University vs. University of North Carolina
Okay, so a ram is tougher than an orange. We get that. But have you met Syracuse fans?! They're crazy, and they clearly don't give a crap what you think—they chose an orange for a mascot. Besides, Otto is a surprisingly engaging (and cute) fruit.
Winner: Otto the Orange (Syracuse Orangemen)
Sammy the Slug vs. Ralphie
University of California Santa Cruz vs. University of Colorado
It's hard not to like Sammy; he's super chill and clearly cool with being one of the most unconventional mascots around. But Ralphie's pretty unique too. She's tough, but with a soft side—namely, her hairy exterior. We'd trust her to guide us through the Rockies. Sammy . . . we might accidentally step on. No disrespect.
Winner: Ralphie (University of Colorado Buffaloes)
Bevo vs. Peter the Anteater
University of Texas at Austin vs. University of California Irvine
Peter the Anteater has gotten jacked in recent years, but you just know that Bevo would be flipping him like a coin, hookin' him with those horns. (And if not Bevo himself, his legions of fans.)
Winner: Bevo (University of Texas Longhorns)
Chief Osceola and Renegade vs. The Mountaineer
Florida State University vs. West Virginia University
This is a tough one. Not only are they both fearsome mascots, but they are campus legends. However, as impressive as the Chief is with Renegade and the flaming spear, he is something of a, umm, one-trick pony. The Mountaineer really gets the crowd going, whether or not they're facing the business end of his musket.
Winner: The Mountaineer (West Virginia University Mountaineers)
Sparty vs. Baldwin the Eagle
Michigan State University vs. Boston College
BC's noble Baldwin is a great mascot, and they love him. But not as much as people love Sparty. Besides, as fierce as eagles are, if you put one up against an actual Spartan warrior—one of the greatest fighters that ever existed—that bird would be roasted.
Winner: Sparty (Michigan State University Spartans)
The Blue Devil vs. Smokey
Duke University vs. University of Tennessee
With that enigmatic grin and sassy blue garb, you can tell Duke's Blue Devil knows he's bad. Smokey is a real good dog, and he could protect you from a lot of stuff. But the leader of the underworld? Probably not.
Winner: The Blue Devil (Duke University Blue Devils)
Sooner Schooner vs. Herbie Husker
University of Oklahoma vs. University of Nebraska
A big, strapping farmhand and a big, strapping . . . wagon. That Schooner is a cool school tradition, and Boomer and Sooner are pretty ponies, but Herbie's going to take this one. Advantage: animate objects.
Winner: Herbie Husker (Nebraska Cornhuskers)
Mike the Tiger vs. Herky the Hawk
Louisiana State University vs. University of Iowa
We love Herky. (We even dig his new appearance—there, we said it!) But it's a flippin' Bengal Tiger! How is anyone supposed to compete with that?! And, truth be told, Mike's fans are legion.
Winner: Mike the Tiger (LSU Tigers)
Brutus Buckeye vs. Big Red
Ohio State University vs. Western Kentucky University
Fuzzy and lovable (and, apparently, controversial) as he is, with plenty of fans of his own, Big Red puts up a strong fight against the Ohio institution that is Brutus. And if this was a "who we'd rather snuggle with" contest, Big Red would win, hands down. But it's not. So . . .
Winner: Brutus Buckeye (Ohio State University Buckeyes)
The Leprechaun vs. Ramblin' Wreck
University of Notre Dame vs. Georgia Tech
Maybe it's because the Ramblin' Wreck has united literally generations of fans with its revered, ubiquitous presence. Maybe it's because we really want to ride shotgun. In either case, The Leprechaun just got run over.
Winner: Ramblin' Wreck (Georgia Tech Yellow Jackets)
Big Al vs. The Masked Rider
University of Alabama vs. Texas Tech University
Big Al is as beloved as he is big, and he's made a gargantuan impression on Bama fans. Though the Masked Rider could easily outrun Big Al, when push comes to shove, this elephant crushes the competition.
Winner: Big Al (University of Alabama Crimson Tide)
Billiken vs. Demon Deacon
Saint Louis University vs. Wake Forest University
It's hard to say which one is more likely to haunt your dreams: the Muppet-turned-Satanist Demon Deacon or the goblin-esque Billiken. But at least the Billiken is a good-natured goblin, SLU folks seem to love him, and you gotta give him credit for standing out.
Winner: Billiken (Saint Louis University Billikens)
WuShock vs. The Stanford Tree
Wichita State University vs. Stanford University
Both bold, unconventional, and well-loved mascots. When it comes to creativity, The Tree takes it; yet, as Stanford's band mascot, it doesn't have quite the scope or the following of WuShock. Also, have you seen that shock-topped shaft of wheat? He's the fiercest plant you're likely to encounter (unless you're, like, in the Amazon rainforest).
Winner: WuShock (Wichita State University Shockers)