The oldest and the fiercest. The weirdest and the most loved. The lions, the tigers, and the bears . . .
This is the end-all-be-all bracket of college mascots, as they go head to head for the simple—yet oh so powerful—title of "best."
Keep in mind this is a bracket for mascots only. It is not linked to actual March Madness teams, their mascots, or their tournament performance. For the next three weeks, it'll come down to our own interpretation of each mascot battle. As to whether an anteater can actually trump an elephant—well, it will all come out in the bracket when our in-depth, highly scientific (LOL) analysis puts them to the test.
So how did we come up with our first-round picks? Going through the 600-ish college mascots out there was hard, but we tried to take varied and wide-reaching criteria into account: tradition, popularity, inventiveness, fan devotion, costume/appearance, and general badassery.
We valued both the classics, like Georgia Tech's Ramblin' Wreck, as well as the gutsy choices that college communities love to rally behind, like Stanford's Tree. And we took into consideration existing rankings of the "best college mascots." We also looked at things like the mascot's Web presence (Twitter followers, Facebook "likes," etc.) as well as how many pictures students seemed to be posting with them. Of course, by their nature, mascots at larger schools had a larger online presence and following, but we also gave credit for originality. In any case, if a mascot didn't seem to be inspiring much love from their school's students online, well, that was a red flag. The final 32 mascots were seeded based on these criteria too.
Also, if you're wondering why one dog or bird mascot made it and not another, keep in mind that there is a lot of overlap in college mascots. Hawks and Eagles. Bulldogs and Huskies. Pioneers and Warriors. Even Mules and Beavers seemed to pop up often. However, some have a more storied history than others. They got the nod.
We are also torn regarding the living mascots, as they may be well-loved and potentially better protected in their state-of-the-art habitats, but that's a lot of traveling and screaming fans for living creatures to endure. Thankfully, many teams use costumed versions of their mascots too.
So, who will come out on top? Only one way to find out . . .
Related: First Round Results: The Sweet 16
Related: Second Round Results: The Elite 8
Related: Third Round Results: The Final 4
Related: Fourth Round Results: The Championship
Related: Fifth Round Results: The Winner!
UPDATED: THE FINAL BRACKET (click to enlarge)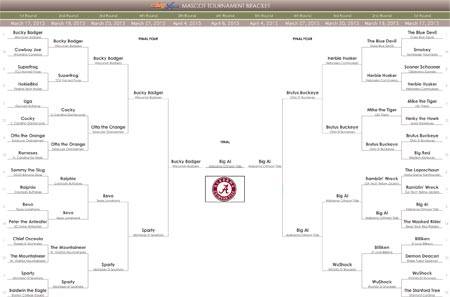 Meet the mascots!
Baldwin the Eagle
School: Boston College
Team Nickname: Eagles
Debut: 1966
Once upon a time, BC had a real live bald eagle as its mascot, but when the birds became an endangered species, the school took the responsible path and opted for a costumed eagle. That's when Baldwin—"Bald" "win." Get it?!—was born.
Bevo
School: University of Texas at Austin
Team Nickname: Longhorns
Debut: 1916
Bevo is a Texas institution. A longhorn steer bred to be docile—but still one of the most fearsome mascots—he attends almost all home games, important pep rallies, and graduation ceremonies, where he's a major photo attraction for students and families. The current Bevo is the school's 14th. Hook 'em!
Big Al
School: University of Alabama
Team Nickname: Crimson Tide
Debut: 1930
This fuzzy gray elephant may not be as fearsome as his real-world counterparts charging at you in the wild, but he still promises to give 'em hell on the field. The team went with the pachyderm mascot after an article said the team running onto the field sounded like a herd of elephants. Big Al was named after a student vote.
Big Red
School: University of Western Kentucky
Team Nickname: Hilltoppers
Debut: 1979
Big Red is just that: big and red. He may have an amorphous appearance, but the fuzzy blob is beloved by fellow Hilltoppers. He's also reached the semifinals in multiple mascot competitions, and he was part of the inaugural class of the Capital One Mascot Challenge Hall of Fame.
Billiken
School: Saint Louis University
Team Nickname: Bilikens
Debut: 1910-ish
So, what the what is a Billiken? It's actually not exclusively a mascot; it's a portly, friendly good luck charm invented in the early 1900s by a Kansas City art teacher. He was pretty trendy back then and represents "things as they ought to be." How Saint Louis U came to adopt the creature as a mascot is shrouded in mystery, but the school embraces him to this day.
The Blue Devil
School: Duke University
Team Nickname: Blue Devils
Debut: 1922
Duke is well-known for its religious roots, so its demonic nickname might come as a surprise. But the Blue Devil mascot was actually inspired by a French military unit known as "les diables bleus" ("The Blue Devils"). The moniker first appeared not long at World War I, when Duke students, alumni, and administrators had been impressed by the unit while fighting on the Western Front.
Brutus Buckeye
School: The Ohio State University
Team Nickname: Buckeyes
Debut: 1965
Good ol' Brutus appears at 500+ campus events every year, including home games. Certainly the most accomplished tree nut we've ever encountered, he's a Mascot Hall of Famer, the recipient of multiple best-of mascot championships, and he's appeared in TV programs and commercials. Oh, and he also has a pet squirrel named Eleanor.
Bucky Badger
School: University of Wisconsin
Team Nickname: Badgers
Debut: 1940
Bucky, a.k.a. Buckingham U. Badger, is as mischievous and rambunctious as he is adored. He's not afraid of stepping to his fellow mascots either. (Mascot "fighting" is no longer allowed on the field. Ahem.) Students go nuts for his antics, which explains why he's a mascot hall of fame inductee.
Chief Osceola and Renegade
School: Florida State University
Team Nickname: Seminoles
Debut: 1978
This living rider on his noble Appaloosa steed is an impressive sight to behold, thundering onto the field during all home football games and hurling a burning spear into the ground. Yowza. Osceola is named for the Seminole tribe leader, and the mascot's portrayal has been approved of the leaders of the Seminole Tribe of Florida.
Cocky
School: University of South Carolina
Team Nickname: Gamecocks
Debut: 1980
Cocky is a costumed, anthropomorphized (the buzzword of all mascot discussions) gamecock, a.k.a. a fighting rooster. He is portrayed by a current University of South Carolina student. So loved is Cocky that local children have been known to dress up like him for Halloween.
Demon Deacon
School: Wake Forest University
Team Nickname: Deamon Deacons
Debut: 1941
The dignified yet demonic Deamon Deacon is a legend among mascots. The unique design of the character is based on the school's most devoted sports fan, a Wake Forest student named "Doc" Murphrey. He wasn't the greatest football player, but the fans requested him by name because he could always get them pumped for the game.
Herbie Husker
School: University of Nebraska
Team Nickname: Cornhuskers
Debut: 1974
Just because Herbie's fresh off the farm doesn't mean he's not worldly. He's been named the National Mascot of the Year in 2005, had a children's book (Hello, Herbie Husker!) written about him, and he's even had a makeover or two. Probably why he's got such a big grin on that oversized head.
Herky the Hawk
School: University of Iowa
Team Nickname: Hawkeyes
Debut: 1948
A rather mischievous mascot, Herky has two versions of himself running around at any given time: one wearing a Hawkeye football helmet used at football games (we know: "duh") and the other used at basketball games without the signature helmet. His name is a riff on Hercules, who we imagine is just as tall and intimidating, though probably with fewer feathers.
HokieBird
School: Virginia Polytechnic Institute and State University
Team Nickname: Hokies
Debut: 1987
Virginia Tech's HokieBird isn't technically a turkey, like the school's past mascots, though he has appeared on Animal Planet's Turkey Secrets. Rather, he's just a beloved bird. A beloved bird with his own children's book deal. HokieBird is known for doing bench presses or other exercises when Virginia Tech scores, so you know the student in there (who remains anonymous, usually until graduation day) is jacked.
The Leprechaun
School: University of Notre Dame
Team Nickname: Fighting Irish
Debut: 1965
Notre Dame's Leprechaun may be a symbol of magical good luck, but he's no rainbow-dwelling munchkin. This mascot brandishes a shillelagh, screams his lungs out, and keeps his fists ready for a fight. Played by a student, the Leprechaun appears at most major campus events, from leading the marching band to MC-ing pep rallies (where we hope they call him DJ Shamrock).
The Masked Rider
School: Texas Tech University
Team Nickname: Red Raiders
Debut: 1936
The Masked Rider has come barreling out onto the field on his trusty black steed, scarlet cape flying, holding on to his black gaucho cap for dear life, for almost every Texas Tech football game since the 1954 Gator Bowl. And no disrespect to Florida State's Renegade, but The Masked Rider was the first college mascot to use a live horse.
Mike the Tiger
School: Louisiana State University
Team Nickname: Tigers
Debut: 1936
He's a living Bengal Tiger, for cryin' out loud. (There's also a costumed version.) Mike's an impressive creature to be sure, as is his nearly $3 million habitat. During home games, he is often wheeled out in a portable cage and parked in front of the opposing team's locker room before he visits the field. The current Mike is LSU's sixth.
The Mountaineer
School: West Virginia University
Team Nickname: Mountaineers
Debut: 1934
Sure, he gets a scholarship, but the student bestowed with the honor of portraying The Mountaineer works his butt off, attending not just home games but around 300 campus events every year! Bonus points for authenticity: coonskin cap, custom-made buckskin, musket, and righteous beard, which is not required, but students have taken to growing for the gig.
Otto the Orange
School: Syracuse University
Team Nickname: Orangemen
Debut: 1980
Visit the Syracuse campus and you'll know: those kids bleed orange. So it's no surprise that they went with the embodiment of their favorite, campus-uniting color, an orange, as their mascot. Sweet little Otto the Orange even beat out more traditional mascots for the role, like a gladiator that was introduced (and failed) at the school in 1978.
Peter the Anteater
School: University of California Irvine
Team Nickname: Anteaters
Debut: 1965
Those familiar with John Hart's "B.C." comic strip may recognize the origins of Peter the Anteater and his distinctive "Zot!" catchphrase, though he's much more muscly now than he was in comic form. A well-traveled anteater, he's been to the White House, the College World Series, and even space, aboard the Space Shuttle Endeavour (a stuffed version). This school that prides itself on its uniqueness also prides itself on Peter.
Ralphie
School: University of Colorado
Team Nickname: Buffaloes
Debut: 1934
Ralphie, a full-grown living buffalo, attends every Colorado home game, inspiring fans and players alike. She (that's right—Ralphie's a lady bison!) is kept in a secret location and has a whole team of varsity athlete handlers. And those handlers definitely get their workout, as they run Ralphie around the field twice in every game.
Ramblin' Wreck
School: Georgia Tech
Team Nickname: Yellow Jackets
Debut: 1961
While other mascots might get their fiberglass heads replaced, there is only one official Ramblin' Wreck, maintained with TLC by the school's Ramblin' Reck Club. The driver is also an elected member of the group. A 1930 Ford Model A Sport coupe, the Wreck presides over practically all Georgia Tech events, where freshmen can look at the Wreck—but not touch (sophomores and older only!). Riding in the Wreck is considered a great honor.
Rameses
School: University of North Carolina
Team Nickname: Tar Heels
Debut: 1924
There's Rameses the costumed ram and the living Horned Dorset Sheep, with painted Carolina Blue horns, of course. Both are much loved on the UNC campus and carry on the legacy of one of the school's brightest football stars, Jack "The Battering Ram" Merritt.
Sammy the Slug
School: University of California Santa Cruz
Team Nickname: Banana Slugs
Debut: 1986
"Lowly but beloved." That's how UCSC describes their chill and undeniably unique mascot Sammy the Slug. A polarizing force, this friendly banana slug has appeared on lists for the best, worst, and weirdest college mascots, but UCSC students love him exactly as he is: a chill creature . . . with no known predators!
Smokey
School: University of Tennessee
Team Nickname: Volunteers
Debut: 1953
Another mascot with both a live and costumed version, Smokey the coonhound has many accolades under his collar, having won several mascot competitions. He's made TV commercial appearances, and a book was written about him. Fraternity brothers at Alpha Gamma Rho take care of Smokey (the live animal version . . . we're guessing) when he's not on the field.
Sooner Schooner
School: University of Oklahoma
Team Nickname: Sooners
Debut: 1964
It's a sight to behold when the Sooner School, pulled by white ponies Boomer and Sooner, tears across the home field when OU scores. It's a slightly smaller replica of the same kind of wagons used by early Oklahoma settlers. Members of the school's all-male spirit squad, the Ruf/Neks, both drive and care for the Schnooner.
Sparty
School: Michigan State University
Team Nickname: Spartans
Debut: 1925
If you remember anything from your classes on ancient history (or the movie 300), it's how badass the Spartans were. The anonymous MSU student wearing Sparty's giant foam rubber costume may not kick his opponents in the chest, but he is still an imposing figure and one students love to rally behind.
The Stanford Tree
School: Stanford University
Team Nickname: Cardinal
Debut: 1975
There's no arguing that the Stanford Tree is truly one-of-a-kind, and we're pretty sure Stanford wouldn't have it any other way. Technically, it's only the official mascot of the school's band, but the Tree appears at many campus events. The Tree performer is chosen by audition, and whoever wins the role creates his or her own unique Tree costume.
Superfrog
School: Texas Christian University
Team Nickname: Horned Frogs
Debut: 1897
One of the oldest mascots on our list, TCU's Superfrog has been a university tradition since the 19th century! The school likes to boast that its "princesses" get turned into frogs, rather than the other way around. However, fun fact: the Horned Frog species is actually a lizard. But that makes no never mind to the fans at TCU.
Uga
School: University of Georgia
Team Nickname: Bulldogs
Debut: 1956
DYK all of the bulldogs that have served as Uga over the years have been from the same lineage? The school is currently on Uga IX. When not attending home or bowl games, Uga can be found in his air-conditioned, specially designed doghouse at Sanford Stadium, probably surrounded by adoring, cooing fans.
WuShock
School: Wichita State University
Team Nickname: Shockers
Debut: 1948
WSU allegedly got their "Shocker" nickname because so many football players served as wheat harvesters—a.k.a. "shockers"—during the off season. Fast-forward a few decades and a bundle of wheat became their mascot as well. An anthropomorphized, muscular bundle of wheat with a maniacal grin at that. WuShock may not be the most traditional mascot, but he certainly gets people talking.
Did we make a bad call? Let us have it in the comments or on Twitter @CollegeXpress.