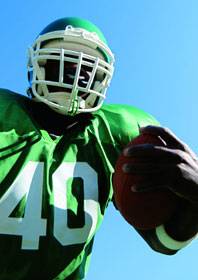 Being a high school athlete can be difficult. Between two-hour practices three to four times a week and home/away games, let's face it—it's sometimes hard to juggle everything and be at your best all the time. Unless you are the greatest athlete to come out of your generation, odds are, you need good grades and a good GPA to not only stay on your high school team, but get into a college program. What happens, though, when you live in a semi-underprivileged area and you have even more odds stacked against you in both the education and athletics areas? Enter: Boston Scholar Athletes.
Put simply, Boston Scholar Athletes (BSA) is the link between the student athlete and the academic student. While this is specific to Boston, Massachusetts, I feel it's important to bring to light the efforts brought by a group of Boston Public Schools that are really rooting for the all-around student athlete with their "Zone Program."
The history of BSA
Relatively new, BSA was founded in 2009 as a result of a conversation between Boston Mayor Tom Menino and Suffolk Construction CEO and Chairman/BSA Founder, John Fish—two people who have proven to be passionate about Boston youth. After looking over the unfortunate state of Boston Public Schools' athletics programs, they both decided that something needed to be done; they were looking to capitalize on their joint sentiments that athletics help promote academic excellence.
In a Boston Globe article printed last April, Menino was quoted as saying, ". . . he [Fish] said 'I'm going to make sure we have a program in Boston that works both scholastically and athletically for the young people in our city." After only three and a half years, the BSA program is now implemented in 19 Boston Public Schools and enrollment is rising year after year—not to mention grades, GPAs, and college acceptance rates!
BSA basics
If you love being an athlete, odds are you need to do well in school to stay on the team. If you put two and two together, you create a positive result: athletes need school to play their sport; thus, academics are the key to any type of athletic success.
The main component of BSA is called the "Zone;" it's essentially a learning center for athletes to visit where they can meet with tutors, work on homework, and prepare for college with admission help. There is a Zone in each school comprised of laptops, text books, graphing calculators, and other top-of-the line academic equipment that are all free to use—luxuries that most Boston students do not have available at home.
In an interview with ESPN, a high school senior at the time, Jesse Barbosa, highlighted the importance of how the BSA helped turn around the negative feelings about athletics through academics, "[Before the Zones] Many kids didn't participate in athletics because they didn't think it was worth it. . . . But as time went by, they decided to give it a chance because there were new programs to help them academically. Participating in athletics became a way for kids to help get their grades up, and they became eligible to do things that they really liked, such as sports."
Boston's news magazine, Chronicle, recently aired a segment on BSA. While I can praise these learning centers up and down in this blog, sometimes a visual is worth more than a thousand words. Chronicle can take you inside the Zone for a first-hand look at its students and tutors in action.
Changing lives
Try these numbers on for size:
84% graduation rate; 20% higher than the district
Average SAT scores rose over 150 points
Over 4,000 students are currently enrolled in the program
Zone members are 25% more likely to graduate from high school
As someone who grew up in Massachusetts, and someone who has consistently heard and seen the troubles of the Boston Public School system, I know what an achievement those figures mean to the city.
The impact has not only been felt on the academic side. Part of the reason why BSA was created was to also help the deteriorating athletics programs in these schools. According to the BSA mission, "On the field, we strive to improve the scholar-athlete experience through equipment and uniform upgrades, and skills training, and conditioning. We provide regular instruction to the coaching staff to ensure they are properly trained both in their sport and more importantly in the philosophy that a coach is a mentor."
What the BSA is doing is truly changing lives. It is giving confidence back to students who did not think they could do better than a 1.0 GPA, and it is telling students that they can go to college and succeed as a student athlete—achieving dreams that I'm sure were almost unattainable for some just a few years ago.
Do you have a similar program in your town, city, or state? How has it affected student athletes? Let us know in the comments below!