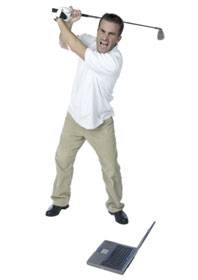 Who doesn't love a good tweet? I sure do and from what I've read, professional, college, and high school athletes, coaches, and more would also agree.
One of the big topics in college athletics right now is how Twitter is being used by athletes. Tweets from athletes are under the microscope, whether it is using Twitter to communicate with followers, talking about a game during half time, starting a fight with a follower who had something negative to say about a game/the team, discussing personal issues, and more.
What's going on?
Do you ever get the urge to just lay it all out there and say whatever you want—knowing you most likely won't really have any consequences in saying it because it's through Twitter? Although college athletes probably feel that way too, they unfortunately are being held to a much higher standard than the rest of us. It has become so much of an issue this past year that several college athletes have lost their scholarships and some teams have been completely banned from the major social media platform while they are in season.
Why is this a big deal?
Athletes at any school are automatically put into a leadership position whether they like it or not. They are ambassadors for their school when they are traveling and they have a very strong presence on campus. Whether or not fellow students care for their school athletes, odds are good they have some sort of knowledge of them on social media.
Whatever an athlete says on Twitter, people will know about it. Sometimes, unfortunately, they use their status on campus to say whatever they want and think that they can get away with it because they are a "coveted athlete" and, thus, untouchable.
Colleges can't take the risk of letting athletes run their mouths. Athletes are an extension of their school and schools need to make quick moves to ensure that their reputation isn't ruined, which is why suspensions and loss of scholarships are becoming more relevant in this social media age.
The culprits
USA Today wrote about some of what these student athletes have written about on Twitter recently:
Comments about a team's fans that led to suspension
A racial slur that led to suspension
Sexually graphic and racially insensitive tweets that led to expulsion from a private school and loss of a scholarship offer
A comment about Jerry Sandusky and Penn State before heading out to a game to play the infamous university that led to suspension and removal of an athlete's Twitter account
The themes of these comments seem to be naivety and ego, as these certain athletes think they are above the fray and can say what they want—at the same time, really not knowing what they're talking about and understanding the effect it can have on the culture around them.
Athletic teams and Twitter
Teams that are or have been banned from social media while they are in season include Washington State University, Mississippi State University, South Carolina State University, Towson University, Florida State University, University of Kansas, and Boise State University. Looking at this list, it's safe to say that many other schools will follow this practice in the future as well.
Coaches who have gone to the level of banning their entire teams from Twitter are simply tired of social media taking precedence over the team, practices, workouts, and games. Athletes are showing more interest in chatting it up on Twitter, talking to their followers, dealing with haters, etc., instead of what they were recruited to do at their respective schools.
A quick Twitter refresher
We all know how to use Twitter, but as we've discussed, athletes need to be way more careful than they used to be—especially if you are at a big school on a nationally known team. You may want to rethink how you're using Twitter these days and remember that you're a role model who needs to set a good example.
Be mindful of your words. Don't be negative. Don't say things about a team you lost to or a player you particularly don't care for. Once the words are out there, someone will always see it, even if you delete it; the damage will be done no matter how fast you get rid of it.
Watch those pictures. We all love a good TwitPic, right? Not to mention sharing those TwitPics from the party the night before or that late night out after curfew. Let's just save those for our own computers and also watch out for anyone else taking pictures wherever you are. Just because you aren't posting them doesn't mean someone else isn't.
People are always watching you. Whether you know it or not, your own coaches, other coaches, college administrators, and NCAA officials could be following your account—especially if you have been creating any drama recently. One bad tweet, one bad retweet, one inappropriate joke, and you could be the next suspended athlete.
Aside from those quick tips, The Social Media Coach for Athletes provides over 25 more pieces of advice for athletes who want to make sure they are totally copacetic on the Twitter front. A lot of these I'm sure you've never even thought of (I definitely didn't!) and I highly recommend checking them out before your next tweet.
It's very possible that as social media continues to evolve, the NCAA will have new rules set up for athletes in season and in general as a student-athlete—only time will tell on that front. In the meantime, if you love Twitter, use it smartly and make sure your teammates are doing the same.
Comments? Leave them below or tweet me: @megancgibbs or @CollegeXpress!