The 2020 Olympics might be many years from now, but changes to the games are already the talk of the athletic world, possibly saying goodbye to one of the oldest sports in Olympic history dating back to Ancient Greece: wrestling. What those who made this decision don't understand is that they have just altered the life of this sport and its athletes for the next few years.
Why wrestling?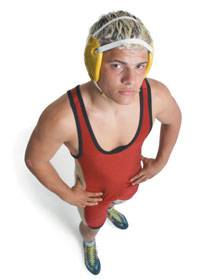 Thinking ahead to the 2020 Games, the International Olympic Committee (IOC) has recently made a decision to "renovate" the list of sports allowed to compete. In response to the newest change to the Olympics, in a Yahoo! article, Mark Adams, spokesman for the IOC, said, "It's not a case of what's wrong with wrestling; it is what's right with the (other) 25 core sports."
The "other 25 core sports" deemed current and relatable by the IOC include archery, badminton, basketball, boxing, canoeing, cycling, equestrian, fencing, field hockey, gymnastics, handball, judo, modern pentathlon, rowing, sailing, shooting, soccer, swimming, table tennis, taekwondo, tennis, triathlon, volleyball, and weightlifting.
Out of all of those, I think we can agree that there just might be a few sports a little less relatable than wrestling (I'm looking at you, modern pentathlon, canoeing, and table tennis . . . ). I will give it to table tennis, though—you are extremely entertaining. But really?
If you're looking for pure statistics, according to an article on ESPN, 177 nations are involved in wrestling, while the modern pentathlon has only 108!
Where wrestling fell short
In an effort to keep the games "current," many boxes must be checked in order to stay off the IOC radar—and they ironically don't have much to do with athleticism. According to IOC documents, these are the areas where wrestling ranked low during the London Games:
Ranked below five on a score of 10 in popularity
Ranked low in the global audience
Sold 113,851 tickets in London out of 116,854 available
Low Internet hits and press coverage
It has also been noted that "the final decision by the 15-member board was also subject to political, emotional, and sentimental factors." I'm not quite sure how I feel about that or what it truly means. If a member on the board just doesn't like wrestling for "emotional" reasons, does that mean that they don't have to vote for the sport?
I would also like to point out that although I personally don't find wrestling as captivating as swimming or soccer, it shouldn't mean that lower viewership or lack of ticket selling should be points of reasoning in removing the sport from the Olympic roster. Athletes give their lives to sports, and wrestling is no exception. If anything, wrestling is the epitome of athleticism: it has remained a significant sport since ancient Greece, and deserves to maintain its spot in the games—moreso than most of the sports trying to get in for 2020, in my opinion.
Hope remains
While many news outlets were quick to say that wrestling was completely removed from the 2020 Olympic schedule, there is still hope. Wrestling was simply not recommended to be part of the 26 sports that will be competing—leaving one spot open for many sports vying for that last coveted opening. These sports include baseball/softball, sport climbing, squash, wakeboarding/wushu, roller sports, and karate.
According to a press release from the Olympics committee, the above sports must make a presentation to the executive board in May. From there, the IOC will choose which sport will fill that final spot. It has been said, however, that the likelihood of wrestling returning so soon after being removed is slim.
The future of wrestling
When we think of our favorite sports, the regulars we will think of—more often than not—are basketball, football, soccer, baseball, and lacrosse. Wrestling does not normally come to mind for most of us because it really does not have a legitimate "professional" side to it like its counterparts. The Olympics to wrestlers are so important because it is one of the only times they are on a worldwide stage with as much accolades as basketball and soccer athletes.
For any athlete, the zenith of all their experiences is the Olympics; athletes dream about the day they are able to compete for their country at such an elite level. With wrestling completely removed from the program, where does this leave those dreaming athletes? Where does this leave youth, high school, and college programs that prepare these wrestlers for the games?
While the sport will still prevail no matter what, it is as if something has been taken away from it. Athletes who are in college or even high school who had plans to be part of the 2020 games, have to re-evaluate their futures and decide if 2016 is possible—and if not, how they feel about it being their one and only shot to the games before they are unable to wrestle anymore.

For those who scoff at this minor blip in Olympic decision-making, CollegeXpress is the place to be, with lists for colleges with strength in men's wrestling for Division I, Division II, Division III; NAIA and Other; and colleges with strength in women's wrestling.
Are you a wrestler? Does this news affect your future? Leave your thoughts in the comments below!