Having someone on your side, teaching you the ropes, giving you the hard truth, and pushing you to your limits because they know you can do it when you don't think you can—that is the epitome of a great mentor.
This past February, Tom Brady put the topic of mentors into the public eye when his childhood coach, Tom Martinez, was in desperate need for a kidney transplant. Brady could not have spoken in a higher regard when asked about what Martinez meant to him and his success over the years. After Martinez died, Brady said in a statement, "Coach Martinez's invaluable assistance and support will never be forgotten and will always have a lasting impact on my life. The time we spent together remain some of my fondest memories. His legacy of commitment, toughness, and determination will live on forever."
When I thought about writing this blog, there was no other duo of mentor and mentee that I could think of than my sister Lindsay, and her high school field hockey coach, Mae Shoemaker.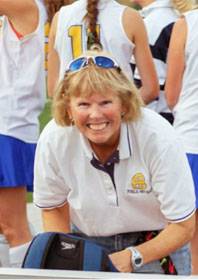 Having known Coach Shoemaker as my own coach, I know how special she is and how she has impacted my sister's life and athletic development. Even though Lindsay is now at Merrimack College playing softball, Shoe (as she affectionately calls her) still plays a role in her life and I hope that it will be conveyed below as you get a glimpse into a great story of mentorship at its best.
How has Coach Shoemaker helped you become a better all-around athlete?
Anyone can teach you all day long the intricacies of playing a sport, whether it is how to hold the field hockey stick, or making sure you stay fit so you are at the top of your game. Shoemaker made me a better technical athlete in those ways, but she helped me in more—above and beyond what a regular coach does for their players.
Shoe taught me what hard work is and what it means to work hard to get to that end goal. She made me realize how hard I have to work in any sport I'm playing to get the results that I want. It's the only way you can really enjoy your sport/being an athlete and get the most out of what it has to offer you.
How has Coach Shoemaker inspired you?
Shoe has been through a lot in her life, especially a battle with breast cancer that she had to take on a few years ago. She has overcome so much and makes everyone who plays for her want to do the best they can. She's an inspiration for the simple fact that her players want to make her as proud of them/us as we are proud of her. I know that there are no excuses in tough situations because Shoe has gone through so much and she still keeps going.
What is your favorite memory with Coach Shoemaker?
In my junior year, my team went 24-0-0 and won the Massachusetts State Championship. The whole team was jumping on top of each other after the buzzer went off and we had won the game. We were in a huddle and looked up and Shoemaker came running at us with her arms wide open. It was the culmination of a perfect season.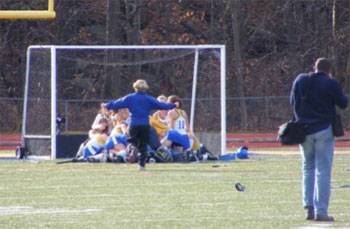 How has your relationship changed since you moved to college?
I'm not going to lie, leaving Shoe behind to move to Merrimack and play on a new team with a different coach was so difficult. She, without a doubt, is the best coach I have ever had. Even though I don't see her every day, we still talk and it's as if she is still able to mentor me a different way; I know I can count on her to pick up her phone when I call if I need help in any situation.
How, in any way, will your lessons from Coach Shoemaker affect your future?
I literally just a few days ago chose to major in education. Through choosing that path, it will enable me to also coach at the high school level and be equally involved in student's lives. Her dedication to her team/players and her coaching techniques made me want to become a coach and mentor upcoming athletes just like her.
If you could tell Coach Shoemaker anything, what would you say?
It's very simple. Thank you for everything you've done for me. You've affected my life in more ways than you could ever imagine.
Photos provided by Lindsay Gibbs.