Let's get you thinking about the different NCAA Division colleges! Pick the answer that you feel most comfortable with when you think of what type of college or university where you think you'll thrive the most. Where will you excel? Division I, Division II, or Division III?

Size of student population:
A. Huge. I want to get lost in my school with 15,000 other students.
B. In the middle. I don't want to know everyone, but I don't really feel like getting lost either…
C. Tiny. I want to feel like I know my classmates personally.
Public or private campus?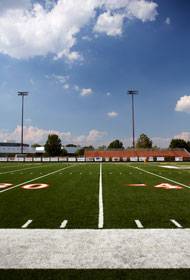 A. Public.
B. Private.
c. Doesn't matter to me.
Tuition and scholarships:
A. I need money and I need it badly. Wishing and hoping for an athletic scholarship to get me where I need to go.
B. I'll take what I can get. Any financial aid I can get is good with me.
C. Eh, if I get a scholarship, that's alright. If not, it's not the end of the world.
Play time:
A. Hey bench, how are ya?
B. I'm going to be new to the team, so I probably won't get to play right away. I'm cool with that. I have to learn the ropes first.
C. I want to play as much as possible.
Fans:
A. I like an audience watching me play…preferably in a stadium and on NESN or ESPN.
B. Fans are cool, but I'm alright if they're not a fixture in my games. If they come, they come!
C. Do my mom and dad count?
The overall experience
A. Academics—what? I live and breathe my sport and I'm here for it all the way. I'm totally going pro one day!
B. Athletics are super important to me so I want to be able to play as often as possible. It would be good to have some breaks now and then though to do other things at school.
C. I want to have a good balance at school. I want to have friends and be able to participate in other activities outside of my sport. I don't want my sport to rule my life in college.
Mostly A's:
Looks like you're leaning towards Division I. You're looking for a bigger, more likely public school, which really has a great focus on athletics. It also means that you have some great skills that could possibly get you a full ride. Just remember that even though Division I is nationally known, it doesn't mean you're going to get to play right away and be the starter that you've always been in high school. You're going to have to take a step back and be willing to watch and learn before it's your time to play. It's a lot of work and the competition is extremely fierce between intercollegiate teams. This is the big leagues, for sure.
Mostly B's:
The middle grounds of Division II! Division II is the perfect mix of Division I and Division III: high level of competition with focus on academics and the college experience. Get ready to work, though. You'll be practicing and working out year round to stay in shape. Read more about how to balance academics and athletics in this article by Suzanne Xie at PrepMe.com. You're also lucky because DII schools do have money tucked away for its athletes, so while you might not get full tuition, partial scholarships are the norm with this type of school.
Mostly C's:
The underappreciated Division III. Sometimes DIII schools don't get the appreciation they deserve because they aren't nationally recognized, and they do not offer scholarships to their athletes. In reality, they are the closest thing to just playing for the love of the sport. When you think about it, you're just playing to play. You're not playing to become pro. You're not playing for a stadium of fans or playing so your school can get a #1 ranking, you're just there because you love the game. Odds are good that you'll get to play more often on a DIII team and you are able to stretch yourself out more in on the college experience front. Since there is much less pressure in a DIII school, you really get the full experience from academics to a social life. Wondering what opportunities are available to students outside of sports? Read my series of posts, "There's Life Outside of Sports" Part I and II.
Remember that this was just a fun quiz to get you thinking about the type of school where you can see yourself playing. It doesn't in any way mean that this is the only type of college or university you can go to. Just use it as a stepping stone to help guide you through choosing a school that's right for you. Check out this article, "Athletics in the Admission Process" to learn more about factoring sports into the college search.