Here we are again. The third month of the year, the desolate transition between winter and spring. Midterms have come and gone, the hustle and bustle of spring break has passed, and we are left to turn our eyes to only one thing: the national stage.
It's March Madness, and nothing else matters.
It's the live-streaming, class-skipping, basketball-addicted month that consists of scheduling your life around game time. It's checking scores on your phone under the table in class, managing multiple brackets, and getting overly competitive when you predicted the next big upset with said brackets. There is scarcely anything that can draw attention away from NCAA college basketball.
By now you may have heard of a little school in the Pacific Northwest (and the only school in the entire West Coast Conference to make the tournament) called Gonzaga University. As a Gonzaga student, I understand if you haven't. We only have a few thousand undergraduates and people scarcely pronounce our school name right, likening it to the pronunciation of "gorgonzola cheese" rather than "zigzag." But I have to tell you about the heart-swelling manner in which our school comes alive during March Madness.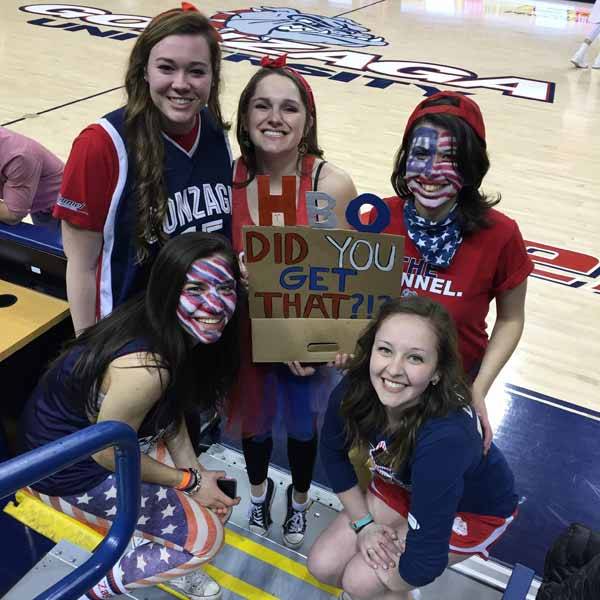 "It's got a lot of importance," says Alex Reding, a freshman at Gonzaga University. "There's a lot of small schools [in the tournament] and they finally get national recognition and a lot of pride from finally being heard of." Reding compared the size of Gonzaga to other well-known state schools competing in March Madness and explained the size deficit makes the victories mean more to the students.
Gonzaga basketball is the heart and soul of this university, and some would even say the heart and soul of Spokane, Washington, as a whole. I'd be surprised if you said you had heard about Gonzaga in a non-basketball related context. Since the fateful 1999–2000 season hit the books, there's been a history of excellence with one of the nation's most winningest coaches and an overwhelming amount of victories. Last year, our Cinderella story exploded over national sports news with the support of legend Dick Vitale and a tide of distraught basketball fans whose brackets we busted. We made it all the way to the Elite Eight for the first time since the '99 team. HBO had a special five-part series on our team called "Gonzaga: The March to Madness" (which was so well done that I would give you my HBOGo password so that you can experience Zag basketball in its full glory).
Many didn't expect Gonzaga to even win the WCC championship this year in Las Vegas, much less make it all the way to the Sweet Sixteen again, which will occur on Friday night in Chicago versus Syracuse. Proving the naysayers wrong may feel good, but nothing feels better than belonging to a school that you're proud of. Wearing a shirt with your school's name on it can invoke pride at any time of year, but it almost feels as if the logos have more bearing when your school is on a national stage such as March Madness. When people ask where you go to school, there's a little more love in your response, a little more enthusiasm, and a heck of a lot more excitement in the air.
"It's so sick," Reding says. "I've always seen those Cinderella upsets and those stories, and I'm just so excited to go to a school with a team like that, and I can't wait for the next game."
There's an electric current that buzzes through campus and the neighboring community, growing in intensity the closer we get to game day. Very few of us will get to witness the tournament in person—Spokane was a Western location for the round of 64 and round of 32, but not for our own team. But this had no bearing on the level of school spirit, as the University organized large watch parties in the student center to unite support from 1,300 miles away. It's the same way with other schools across America who sent their teams to March Madness, who probably have their own watch parties and a slew of other crazy traditions too.
"[The tournament] is very important to raise citizenship with students, to give them a proud feeling," says sophomore Zahir Alshehri, who has not actively kept up on the action of the NCAA tournament, but thinks it is an opportunity of unity for students who attend schools who are competing. "It's really a huge honor for students. It's a good feeling."
It is amazing to think that, as we speak, high school students across the nation will be watching the tournament and getting their first taste of the schools they may attend in the near future. When I was in high school, I applied to many colleges but didn't actually learn about them until I was in the agonizing period of waiting to hear admission decisions. I didn't learn about Gonzaga until my AP Statistics teacher put on "the Big Dance" with Gonzaga in lieu of our math lesson.
So who knows—you too might learn about a school that you've never heard of, hundreds of miles away, because of a silly little competition called March Madness. Maybe I'll even see you around Gonzaga this time next year, and you'll feel the sense of pride and belonging that the tournament invokes as you too root for your team.