At several points in our history, groups of people (such as women and African Americans) were not allowed to be involved in athletics. With the passing of Title IX and the Civil Rights Movement, sports have, slowly but surely, become a level playing field for all.
While individuals with disabilities were never outright prejudiced against, there have always been fewer opportunities for them than able-bodied athletes. This past week, the Department of Education made a move that will allow for disabled student-athletes to receive the same opportunities as their counterparts—changing the scope of athletics once again.
The new mandate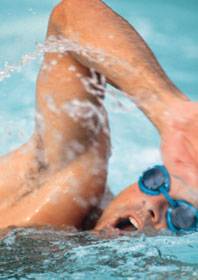 According to the Department of Education blog, the guidelines state that schools need to "provide students with disabilities an equal opportunity to participate alongside their peers in after-school athletics and clubs."
This means that disabled students are not allowed to be cut from any team because of their disability; schools need to work with the disability to modify the game(s) to make it acceptable for all athletes to play. In most schools and school districts, there are not enough disabled student-athletes to create their own team and then play against other schools with their own disabled student teams to make it even play all around—which is why this mandate is so important.
An example of a modification provided by the Department of Education is to use a laser instead of a starting pistol, so deaf track athletes can race. When you deconstruct some sports, there are many ways they can be slightly changed for disabled athletes without taking away from the game. (I mean, would anyone really miss that starting pistol?)
What it means for high schools
As with any nationwide change, and with athletics specifically, high schools have to undertake a huge cost to make this happen. Even changing that starter pistol to a laser takes money. If we've learned anything in the past few years, it is how high schools are strapped for cash. Some athletes might need certain equipment; some might need a special coach in addition to the regular team's coaches, etc. It's hard to know exactly what will be needed until this entire program is fleshed out for each individual school and each individual disabled athlete.
To put in into perspective, in an interview with NBC News, Mike Petrilli, Executive Vice President of the Thomas B. Fordham Institute, stated that "this is an incredible example of executive overreach and a huge unfunded mandate."
A success story
One of the front page stories on the NCAA site this week is about a sophomore swimmer at the University of Indianapolis, Dalton Herendeen. The one thing that makes him stand out from the crowd out of everyone else is that he has one leg.
As a senior in high school, Dalton placed 25th in state finals in the 500-yard freestyle, where the head swimming coach at the U of Indy decided then and there he wanted him on his collegiate team. From there on out, it was history and Herendeen has only been getting better—most recently placing 8th in the 1,650-yard freestyle in the Great Lakes Intercollegiate Athletic Conference, helping his team to the third place spot.
If Dalton had not been given the same opportunities that his swimming counterparts at an early age, he would not be able to participate at the high level he is at now. He is certainly not the last to finish a race, and with that, is easily beating able-bodied athletes. He is a great example of how integrating disabled athletes into our current athletic programs is the right choice.
Looking ahead
There is nothing better than the thrill of competition at the high school level, and students should not be withheld from those opportunities because they are deaf, blind, or in Dalton's case, have only one leg. There are ways around allowing these two worlds of athletics and disabled athletes to collide and while it will take some time, it will be worth it in the end.
CollegeXpress offers a wide array of college lists for students with learning and physical challenges. If anything, it is a great starting point if you are looking at colleges in the next year or two, especially if you are an athlete looking for a school that will nurture your differences.