Here we are, almost at the end of the seemingly endless winter season where nothing seems to be happening. New Year's is over, February has come and gone, and you have probably finished submitting your last college applications. Whew.
But this isn't necessarily the time to slow down. When you apply to colleges, you're like a fisherman casting a net. You try to throw it far enough so that you catch a variety of fish that can feed your options. It's likely that when you first cast that net, you did it somewhat frantically; I know I did. When I was a senior in high school, I applied to over 15 schools across the country of varying size and caliber. I wanted to make sure I had options. If you visited schools in the fall, you probably did it in batches, and those memories might be somewhat blended together. Besides, the schools were probably trying hard to reel you in since there were so many prospective students just like you touring at the same time.
Believe it or not, revisiting schools that you applied to before you hear back from them has a valuable aspect: you will get the true vibe of the school.
Take it from sophomore Michael Pham. "I wish I had gone out to PLU and visited and spent a few days to see how the social life was and see how people behave," he said, "because it gives you a good taste of how things will be for the rest of the year."
Pham originally attended Pacific Lutheran University in Spanaway, Washington, before transferring to Gonzaga University in Spokane this year. He reapplied to three schools and visited Gonzaga before making the transfer.
"You want to make lots of friends; you want to have a fair-sized campus that you can go out and do a whole bunch of extracurriculars and not get lost in the crowd," said Pham.
It may be a waiting game to hear back from the universities you applied to, but attempting to see the schools you're interested in while they are in their dead-of-winter daily routines will reveal what they are like under all of the advertised bells and whistles.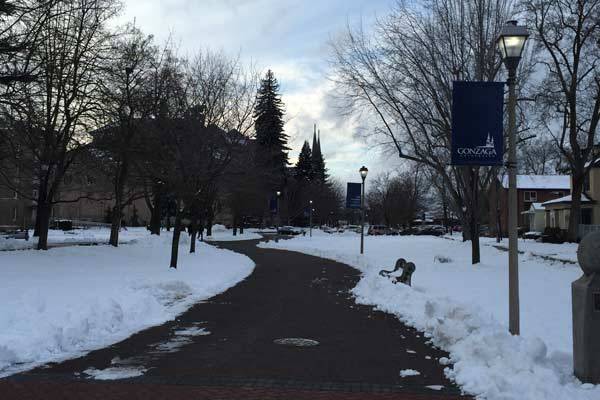 Photo by Libby Kamrowski
Wander around campus and pretend like you attend. (As long as you don't look too lost or stay glued to your parent's side, we won't be able to tell that you're not one of us!) Blending in will show you how the students really are when they're not on guard.
"First impressions coming here [to Gonzaga], everyone was really friendly," said Pham. "At PLU everyone kind of kept to themselves . . . but when I came here with my parents, people were holding doors open for me." He explained the warm welcome and courtesy were positives in addition to the good things he had heard about the basketball team.
Try to pick up on other details that would affect your college life. Do you regularly see campus security patrolling? Do you feel safe? Is the building housing your prospective field of study close to where you would live? Are students engaged in lots of extracurricular activities?
Pham, who is a member of the Filipino American Student Union, the Public Relations Student Society of America, the Kennel Club, and possibly a future resident assistant, advises students to look where they can balance their social interests. "Trying to find your little niche and being able to go to three or four different clubs, or just sitting and having people who come up to you and you talk to them—it's good and kind of eases a lot of tension off of your shoulders," he said. "Always knowing you can go somewhere and knowing someone has the same struggles and can relate to you, it's really cool."
Depending on your likes and interests, there are plenty of online resources available to you if visiting a school in person isn't an option. Many colleges offer virtual tours that illustrate campus walkthroughs with video modules. This is where modern technology can prove if your mom's alma mater is still the same as it was "back in her day."
Besides just visiting links on a university's homepage, seek the results of the Internet at large. The best way to find out about a college is through the student life lens rather than the "prospective student" lens, so search for reviews of the school written by current students, home videos, and even social media. All of these sources can give you a fuller picture of which college you will soon call home.
So even though your net may still be in the water, try to decide which fish to let go. The school you decide on will change your life, but don't worry, because someday you'll have even bigger fish to fry.