Last Updated: Aug 26, 2015
Will sending a thank-you card following your campus visit get you into college?
Probably not, but it will make you memorable.
"The smallest act of kindness is worth more than the grandest intention." — Oscar Wilde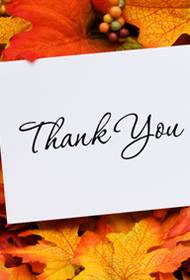 Today's high-tech, fast-paced posting via FourSquare, Twitter, Facebook, and other social media services make it easy to report to fans and followers where you are and what you like or don't like, but when it comes to standing out among all the chatter and relating to those who matter most (the folks in the admission office), old-fashioned is the way to go.
Break out the pen and paper and send a thank-you card to the admission officer you met while on your campus tour. A few handwritten lines stating that you enjoyed the tour and the people you met while on campus is thoughtful and will make a positive impression.
More than likely your thank-you card will end up in a folder with your name on it, alongside your college application where it will be seen again when it comes time for admission review. What a nice way and a nice time to remind the admission officer, or committee, that you cared enough about the college or university to not only visit, but to also send a card. Sure, you'll still have meet the admission requirements in order to be admitted, but in a world that's highly competitive, sending a thank-you card will help make you more memorable.
Don't know what to write? All you need is a few lines to convey your message. Positive comments about the tour guide, the information session, the buildings, the beauty of campus, or the kindess of the professor or students you met while visit campus will suffice.
Don't let your good manners end once you're in college. Keep up the good work and if you're unsure about appropriate etiquette once you've become a college student, check out Emily Post 's College and Beyond on the web for more great tips.