Last Updated: Mar 4, 2017
Image via Flickr
Earlier this year, Sara headed off on a campus visit road trip to the scenic college hubs of Upstate New York, Ithaca and Syracuse. She saw three schools—and left knowing one was her top-choice college. Keep reading to hear her story!
For months I had been planning to spend President's Day weekend on a campus visit road trip, traveling to a few colleges and knocking out a couple of my top schools. I'm only a junior in high school, but it was the perfect time to start visiting colleges; I passed my driver's test a week earlier, and SAT scores were coming out the following week. It was a momentous occasion.
Hopeful that I could narrow down my college options, my first step was to choose a region where I knew I'd be comfortable. My brother went through the college search process only a couple years earlier, and I thought back to his top schools around Buffalo, New York, where we have family close by. That was approximately a four-hour drive, give or take a few hours depending on the college. I discussed with my parents the potential open houses to attend (there was a variety that weekend because of the holiday), and primarily through recommendations from friends we chose to visit three schools: Ithaca College, Syracuse University, and Cornell University.
The perfect trio of colleges
To me, those three schools offered the kinds of different campus experiences I was looking for in my college visits. Just starting in this process, that was the most important thing to me, since I was still unsure of my future major. Ithaca, overlooking Lake Cayuga, sits on a hill only a few minutes from the small town it was named after. Syracuse, a couple hours away, has almost three times the student population that Ithaca does, with a larger campus near a bigger city. Finally, Cornell is in the same town as Ithaca College, but I was only planning to drive around the campus to get a feeling for what an Ivy League school is like.
My road trip weekend
The campus visit weekend began by skipping school on Friday and spending six hours driving up to Ithaca, New York. Once we arrived, we briefly explored the town and spent the night in a hotel minutes from Ithaca College.
The next day was the tour of the school. Immediately, I fell in love with the beauty of Ithaca's campus. Faculty spoke about how the school had the best of both worlds, with the nature trails and waterfalls surrounding campus but also a close-knit community just down the hill.
Miles and miles away from home, I didn't feel a bit of homesickness; this was the kind of atmosphere I wanted to be in. Not only that, but the students I met on my visit, well-spoken and outgoing, reminded me a lot of my high school, and I felt as though the experience at Ithaca wouldn't be much of a shift from what I knew. Was this a good or a bad thing? I'm still not sure. Also, I later realized that Ithaca didn't have the majors I was interested in, nor did it have anything academic I was in love with.
Immediately after that visit, my mom and I spent some time downtown again, and then headed off for our drive through Cornell. The campus was overwhelming compared to Ithaca—buildings were far apart, and enormous groups of students were outside on the nice day. We saw the law school, an entire neighborhood of fraternity houses, waterfalls and creeks, and a much more active campus than Ithaca had. Still, I wasn't seriously considering applying to an Ivy League school; it was more or less a gauge for similar schools I planned to look at.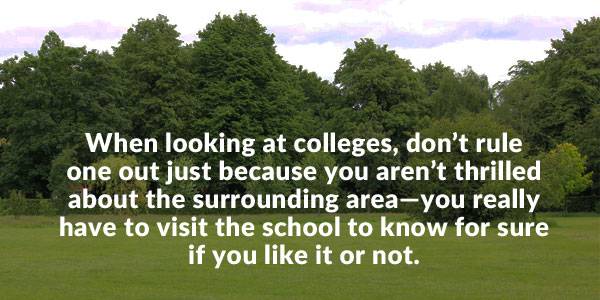 The following day, Sunday, we continued our road trip through the farmland of southern New York State to the city of Syracuse. While it obviously didn't have the small-town feeling of Ithaca, I didn't mind the urban vibe. It wasn't loud and crowded like I'd expected it to be, and Syracuse University wasn't even downtown. The school had a fairly traditional campus with pathways and a quad, not city streets. That was the most surprising thing about the weekend. I'd been eager to check out the programs at SU, but I was prepared to hate the city campus. When looking at colleges, don't rule one out just because you aren't thrilled about the surrounding area—you really have to visit the school to know for sure if you like it or not.
The end of the road
By the end of my road trip, it was clear: I had fallen in love with Syracuse University. Ithaca College and a few others are still on my list, but SU is a challenging, professional environment with a variety of traveling opportunities and extracurricular programs I can get involved with. And I would've had no clue until I decided to take a weekend and check out these three very different colleges. I'd definitely recommend a similar trip to anybody who isn't even sure where to begin in the process; it gives you a broad perspective while you learn the pros and cons of each college.