Last Updated: Feb 28, 2013
For prospective students, college tours can be intimidating or even awkward at first, especially if your parents are dragging you around. For some, however, the solution may be simple: bring a friend.
Confidence and comfort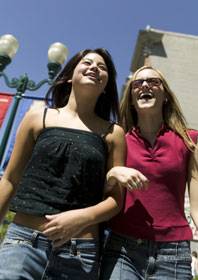 We all know that when touring with parents, the adults tend to ask a lot more questions than the student. While parents generally know what questions are good to ask on these types of visits, they often take over and speak for their child. The student, shy as he or she may be, should speak for themselves and ask questions that really matter to them.
This can often be difficult for teens. They are out of their comfort zone, with nothing familiar about the experience or the environment. Parents are full of information and eagerness towards the process, but despite their best efforts, they are not always a comforting source.
To allay that initial college-visit shyness and to help you relax, it may be a good idea to bring a friend along. Friends who share your interests are a perfect solution for students who are a little shy or nervous, especially during those first few visits.
My first few college tours elicited no more than a few words from me at a time—responses such as "I'm not sure" and "Not really"—while my parents did most of the inquisition. Conversely, I found myself asking more questions and generally feeling more comfortable about the whole experience while touring with a friend. Having a friend there who was going through the same process as I was offered a familiar comfort, boosted my confidence, and helped me come out of my shell.
Tips for touring with a friend
While bringing someone along may seem like an easy solution, there are some things you must consider in order to make it work.
Pick someone with similar interests. If your friend is interested in English and wants a rural campus, don't bring that person to an engineering-based college in the city. This means you may not be taking your very best friend if your goals differ. It is important to choose someone who wants a similar major, the same type of college, or perhaps is undecided and is keeping an open mind. You don't have to agree on everything, but picking someone who shares some interests will make things go a lot smoother.
Focus on the tour. Um, duh. That's what you're there for, right? It may seem like a given, but friends often bring the temptation to goof around and have fun. This is fine—just not while the tour is going on. In order to get something out of it, you actually do have to pay attention. One benefit of bringing a friend is that you have someone to exchange a glance, a giggle, or an inside joke with while you're there. This is meant for comfort, not distraction, so don't go overboard with the goofiness.
Sit down after the tour, take notes, and compare them. College tours throw a lot of information at you in a short period of time. Writing down everything you remember after the tour and organizing them into a pros and cons list can be very helpful. Another bonus of bringing a friend is the added memory and perspective. Your friend may remember something that you don't, and vice versa. This helps you get a better, more rounded picture of the college, and though you may disagree on where to put the items on your lists, you'll have more details to consider than you would if you went by yourself.
Touring with a friend is a lot of fun, and it can help ease you into visiting colleges on your own. You might find that when you take that security away and drop the training wheels of a familiar face, you're much more confident than you thought you would be.