Last Updated: Aug 30, 2013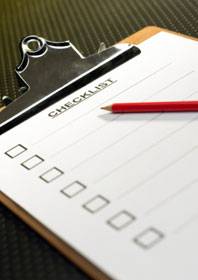 It's that time of year again: high school students pile into the car with their parents and embark on the grand tour of campus visits before they make the big decision. You know what to expect for the most part: a friendly, smiling student tour guide will walk backwards and give you information on campus life, classes, majors, professors, and the things you'd expect to hear about. Chances are, you have done a little research, but now, you need to scope the scene yourself. Brochures and pamphlets are certainly a start, but it's time to play detective on what might be your future college, so don't be afraid get down and dirty!
Browse the bulletin boards
Although it may sound obvious, don't just walk by all the bulletin boards on campus. Stop for a minute to see what kinds of flyers are hanging for students. Are there a lot of job opportunities? Do you see any organizations you might like? Do the activities pertain to your interests? Be sure to write down any websites you see so you can do some research at home, too.
Read the campus newspaper
A tour guide will often discuss safety on the tour, but picking up the campus newspaper is the best way to get a true feel of what is happening on and around campus. Are there often DUI citations near the college? Is the school actually drug-free? Was there a string of recent hamster robberies in the apartments? You'll also be able to get a sense of the activities on campus, sporting events, student life, and of course, news and updates on the college.
Eat up
The tour guides will always tell you the food is good. The best way to find out for yourself? Go and eat it! Visiting the cafeteria is great because you will not only get an idea of what you'll be eating for the next four years, but you'll be able to eavesdrop on a conversation or two from current students and get a sense of the culture on campus.
Facebook stalk
With so many things online nowadays, you can do some research without leaving home. Don't just Facebook stalk, though; any social media site will give you an insider's view of the college. Check out what students are really doing on YouTube, look at campus photos on Flickr, check-in on Foursquare to see various tips, or visit blogs with posts from student organizations, professors, or staff members.
Network
Whether it's your friend's uncle's half-brother's grandmother, or someone right next to you on a tour, ask around. Tour guides are trained to answer your questions, but sometimes, it doesn't hurt to ask a student walking to the cafeteria for an honest answer. Many students love seeing tours go around campus, so they would be more than willing to stop and help you out.