Originally Posted: Jun 28, 2019
Last Updated: Jun 28, 2019
Congratulations! You've graduated from college and are preparing to enter the working world. Before you land that dream job, you should craft a curriculum vitae, or CV, that grabs the attention of potential employers. Unlike résumés, which are typically skill-centric and concise, CVs provide a detailed overview of your skills, experience, and accolades with extensive information about your academic background, professional experience, and accomplishments such as degrees, certifications, publications, or awards.
To ensure you outshine the competition and make a winning first impression on employers, it's important to craft a CV that's memorable and presents you in the best possible light. Let's take a gander at CVs from some of your favorite fictional characters to get a fun glimpse at the do's and don'ts of CV writing!
Related: How to Get a Job After College, Step-by-Step
Gandalf from Lord of the Rings
Gandalf has recently retired from a chaotic 78-year career, and he's seeking gainful employment to remedy his boredom. Rejoining the workforce is no easy feat, and his willingness to get back out there is a testament to his resilience.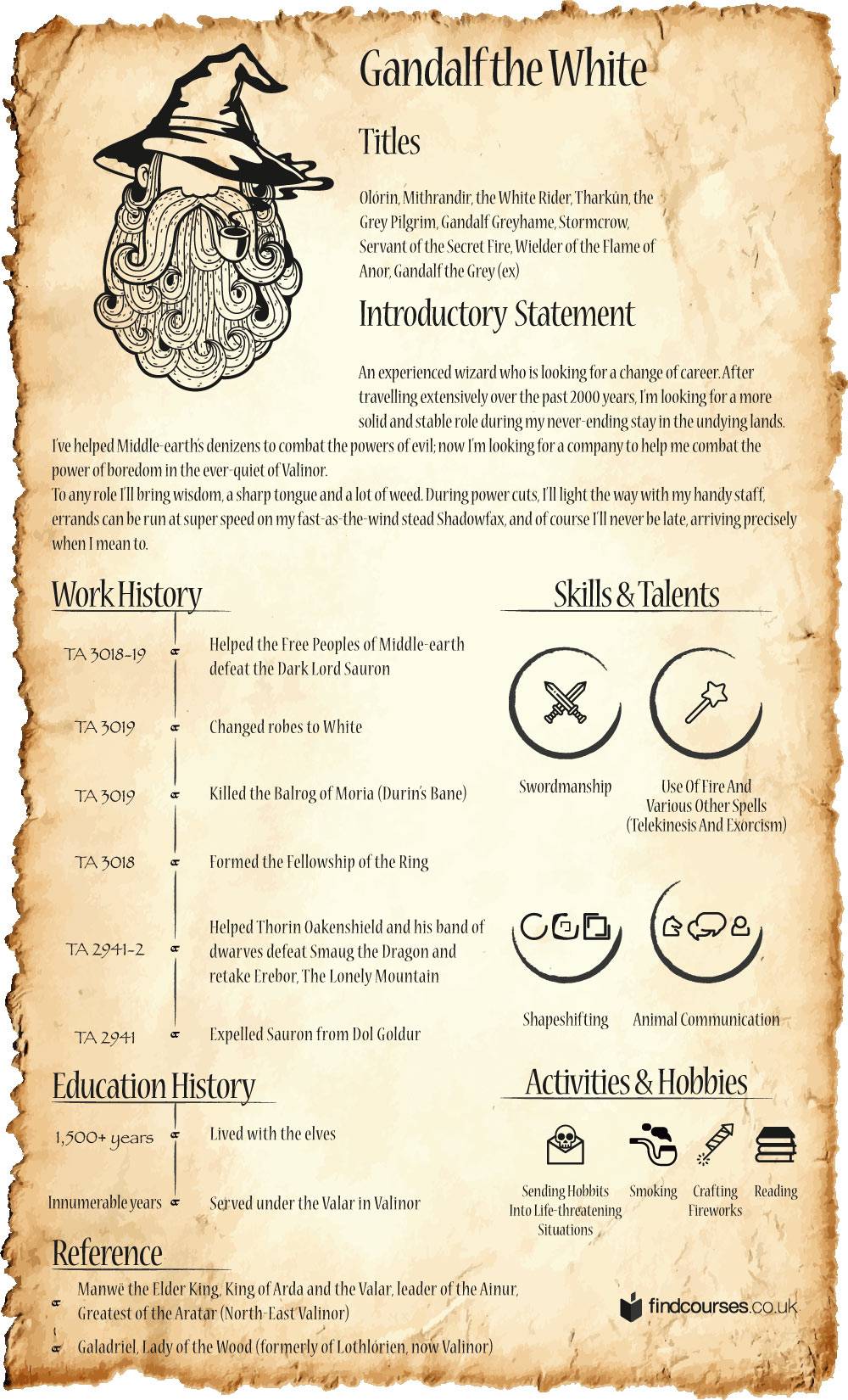 Takeaways
At a glance, Gandalf's CV demonstrates that he's an accomplished leader with enough know-how, wisdom, and eloquence to go around. His near-century of experience and passion for reading show that he's a workhorse with an insatiable appetite for knowledge, and his impressive roster of references also signals that he's trustworthy and plays well with others. While Gandalf's entanglement in smoking, crafting fireworks, and endangering Hobbits could be a red flag for employers, his unique skill set may outweigh these unsavory extracurriculars.
Captain Jack Sparrow from Pirates of the Caribbean
After 13 years of captaining the Black Pearl, Jack Sparrow now finds himself navigating the murky waters of job hunting.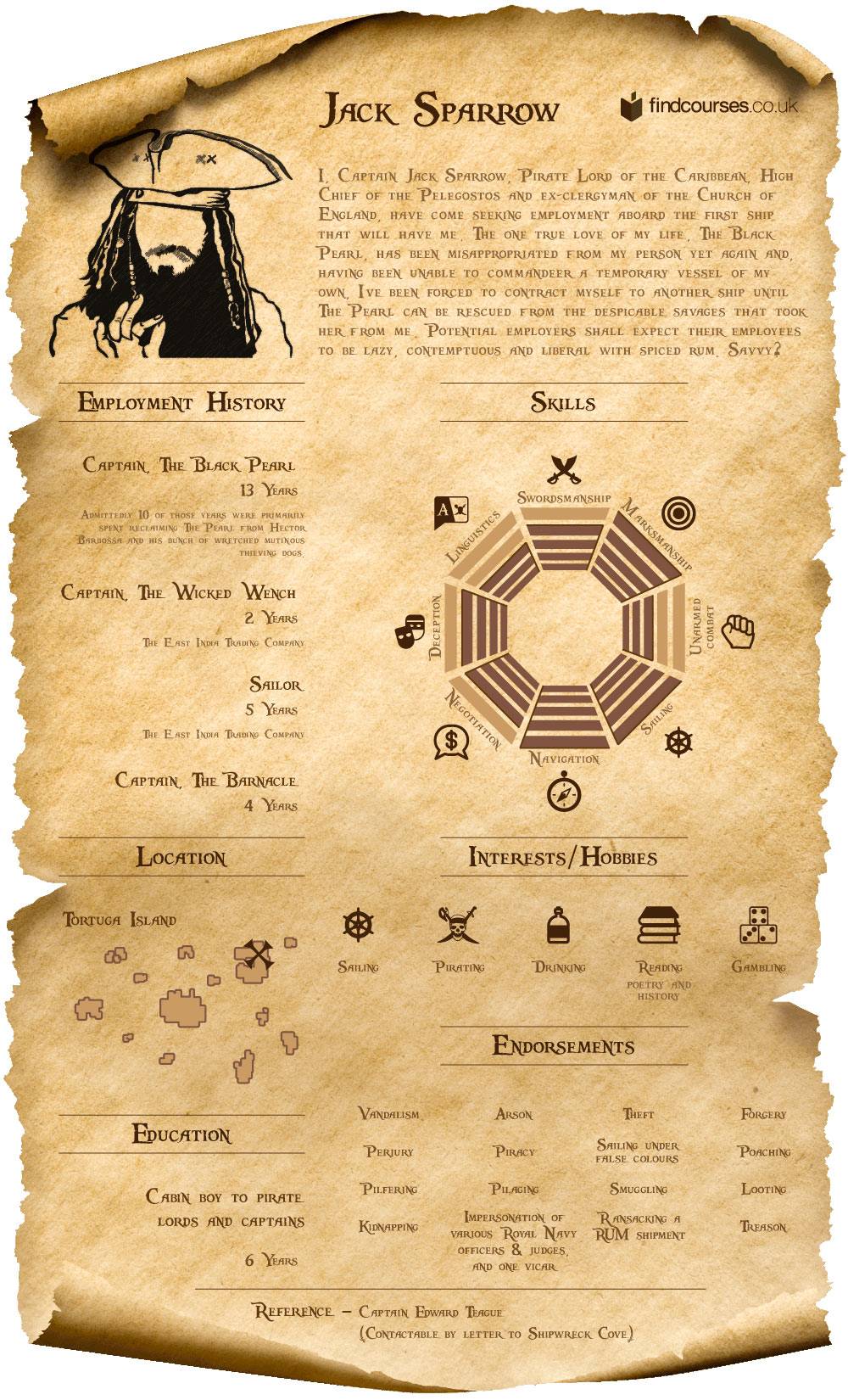 Takeaways
Captain Sparrow is a seasoned freelance pirate with over 20 years of experience. He's a master of sailing, navigation, and marksmanship, and his brash, irreverent disposition is extremely marketable on the high seas. Unfortunately, Captain Sparrow isn't well versed in linguistics or unarmed combat, which, paired with a clear penchant for binge-drinking, could prove disastrous for workplace relations. Captain Jack also attempts to pull the wool over our eyes by rebranding his laundry list of criminal charges as endorsements, which is highly frowned upon. Honesty is always the best policy, especially when you have a criminal record.
Related: Infographic: What Skills Should You Put on a Résumé to Land the Job?
Professor Sybill Trelawney from Harry Potter
After over 30 divine years of teaching at Hogwarts, Professor Sybill Trelawney foresees a change of employment.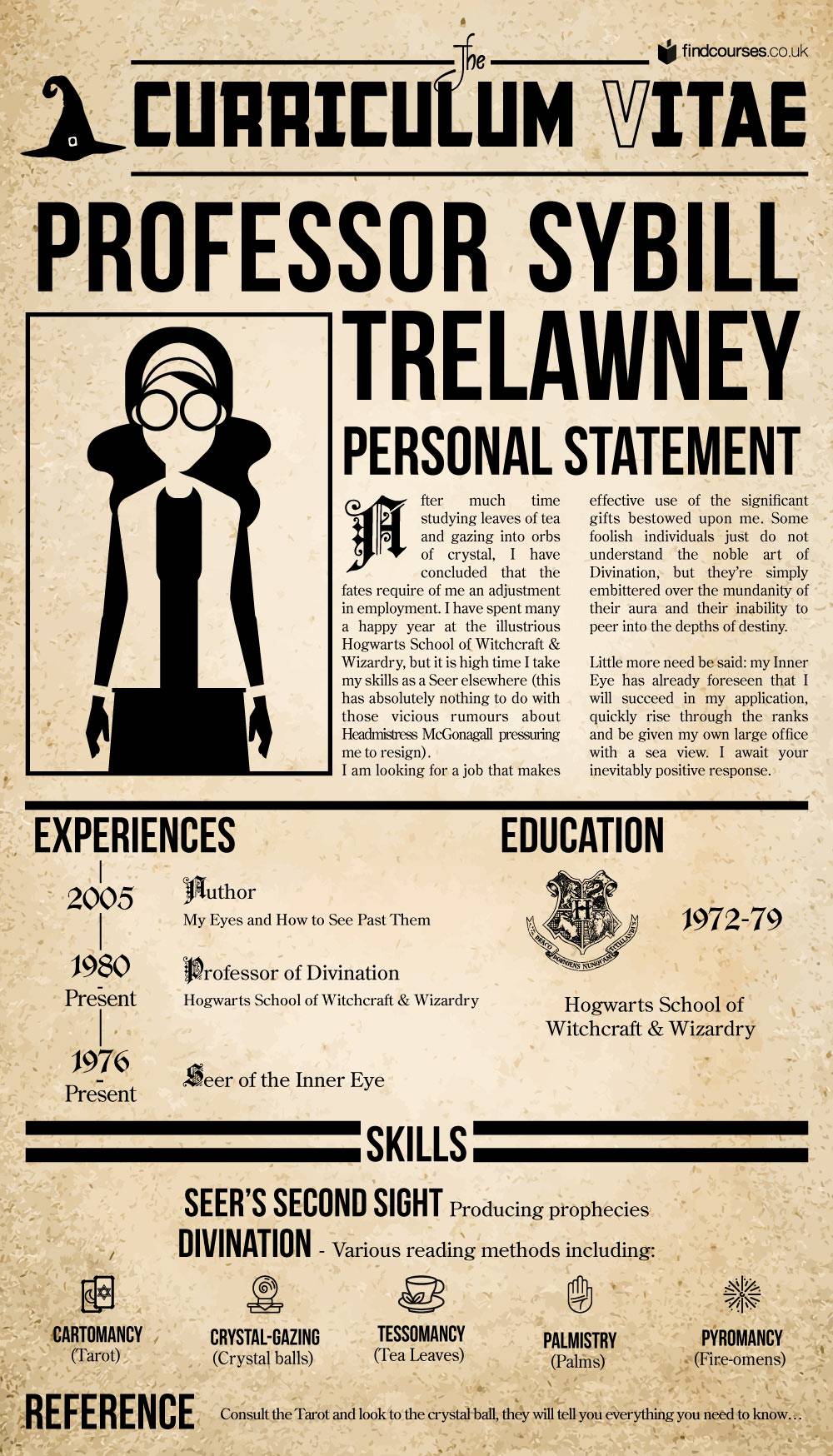 Takeaways
According to her CV, Professor Trelawney is a talented seer with an enviable repertoire of reading methods. Alongside her specialized skills in second sight and divination, she's also a published author, which gives her an edge on the competition. While Professor Trelawney's CV is brimming with self-confidence, the defensive tone of her personal statement suggests she may be overcompensating. During her interviews, she'll need to prove she can walk the walk, not just talk the talk. And when it comes to her employment history, Professor Trelawney is less transparent than a crystal ball. Her lack of references is particularly suspicious and could set off alarm bells for employers.
Jesse Pinkman from Breaking Bad
After breaking ties with his former boss, Jesse Pinkman has chosen to wash his hands of the past and search for a more stable career.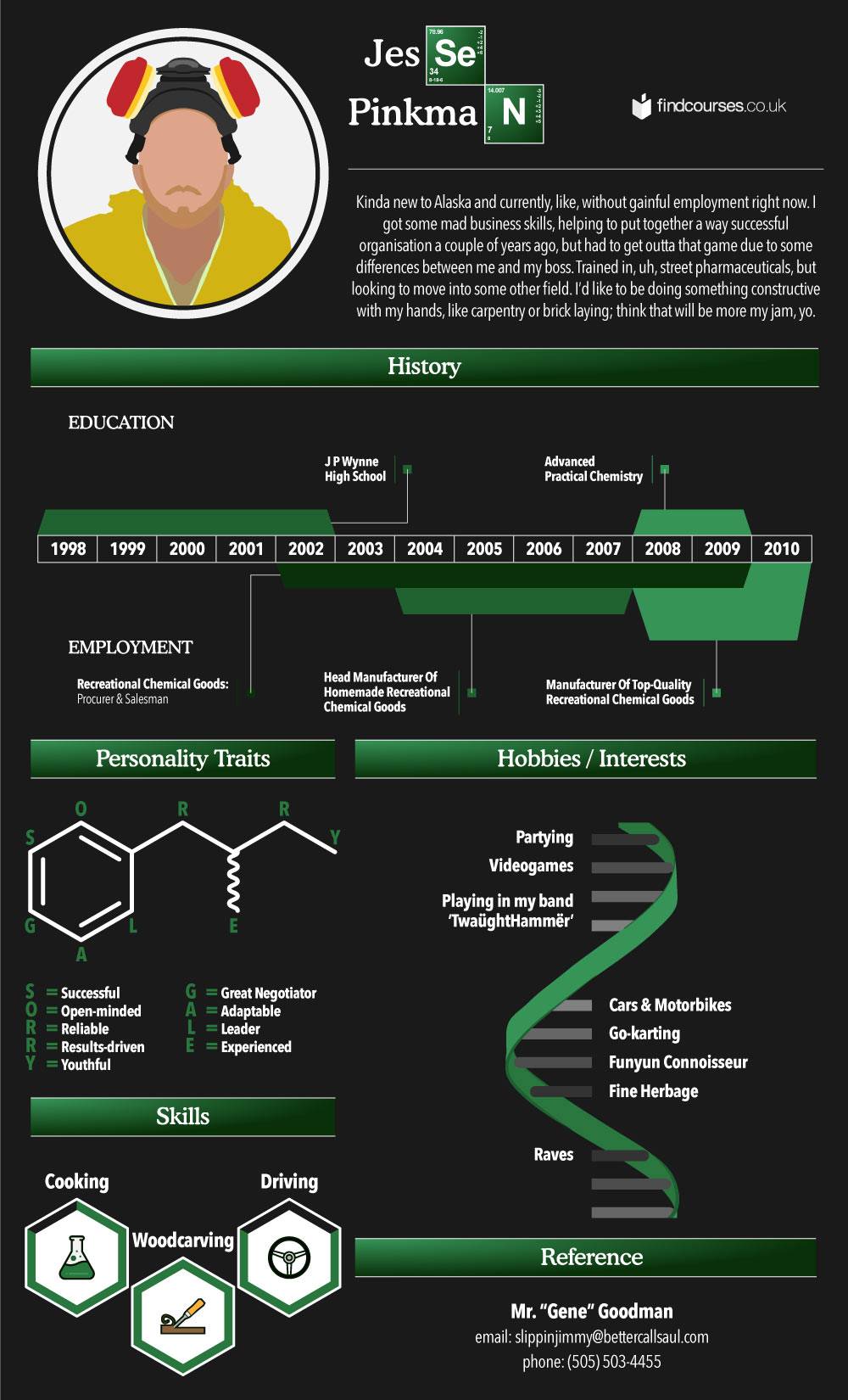 Takeaways
Overall, Mr. Pinkman's CV indicates he's a loyal, ambitious, and hard-working individual with a knack for business. Although he's only worked for one company, he climbed the ladder rather quickly during his employment, which demonstrates an inner drive, loyalty, and dedication that are tough to come by. However, Mr. Pinkman's personal statement is written in an informal tone, and the suspicious wording suggests he's got a few skeletons in his closet. And while showcasing your human side is important, Mr. Pinkman reveals too much about his hobbies and personality, which detracts from the meatier sections of his CV. He should remove these details and wait until the interview to discuss his fondness for "fine herbage" and Funyuns.
Related: Infographic: Interviewing Etiquette
Forrest, Forrest Gump
Almost anyone can become president these days, so Forrest Gump is throwing his Bubba Gump Shrimp cap into the ring.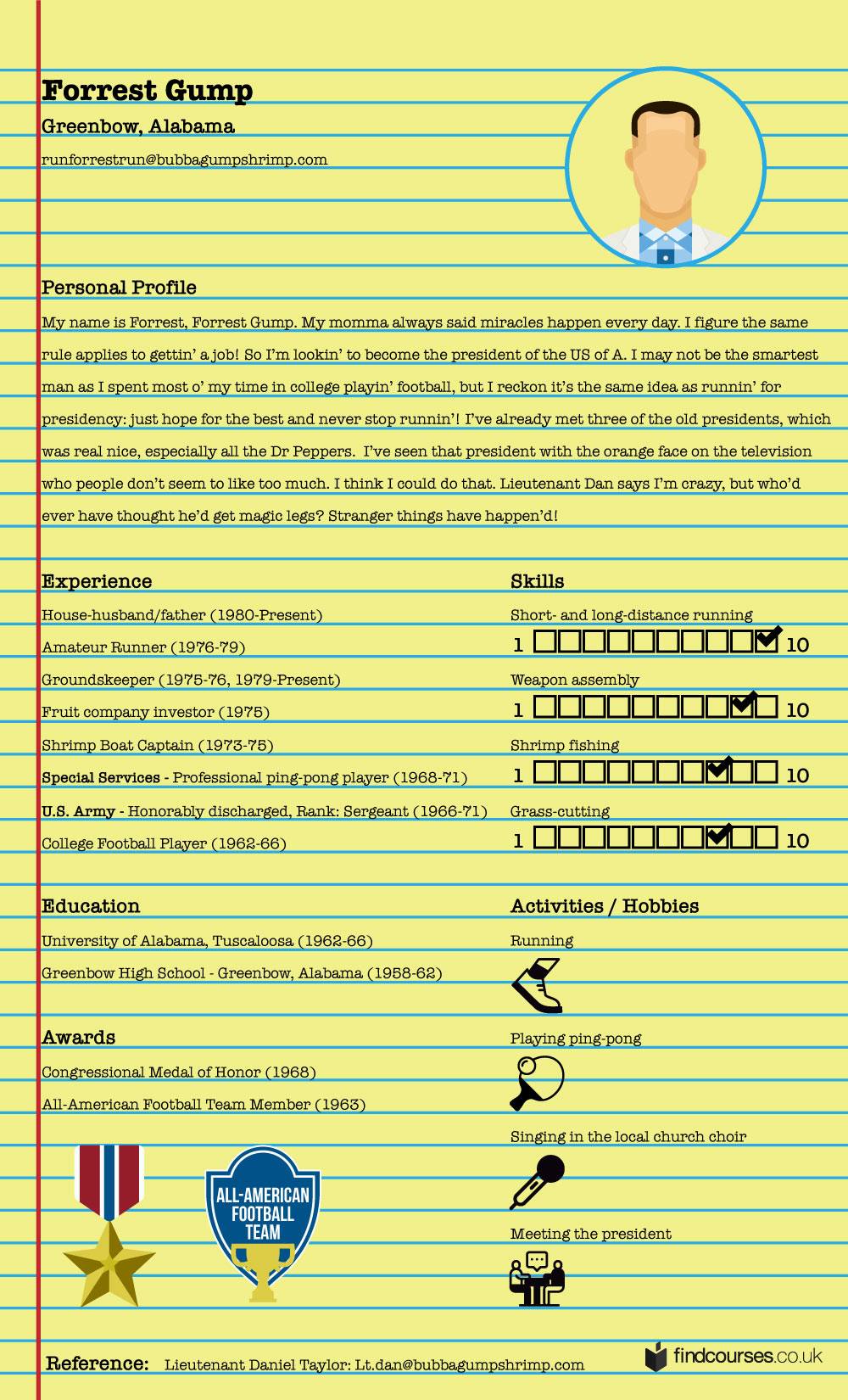 Takeaways
Judging by his CV, Mr. Gump is an optimistic, patriotic, and well-rounded individual with a zest for life. While his academic background is less extensive than most presidential candidates, his degree from the University of Alabama shows he's still got a good head on his shoulders. And since he's running for POTUS, his military service, awards, and athleticism will be popular among voters. Unfortunately, Mr. Gump only provides one reference (two is preferable), and his personal statement is overly casual and riddled with errors.
Related: Entry-Level Resume Mistakes to Avoid as a New Grad
This blog originally appeared on findcourses.co.uk. Looking for more advice on perfecting your CV or résumé? Check out our Internships and Careers section.