Originally Posted: Feb 23, 2012
Last Updated: Aug 30, 2013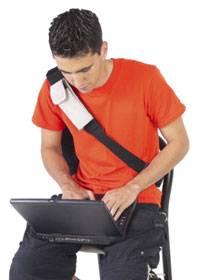 The Internet is becoming an increasingly important tool in finding a job. One way to utilize this is by building your personal online brand. Your "brand" is essentially who you are. This is something that you have to consider before building your brand. How do you want to be perceived by others? What do you stand for? What do you want to become? Think this over before embarking on this journey of online branding. It'll take some time, but it's definitely worth the effort.
Twitter
Your Twitter handle (name) should be your name, or at least part of your name. You want it to represent you as much as possible. Follow companies and people you are interested in. Also, step it up a level. Instead of just following them, you want to make yourself noticed. I'm not talking about being obnoxious, but when you can, retweet tweets, mention tweets, and tweet at companies in order to stay on their radar. As I've said, don't do these things just to do them; make sure you are making an intelligent point. You want companies to know you, but more than that, you want them to see you as someone who would be an asset to their team.
LinkedIn
LinkedIn is an extremely valuable tool. Keep your profile up-to-date, and make your profile as complete as possible. Elaborate, use numbers, utilize high-impact action words, etc. in your descriptions. Join groups that pertain to your interests.
Get a recommendation for your profile. As cited on the LinkedIn website, recommendations "reinforce your professional identity online." Your profile will show up with an icon next to it indicating you've been recommended, which will draw the eyes of employers. Ask previous managers and coworkers for recommendations—anyone who can speak about your background and what you have done.
Facebook
Lots of people use Facebook, but most use it only as a tool to stay in touch with friends. While this is definitely a useful aspect of Facebook, it can be used in other ways, too. Think of it as another LinkedIn. More and more companies are starting to develop Facebook pages, giving you another opportunity to catch their attention. Fill out your profile as much as possible. Include your previous work and education, make sure your various interests reflect your personality, and include other websites you'd like people to view, including your LinkedIn and Twitter pages.
It's a good idea to make your less-appropriate pictures invisible on your site since those photos may not be what you want to portray to others. Your profile picture should be a nice picture of you, like a headshot or a photo with minimal background "noise."
Blog
Starting a blog is also a great idea for networking, developing your writing skills, and gaining personal visibility. Write about what you are interested in; specifically, something that is related to the career you want and shows what kind of person you are. Include your name in the website address. Also, make sure that you post consistently. This will demonstrate to employers that you are self-disciplined, and that you stick to a routine even if you are answering to no one but yourself.
Establishing a presence online and building your personal brand there is very important to obtaining a job. This is something that you can start now, whether you are in high school or college. Also, there are other online platforms that you might like to use, including Google+ and online portfolios. Whatever works for you and represents you best—go for it. Make sure to give it some thought, and then get ready to start building!