Originally Posted: Feb 6, 2013
Last Updated: Feb 6, 2013
I'm a pretty nice person. Sometimes, too nice: If you cut me in line, I don't say anything and stand there meekly, convincing myself I wasn't in a rush anyways. If my waiter brings me the wrong meal, I'll likely eat it—even if it has vile ingredients like tomatoes or olives—just for the sake of avoiding a fuss. Truly, I'm a push-over. But there's one place where this sweet and amiable girl rapidly transforms to a seething, crazed lunatic spewing colorful language in rage. That place? My commute.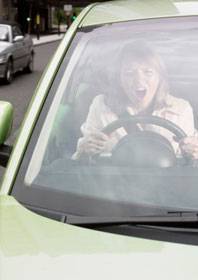 Colleagues, friends, and family all know about my lengthy drive—which, for the record, is a (minimum) of one hour in each direction consisting of back roads, a two-lane highway, and major freeways. Add in a dash of snow, ignorant pedestrians/bikers, constant construction, school buses, potholes, and a couple inept drivers, you have the recipe for the nightmare that is often my commute. Now, enough of the negatives. . . . There's a good reason why I do what I do: I love my job and I love where I live. So traveling all that distance in between those two places? I just do what I can to make it happen. And if that takes driving my 13-year-old, slightly decrepit Honda about 65 miles per day, then I have to do it, because to me, it's totally worth it.
But would something like this be worth it to you? One thing that's often not considered when contemplating a job offer is the commute—especially right out of college. Though new graduates will do whatever they can to make their career aspirations happen, be sure to explore your options and consider these points regarding your commute.
Where will you live?
This, of course, has much to do with your commuting deliberations. You have a few options, and there are some pros and cons you need to weigh:
Living at home
You'll save money! Even if your family lives a long way away from your job and you have a prolonged commute, the money saved on rent, food, utilities, and other costs is enormous. Some graduates opt to do this for a year and then move out when they've saved enough money. Others stay at home long-term, whether it's for convenience purposes, to save more money, or for other reasons. But not everyone has this option, nor do all graduates want to live at home (no offense to all the moms and pops out there). So for those, they'll likely have to get an apartment.
Renting
Here's where your commute considerations come in. For many, but not all, graduates, their jobs begin in major cities, so it's a matter of balancing a potential time and financial budget: Is it better to live closer to/in the city—having less commuting time/costs but spending more in rent? Or is it better to live further from the city—having more commuting time/costs but saving in rent? If you have a car, do you need to pay for parking? If you get free street parking in the city, will searching for a spot add to your commuting time? Should you look for a place near a subway station or bus stop? These are just a few questions to consider when contemplating your potential living situation and associated commute.
Do you have multiple transportation options?
It sounds redundant, but be sure to explore—and budget—all of your possibilities before making a decision on how to get to work. Do you have any colleagues who live near you who may be willing to carpool? Carpooling is an often-overlooked option that can save both the driver and passenger some money since gas costs aren't exactly a bargain. And be sure to consider all forms of public transportation too; many people focus so much on subway and/or train options that they don't consider taking a bus or shuttle. Though a bus may take a little longer, the fare is likely cheaper than taking the subway, so weigh your options. For some, that extra dollar for the subway is worth sleeping in a little longer . . .
Beyond the car basics
I was lucky—I inherited a car that was fully paid for. This certainly doesn't mean it was free, though. If you have a car, take into consideration more than just gas money (and monthly payments, if applicable), but maintenance costs, potential repair costs, and insurance costs. It's easy for graduates to plan on buying a car once they get the job, but between bills, student loans, and other costs, it takes a while for that super sweet salary to kick in. And if you are prepared enough to buy your own whip, be sure to read "How to Buy Your First Car."
Knowledge is power
There's no law that says your first time commuting has to be your first day of work. If possible, test out your travels before you even start your job—better yet, do so during rush hour. This is especially smart if you have multiple options to choose from, like I mentioned before, so take set aside plenty of time to see if the bus really is as fast as the schedule says, or if transferring that many trains is more confusing than you thought. And don't forget: nothing is permanent! Almost always, there are multiple options to get to work. You can always move to a new apartment, try driving for a change, or if the burden of the commute significantly outweighs the benefits and enjoyment of your job, it may be time to start looking for other opportunities. But don't dismiss your dream job if the commute seems outrageous: if this is the career you want, there are ways to make it happen. Even if you have to be a lunatic driver like me.