Originally Posted: Feb 26, 2015
Last Updated: Feb 26, 2015
"I'm a terrible employee." — Jon Stewart, announcing his departure from The Daily Show
In show business, there's timeworn advice about making an exit: always leave them wanting more. It's similar in sports. The aging player has to wrestle with the timing of retirement. Do you leave while still on top? Do you hang on as your skills inevitably decline? How do you know how much is left in the tank? After all, you may not be the most reliable judge of your own abilities, and the money, of course, can be the siren song that gives you reason enough to play well past your prime.
Two famous names, Stephen Colbert and Jon Stewart, seem to have timed their decisions well. Both gave plenty of notice that they were leaving their current jobs, and neither came close to being pushed out the door. Quality hadn't suffered. Unlike other aging shows, theirs hadn't become tired rehashes of stale jokes that had been beaten painfully to death over the years. More to the point, in an era of endlessly proliferating content and brutal competition for every available eyeball, neither Stewart nor Colbert had lost his audience. In fact, they had demographics other shows can only envy: According to the Pew Research Center, Colbert and Stewart lead all other "news sources" in terms of young viewers. Colbert was in first place with regular viewers between the ages of 18–29, a range that comprised 43% of his audience. With 39% of his audience in that same range, Stewart was in second place.
Those demographics are striking, but they're hardly the only noteworthy aspect of the two shows. The Pew Research Center is not alone in considering them "news shows." Pew could have treated them as comedy. Both hosts have backgrounds in comedy. The shows are products of Comedy Central. They could have been judged against "How I Met Your Mother" or "Parks and Recreation." Instead, Pew classified them as news shows in a survey that included more traditional news sources like CNN, MSNBC, Fox News, NPR and even local print newspapers.
Despite all indications that their shows were put there to make us laugh, Stewart and Colbert also somehow managed to transcend the genre. For those younger viewers who made up such a large part of "The Daily Show's" audience, the show was second only to CNN as a trusted news source, according to a joint survey by the Brookings Institution and the Public Religion Research Institute.
Trust was certainly an element in their ongoing success, and the element of trust is reflected in the way both Colbert and Stewart took their leave. They didn't burn bridges. They didn't storm off the set. They gave plenty of notice of their intentions, and they left their audiences wanting more. In fact, they left with audiences that seem more than willing to follow them to their next ventures.
What does this all have to do with you and your possible eventual exit from a job? In the midst of these lessons for what might make for an eminently successful "comedy news" show, there's a lesson here for how to successfully leave a job without causing grave damage to a career. Give plenty of notice. Two weeks may be standard, but it may not be enough. Keep the trust you've earned. Don't burn any bridges, and leave them wanting more. You never know when you'll be happy to have kept a former employer unconditionally on your side.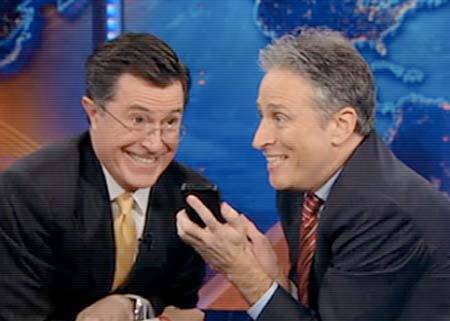 Accuracy may be one unexpected quality to associate with The Daily Show, but it wasn't much in evidence when Stewart called himself a bad employee. That's not even close to the truth.