Originally Posted: Oct 4, 2012
Last Updated: Oct 5, 2012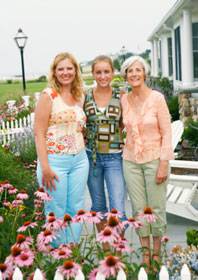 For this week's blog post, I decided to do an interview with my mom and grandma. They talked to me about choosing majors as well as the career search when they were going through it.
Me: How did you decide on your major?
Mom: "I followed my interests, teaching and Spanish, which I knew by high school. Choosing a major was easy since a degree in elementary education wasn't a major, it was a certificate. I needed a major; Spanish was my answer."
Grandma: "When I was contemplating college in the late fifties, the war was just over and many men were returning from the war and also hunting schools when they could get a career as most of them were pulled from the high school ranks to serve in the armed forces. We moved to the Philly area in my freshman year and I have to admit I had many more selections of schools than I would have in Altoona, Pennsylvania. I knew I wanted to be a teacher. Now please understand that a girl back then had a choice of a nurse, a teacher, or a secretary—nothing else. Yes, a few women were going into law and medicine, but the number was extremely slight and one had to have money and a great ability. That never fazed me as I had wanted to teach for quite a while."
Me: What were some of your friends' and acquaintances' majors?
Mom: "My friends had varying majors. Girls were political science, psychology, Spanish, French. Guys were history, business, economics, and psychology."
Grandma: "Your grandpa was a history major and he picked that because it was what he liked to read. But men had choices of engineering, architecture, and many others that few ladies had entered. People dropped out quite often: women to get married and men whose parents needed them to work in their family-owned businesses or just work. Money was the biggest issue then and also the fact that it was much more difficult for women to get into regular colleges than men. Women were still thought of as being only in the home."
Me: Did you pick your major to directly correlate with the job you wanted after graduation?
Mom: "My goal was to graduate with a college degree. My major/certificate have correlated, although not immediately. Your dad's psychology major has been put to use in understanding and dealing with people (we've even discussed psychology in business)."
Me: How was the job search and how did you go about it?
Mom: "A few people I knew interviewed and were hired on campus. I sent out dozens of typed résumés with cover letters. I finally reverted to using a company to find me a job."
Grandma: "From what I remember, there did not seem to be a problem with finding a job. Your grandpa got home from Korea and had a teaching job one month after he got home. He enjoyed it too, but left it when the grocery company offered him a much higher paying position."
And so, there you have it. I think there are a couple key takeaways based on what my mom and grandma said. First, everyone has so many opportunities these days. I'm not trying to be corny, but you can be anything you want to be—seriously. Also, follow your passion when it comes to your major. Things will work out as they should.
A special thanks to my Mom and MomMom for taking the time to answer these questions for me!