Originally Posted: Feb 8, 2013
Last Updated: Feb 11, 2013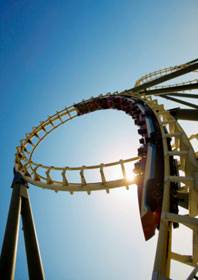 I have always been a great big kid. While I certainly possess many of the markers of adulthood, I've never taken myself too seriously. More importantly, I love to laugh and yell and scream with reckless abandon whenever possible, a pastime that can sometimes be stifled in the historic streets of Washington, D.C.
And that's why I love amusement parks so much. It's not just the rush of adrenaline that comes from reaching the crest of a roller coaster. Sometimes it's hard to get away from everything, but amusement parks exist in their own space, seemingly outside confines of the real world. It's a place where a 32-year-old man-child can really let loose, and on a budget too.
Earlier this year, I visited Disneyland in Anaheim, California, otherwise known as "The Happiest Place on Earth." After that adventure, I was left thinking, "Well, somebody does that!" and set out to learn more.
According to researchers at www.entertainmentdesigner.com, a website dedicated to exploring theme park and other entertainment design, Walt Disney brought about a paradigm shift in the industry. Amusement parks that once resembled year-round state fairs were supplanted by more modern theme parks built around central characters or concepts—for example, Marvel superheroes and Looney Tunes characters at Six Flags.
While Orlando's Walt Disney World remains the largest theme park and resort complex, Disney and the other leading theme park franchises have expanded across the world. Now, you can find amusement parks and theme parks a few hours away or an entire continent away. And there are myriad options—animal-themed parks like Sea World or even traditional parks like Hershey Park or Cedar Point.
With so many options, it shouldn't surprise anyone that it takes a broad range of knowledge and expertise to thrive in the themed entertainment industry.
For example, Norm Doerges of California-based theme park design company Apogee Attractions has more than 15 years of experience with the development and construction of commercial office, residential, institutional, and historic restoration projects, in addition to entertainment design. Doerges started out at Yale University earning a degree in architecture.
His colleague, Bob McTyre, a founding partner at Apogee, received his bachelor's degree in theater from Michigan State University and did his graduate work in theater at UCLA. According to his bio, McTyre started Apogee after a career that included experience in producing, marketing, and executive management in Broadway theatrical production, resort hotels, and historical attractions. Among his various areas of expertise are creative development and supervision, programming, project management, marketing, and business affairs.
Likewise, Walt Disney Imagineering, the content and development arm of all Disney amusement parks, seeks a great many skill sets to develop, create, and maintain the world within a world that makes their parks so special. Disney doesn't just recruit craftsmen or bean counters but a team of "dreamers and doers," including individuals with expertise in everything from master planning, creative development, concept development, and show writing to engineering, architecture, interior design, and project management.
While Walt Disney and his contemporaries learned theme park design by combining elements of smaller local amusement parks with their own ideas, original artwork, and characters, now there are entire academic programs specifically geared towards teaching students all aspects of the industry.
The Savannah College of Art and Design (SCAD) in Georgia has a curriculum dedicated to themed entertainment design, and includes courses such as "Survey of Themed Entertainment Industry," which examines the design and operational criteria used during each phase of a project life cycle; "Large Project Design Studio," where students replicate key phases of a large project design process; and "Off-campus Disney Imagineering," which provides students the opportunity to participate in workshops led by Imagineers in the Walt Disney World theme parks and resorts.
Colleges and universities across the country also have on-campus organizations dedicated to educating students about the theme park industry and assisting students in using traditional degrees like engineering and physics to find success designing and building amusement parks and other attractions. For example, members of Theme Park Engineering Group at Ohio State University work with companies such as CoasterDynamix to manufacture fully operational model roller coasters and other rides. Other schools like Missouri State University have developed curricula in entertainment management to train theme park executives.
Many of the Imagineers at Disney had to climb the ladder into the industry. In an interview with Inside the Magic, a panel of Disney experts offered this advice: "work your way up," "be diverse in what you can do," and "socialize."
While it might be frustrating for college graduate to give tours in the heat all day, the Imagineers confirmed that many theme park designers "started working as hourly employees in the theme parks. Whether it's working an attraction, selling tickets, or just walking the streets in a custodial position, it's an important step to show that you are committed to a long career within the theme park industry."
They continue, "By starting out at the bottom of the proverbial totem pole, meeting people you strive to work with, and making your passion known to them, it's likely that as long as you have the talent to back up your desires, your hard work will eventually pay off."
Although building theme parks requires many people possessing various individual skill sets, according to Sasha Bailyn, Editor-In-Chief of www.entertainmentdesigner.com, the best thing about being the person responsible for putting these pieces together is turning your vision into reality.
When asked to explain his love for entertainment design, Chimera Design's Martin Zurauskas says, "I do this kind of work not just for the sake of piling up pretty pictures and concepts; it's about getting it to the finish line and having people touch, feel, and experience what you create."
And that is the common thread. No matter what the educational background or experience, you've got to have not just imagination but also vision and drive to create a world where anyone from an 80-year-old grandmother to a precocious toddler, or a 32-year-old lawyer can enjoy themselves and truly act like a kid. I am certainly grateful for them!
Article courtesy of "Somebody Does That?!"