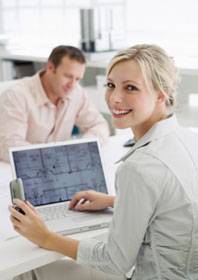 Work. It's where you'll be at least 40 hours a week, if you're working regular hours. Each day during the week, you'll be spending more time at the office with your coworkers than you spend with your friends or family. That said, it's important to find a work environment that's going to be the right fit for you. So while you're looking into companies, make sure you think about a few things that hinge mainly on whether the company is small or large, as well as if it is a start-up or an established company.
There's definitely a different feel between small and large companies. With a small company, you'll probably interact with many of your coworkers on a daily basis. If you work in a large company, you will spend more time with certain coworkers and work in smaller teams instead of working with everyone in the entire office. Would you rather interface with a company as a whole or would you prefer to work with a team?
Also, the work you do in a small company vs. a large company will differ. In a smaller company, you may be expected to wear many hats and do a variety of tasks, whereas in larger companies it's more likely that you'll have more of a centralized focus. Are you someone who likes change and variety, or do you prefer to stick to the same thing?
This also relates to thinking about whether you'd prefer to work at a start-up or an established company. Some things to consider about a start-up:
Things can and usually do change quickly
There are few employees
Rules aren't likely to be set in stone
In an established company:
There are well-documented and enforced guidelines
There are good benefit plans
There is a good chance you'll have amenities such as cafeterias, childcare, or discounts.
Of course there are other aspects to consider—which sounds more appealing to you?
Choosing the work environment that is best for you is crucial because of all of the time you will spend there. I personally work at a small start-up, and every day I am at the office is different than the next. This has been great for me—I'm learning so much so quickly. Think about everything you envision in an office and make sure that's what you get; it'll determine whether you leave the office with a smile or a chip on your shoulder.