The beginning of classes is quickly approaching, and for most fashionistas and fashion misters that means new clothes for your wardrobe.
You do not have to be handy with a needle and thread to make unique clothing, you just have to tap into your bold and creative side and own a great pair of fabric scissors.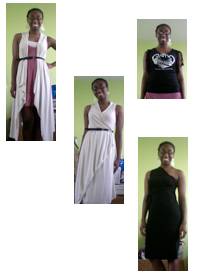 Everyone has t-shirts they never wear, right? Go dig out those t-shirts you've hidden (I am sure they are dying to see the light of day), and get to cutting.
You can refashion a baggy old t-shirt into an off-the-shoulder athletic shirt, a tank top, or a crop top. If you cut enough fabric off the bottom of your t-shirt, you can even make a circle scarf.
Most people also have old jeans that could use a fashion pick-me-up. If you are a fan of the rugged jean look you can distress your jeans yourself by cutting up sections of your jeans and then pulling at the loose strands until the section begins to unravel.
Another low-cost way to add new clothes to your wardrobe is by heading to a fabric store. Make sure to take your measurements with you so that you know how much fabric you need to make the garments you desire.
Keep in mind that jersey and other knit fabrics are promising options for a no-sew clothing project. With a few yards of jersey you can make yourself a wrap skirt or shirt by cutting two strips at the top of the fabric.
If you have some sewing skills, you can turn those old jeans into a tote or maybe even a jean jacket. Just be creative. Get spray paint, dye, appliqués, glitter, or stick-on jewels and get to work!
Happy college saving!
P.S. You can find helpful tips on reconstructing clothing on YouTube.
Photo Captions:
Just by cutting two holes appropriate to your arm size and placed to fit the width of your back you can make a draped vest out of jersey fabric (I made a lace one too).
With the right accessories that draped vest can double as a dress!
I really like my WTBU shirt, but it needed a pick-me-up so I cut the sleeves to make rock-n-roll fringes and cut the neckline and back to show a little skin.
I don't know how to sew yet, so my mom sewed a skirt out of jersey fabric and attached a long piece of fabric to the front that we cut in half and viola, a fabulous convertible dress. I've found 8 ways to wear my dress so far!