Alex Benda is a student at the University of Michigan–Flint. He's majoring in international business and will be graduating in just a few months—with $30,000 in student loans.
Worried about the sizable debt he'll soon have to start paying off, Benda came up with an interesting idea. Many students decorate the tops of their graduation caps with special artwork or personal messages, but Benda decided to see if he could sell the top of his as advertising space. He's currently using a crowd-sourcing website to sell one-inch spaces on his 10-inch by 10-inch cap for $300 each, and he's already raised several thousand dollars.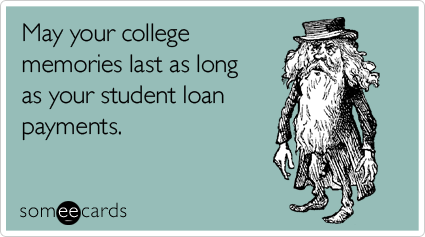 "As a young professional," says Benda on his crowd-sourcing page, "I aspire to be an entrepreneur. I love 'thinking outside the box' to solve everyday problems. It is this approach that gave me the idea to sell 1x1 inch squares on top of my graduation cap to pay for my student loans. While walking across the stage to accept my hard earned diploma, I will have the attention of thousands of spectators."
The fact that Benda is taking such an unorthodox approach to tackling his student debt is a reflection of a larger problem. Here are a few staggering statistics reported by The Project on Student Debt, an initiative of The Institute for College Access & Success:
Seven in 10 college seniors who graduated in 2012 had student loan debt, with an average of $29,400 for those with loans.
Debt levels are on the rise, with the national share of seniors graduating with loans rising from 68% in 2008 to 71% in 2012.
At for-profit colleges, 88% of 2012 graduates had loans and owed an average of $39,950 (66% of graduates from public colleges had loans and owed an average of $25,500 and 75% of graduates from nonprofit colleges had loans and owed an average of $32,300).
About one-fifth of those students' debt is comprised of private loans, which usually have higher interest rates than federal loans.
While the unemployment rate for young college graduates dropped slightly in 2012 (down to 7.7%), 18.3% reported that they were working fewer hours than they wanted, were not working but were still looking for work, or had given up looking for work.
All of that said, a college diploma still holds a great deal of value. The report also notes that the unemployment rate for young high school graduates was 17.9% in 2012, more than twice the rate for young college graduates. But even those who land well-paying jobs may struggle to get ahead if they're burdened by massive student loans.
The best way to curtail student debt is to apply for as many scholarships and grants as you possibly can. There are literally millions of dollars up for grabs if you're willing to put in the effort to research the ones for which you may qualify.
Of course, it might be fun to do something creative like sell the ad space on your graduation cap. But you can also have fun finding free money through resources such as the CollegeXpress scholarship search. Get started today!