Studying online for the GMAT and the GRE isn't just recommended, it's essential! Whether you prefer Twitter, Facebook, or just scouring the Web for resources, there are plenty of tools to help you succeed.
On Twitter you can interact with other GMAT students, get advice on your grad school applications, and get the inside scoop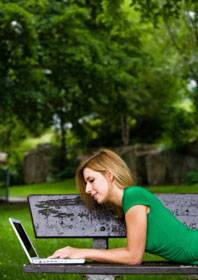 on programs from current and former students. Follow these Twitter users as part of your GMAT, GRE, and grad school preparation!
@GMAT_club Updates posted hourly from GMAT Club's forum. An open discussion on general GMAT study topics and info on B-school deadlines.
@2minuteGMAT The Official Twitter of 2minuteGMAT.com. Free giveaways every Tuesday and reliable GMAT advice.
@Grockit Grockit is one of the most fun and engaging ways to prep for the GMAT and GRE, and this is the official Twitter of this popular online studying tool. Frequent updates and links to the Grockit blogs.
@VeritasPrep The official Twitter account of this GMAT prep and consulting company. Links to many excellent GMAT blog articles covering admission and content.
@LearnistTweets The official handle of educational powerhouse Learnist, it features not only a wealth of GRE and GMAT study material culled from all over the Web but also curates monthly #learnchats on a variety of topics.
Also a rabid Facebooker? Here's some helpful Facebook apps to help you explore the integration of Facebook in the classroom!
Flashcards Exactly what it sounds like, this app will allow you to create flashcards on any subject. Perfect for teachers tocreate and share, or for students who are tired of carrying around bulky packs of index cards.
QuizMonster Teachers and students can create their own quizzes and invite students to join. Assigned five chapters of a law book to read? Create your own 30-question quiz on the reading, and invite other students to take it.
Language Exchange Having a hard time with French or Spanish? Want to get more practice outside of the classroom? This app helps connect students worldwide; find a partner who is fluent in your language of choice to improve that verb conjugation!
Dictionary.com Word of the Day Build your vocabulary by signing up for this app, and learn a new word each day!
ClassNotes A great place to share visual notes. Put up photos of diagrams, board snapshots, or homework assignments.