Students at colleges and universities seeking more interesting options than the basic reading, writing, and arithmetic courses are in luck. Several schools continue to explore innovative topics to boost their curriculum inside and outside of the traditional classroom.
Special terms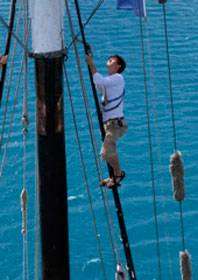 Some schools divide their courses into semesters, but also offer a shortened one-month term as well for students to take specially designed classes offering unique experiences. Those enrolled in the Ocean Classroom Explorations course during Birmingham-Southern College's Exploration Term will learn how to successfully navigate a genuine tall ship across the Caribbean. Along the trip, lead by professor of physics Duane Pontius, students also stop at some of the most interesting natural wonders in the region, including the Valley of Desolation and Boiling Lake on Dominica.
"We sail to places that you don't go to as tourists," Pontius says. "It's a grueling pace while we're out there but I haven't heard any students say they regretted their decision to go."
Students at Eckerd College will head even further south this January during their winter term to understand the natural history of the Galapagos Islands and Ecuador. This course includes camping in the Amazon rain forest, hiking through the highland cloud forest, and snorkeling in the Galapagos Islands, where Darwin developed his theories on the origin of species.
Undoubtedly, students who participate in these trips will have a happy experience, and others at Otterbein University will be better prepared to explain exactly why. During their J-Term (January Term), Otterbein will offer Happiness and the Good Life to examine what it means to lead a happy life and how human beings can achieve that for themselves. The course will address the connection to happiness to leading a life of meaning, recent scientific breakthroughs, medieval and modern philosophers, Buddhist-inspired approaches, and importance of ethics.
Ghoulish guide
Just because something isn't real doesn't mean that you can't study it. Take John Ulrich, professor of English at Mansfield University for example. His course Monsters in Literature and Film examines the history of monsters from Beowulf to zombies, Frankenstein, and others to illustrate how they express society's concerns, hopes, and fears.
Further diving into the dark side of life, Lebanon Valley College students enrolled in Evil will discuss themes and questions in regards to religious experiences. The course filled up almost immediately the first time it was offered by Matthew Sayers, assistant professor of religion.
"I want to challenge students. I want to ask them what they know in order to figure out their own way of looking at evil," says Sayers. The course will discuss the problems of evil, why it happens, and how people respond to it.
Artificial intelligence
York College of Pennsylvania students will try to expand their own intelligence by studying artificial intelligence and robots. The interdisciplinary course will look at the history, culture, and philosophical implications of robots in film and real life.
"Sociable robots are now being used in settings such as nursing homes and schools, and I'm interested in the complex relationship between human beings and robots," says Dennis Weiss, professor of philosophy. "Robots are getting a lot more attention in terms of ethical implications, as they are also employed in battlefield situations."
The students will watch science fiction films such as The Stepford Wives and A.I., and learn about the cultural, metaphysical, and ethical questions robots raise.
Students like reading
A major criticism of college students is that they don't like to read. But the issue might not be that they don't like to read, but instead of what they don't like to read. Meredith College students clearly enjoy reading, as the Young Adult Literature course boasts a long waitlist every time it has been offered since 2010.
"Young adult literature books are so accessible. What I really love is people come into the class with an innate confidence that they will understand it," says associate professor of English Kelly Morris Roberts. "Young adult literature is meant to be read by a range of reading levels. These books can be digested as a whole, read, and enjoyed."
Special thanks to Jeff Canning at Dick Jones Communications for this story.