Finals week at Central Michigan University had an interesting start this year, complete with skeletal remains, yellow police tape, and a crime scene investigation.
But there was no sign of David Caruso on the CMU campus, donning sunglasses or dramatically pausing between one-liners (followed by the customary, piercing cry of The Who's "Won't Get Fooled Again"). Instead, 39 students were sent in to survey the scene. Their job: excavate the area, analyze the evidence, and pass their final exam.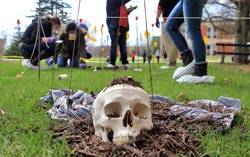 The crime scene—simulated, of course—was part of ANT 342: Principles of Forensic Anthropology, taught by Assistant Professor of Anthropology Cathy Willermet. Her class spent the spring semester learning the fundamentals of the field: bone identification, types of trauma, and stages of body decay, as well as search procedures, evidence recovery, and established protocols that forensic anthropologists must follow when aiding law enforcement agencies in investigations. Their studies culminated in this final project: a crime scene lab where students worked in teams and applied their knowledge in a practical field environment.
"Forensic anthropologists don't usually solve crimes, contra what you see on TV," says Dr. Willermet. Their role is to "recover evidence in archaeological context—search and recovery—and/or identify the unknown victim from skeletal clues."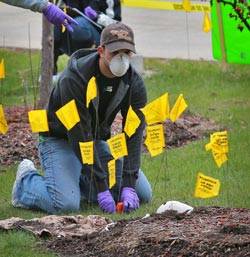 In planning the mock crime scene, "I envision a scenario that involves deaths of several people in the woods," explains Willermet. "Then I collect evidence—and red herrings—that would support law enforcement in solving the crime, both in identifying victims and in suggesting a motive."
On April 25, the lawn outside of Anspach Hall, which houses CMU's Department of Sociology, Anthropology, and Social Work, was strewn with plastic skeleton parts, clothing, weaponry, animal bones, and other miscellaneous items that served both as evidence and misleading clues.
Students were split into groups of four and assigned an area of the interconnected scene to focus on. Each team member had a unique job:
The mapper drew aerial plans and profile maps of the site, in addition to measuring and sketching the evidence and landscape.
The recorder wrote chronological records of the entire excavation, maintained evidence logs and chain of custody forms, and labeled evidence.
The photographer captured visual records of the evidence and the crime scene.
The excavator uncovered and collected all evidence in bags and also wrote the summary report, in which the teams proposed what they thought might have happened at the scene.
After applying lessons learned in class to the investigation, each team presented their findings on May 5 before Dr. Willermet revealed the precise chain of events. The students were graded on a number of factors, from the accuracy and completeness of their documentation and case files to their ability to work as a team, as well as a reflective essay. "They are not graded on whether they got the scenario right or not," Willermet said. "They're not solving the case; rather, they're recovering the evidence and suggesting lines of inquiry."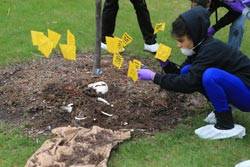 Students appreciated the opportunity for a hands-on testing experience as opposed to taking a more traditional final exam in class. "It is one thing to learn about the steps involved in something like an excavation, but it is quite another to be thrown into the situation in the 'real world' and apply what you learned in the classroom," says sophomore anthropology student Andrea Ost.
Practical experience like this will be helpful when students apply for jobs and internships, according to Willermet. It is also a good way for future forensic anthropologists to "work out the bugs." The practicum allowed students to get a feel for field (and paper) work, ask questions, and make mistakes—ones that wouldn't fly at the scene of an actual murder. "Even as we were taking [the exam], we as students were learning," says Ost.
This style of test taking is not only valuable and realistic; it is also exciting and fun, according to many of Willermet's students. "It made taking the exam seem like something I wanted to do," says sophomore Susan Currier, "not just something that was required of me.