When I entered college, one major difference for me was that I would have to start buying my own textbooks instead of the school loaning them to me, as was the usual all throughout my years in the public school system. According to the College Board, for the 2014–2015 school year, books and supplies on average cost around $1,225 for public, four-year in-state students and $1,244 for private, four-year in-state students. For someone who has never ever spent a dime on school books before, paying over $1,200 dollars on books that I would probably only read for a semester or year did not appeal to me whatsoever! Thankfully, I researched tips on how to save an enormous amount of money on textbooks and ended up spending only around $200 at most per semester for books and supplies. Below are some textbook hacks I've been—and plan to continue!—using throughout college. I hope you find them helpful too.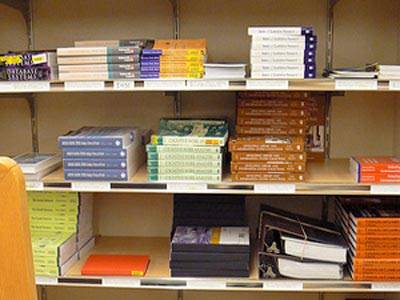 1. Use textbook price comparison websites
Websites that compare textbooks from various online retailers allow you to look up the book via the ISBN, author, or title. There are several search sites to use, but some popular ones are SlugBooks, Textsurf, and BookFinder. These sites compile data from popular sellers such as Amazon and list the sellers' prices from least to most expensive. They also show you the cheapest places to rent the textbook if you don't wish to purchase it. Often the prices show that renting the textbook is significantly cheaper than buying, but before you hit that button to rent, consider my next tip . . .
2. Instead of renting, buy the textbook to sell back later
If you rent the book, you will be unable to sell it later and will have no opportunity to gain any money back; it becomes a sunk cost. If you buy the book using a textbook price comparison site, there is at least a chance that you can sell the book later and get a portion of your money back. If the book is in good condition, many sites like Amazon and Barnes & Noble will actually buy it back to re-sell later. If you are lucky, more popular textbooks can be sold back for almost the same amount as you bought it. For example, I bought my calculus book used off of Amazon from a private seller for about $70, and sold it back to Amazon after the semester for about $60. That's a net loss of $10, and $10 for a college textbook is not bad at all!
3. If you shop online for textbooks, go through a website that gives cash back, such as Ebates
Ebates is a shopping cash back site that gives you a percentage of cash back for qualifying purchases online. It is free to sign up, and all you do is click on the qualifying site you wish to buy your textbook from, and you will earn free cash for shopping; the more you buy, the more cash back you could potentially get. Seriously. And I promise I'm not being sponsored by them. Since I usually buy my textbooks from Amazon, I almost always go through Ebates because Amazon is a cash back partner with them. You probably won't be getting hundreds of dollars back by just buying school books, but every little bit helps.
4. Consider cheaper testbook alternatives
It is much cheaper to buy the e-book version of a textbook as a PDF for your computer, Kindle, or iPad. Personally, I prefer to study with a tangible book in front of me so I don't get tempted to browse the Internet on my electronic devices, but if saving money is really important to you, perhaps opt for the e-version. You can also consider buying the older version of the textbook, which is usually cheaper than the current one and not much different; the only thing to be aware of is that sometimes publishers do update the content between different versions, but they often only change the design and format of the book. (Which is malarkey, but that's a post for another time.
5. Generally, wait until you go to class before you purchase your books
Unless you're explicitly told to get the book and do readings before class starts (yuck), I recommend waiting until you go to the first class and receive the syllabus before buying all required readings. That's what I do. For many of the humanities classes, you will be required to read several individual books rather than traditional textbooks. Many of these books can be found online for free, or sections of the book may be uploaded onto educational databases. When you receive the syllabus, you might even find you are only reading a few chapters of the book, so you may find it more cost efficient to share with a trusted friend or borrow from the campus library (they often keep a copy of every textbook required for that semester on hand, though you might have to fight people for it if they don't have many to share!). Having the syllabus in front of you also allows you to see when you will be reading the different books, so you can space out when you buy your textbooks if you are worried about spending a lot of money all at once. The only problem with waiting until the first day of class is that sometimes you will be required to read one of the books right away, and you might not be able to get the book in time if you order last minute. If you are really worried about this issue, I would advise e-mailing the professor before the class asking which book you will be reading first; they will appreciate your responsibility—and probably remember your name!