Wise words from a student who thought she had her major—and her future—all figured out. Then she arrived on campus, and . . . NSM.
"So what do you want to major in?"
"Where do you see yourself in 10 years?"
"What kind of programs are you looking for in a college?"
No matter how the question is worded, it still asks the impossible: for students around the tender age of 16 to decide how they want the rest of their lives to play out. Because choosing your major (or, alternatively, not choosing) is a cornerstone of the college admission process, a decision that affects almost every other factor in your college search: location, reputation, department strength, and so on.
I went into the application process as an international studies major. I had done Model UN in middle and high school, I loved English and history, and the humanities just came easier to me than the sciences did. So after looking at the vast (vast, vast, vast) array of major options available to me, I decided that international studies (or, alternatively, international affairs or international relations) was the perfect major for me. I applied to Johns Hopkins and was accepted, and I enrolled as a pre-major in the Krieger School of Arts and Sciences.
Soon freshman move-in day rolled around, and as part of our Orientation Week, all of the Hopkins departments offered open houses where students could interact with professors and learn more about majors that interested them. Full of anticipation, I made the seven-minute trek to the auditorium where the international studies information session was being held and sat down next to some people I knew from my dorm.
Within the first 20 minutes of the presentation, however, my certainty of my international studies degree was shaken to the core. I realized for the first time just how broad my major was, and I wondered whether or not this lack of focus would help or hurt me. I was put off by how theoretical the subject matter seemed to be; most of the major centered on broad political theories as opposed to current, real-world issues. I didn't particularly enjoy the lack of quantitative elements to the major either; I loved to read, but I liked math too, and I didn't know how I was going to survive four years of college if numbers were removed from my life. And in one moment of clarity, I also realized I had no specific reason for majoring in international studies—besides my love for writing and history, I had no personal affection for the subject.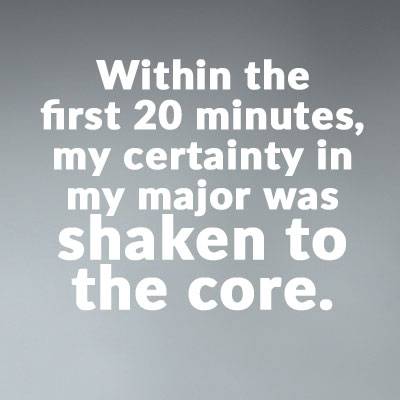 I was back to square one, and I felt my throat constrict with panic. It's a terrifying experience to realize that you don't have a plan for the future. But what I didn't realize was that everyone goes through it at some point, and my school was ready for just this situation.
You see, all freshmen at Hopkins enroll as pre-majors in either the Krieger School of Arts and Sciences or the Whiting School of Engineering. For the first year, they are not allowed to declare a major but instead are encouraged to fulfill "distributional requirements" (courses in areas outside of their chosen major). While many students take these courses simply to be able to graduate, the true targets of this system are students like me and so many others—students who don't have a solid plan, students who aren't sure what to major in, students whose well-roundedness make specialization difficult. I had a full year to decide what to change my major to, and the variety of classes offered by Johns Hopkins offered me plenty of options.
Nonetheless, I was too stubborn to give up on my international studies major that quickly. I told myself that I'd try out the major, take some intro classes, see if it was right for me, and then decide. But I made sure to sprinkle my schedule with some other class choices that allowed me to explore different majors. So in addition to the intro international studies course, expository writing, and my first-year language, I enrolled in Introduction to Environmental Engineering and Honors Multivariable Calculus. As it turns out, that was one of the best decisions I ever made.
By taking such a diverse course load, I've found that while my love for history and writing still burns, I'm interested in other subjects too. I've learned that even though a poignant Dickens passage can bring tears to my eyes, I still crave the logic and certainty of mathematics. Even though I am fascinated by World War II analyses, sometimes I just need to immerse myself in chemistry to recharge. (Ha! Get it?!) And while I am still thinking about switching out of international studies, I no longer feel panicked, because I know that in terms of my interests, I have options and time to decide.
Whenever I discuss my classes with other students on campus, I find the diverse structure of my schedule is actually something of an anomaly. Not many people are taking such a vast array of courses; rather, most are already focusing on their major, loading their schedule with intro courses and diversifying their schedule only as much as they need to fulfill distributional requirements. Particularly at highly selective schools, many students come into college having a fairly good idea of what they want the rest of their lives to look like. They view college as a stepping-stone, a means to mold their futures into that ideal. And there's nothing wrong with that. I envy the students who are sure, who know what they want to do and are fully prepared for eventually achieving their dreams. But not everyone is like that—and that's okay. And even among the students who were decisive in the beginning, many end up changing their minds.
So when you're staring at that long list of college courses, keep in mind that you're only 17 (or 18 or 19). Realize that you're on the brink of your adult life, with the whole world stretched in front of you, and that you only get this one chance to discover who you are. And remember that however sure you are of your path, no one knows what the future holds. You may change your mind and choose to pursue something different entirely. Take the time to explore, to experiment, to grow— because in reality, that's what college is truly about.