Your dorm should be a haven. You'll be spending a considerable amount of time there, and though it's but a temporary home that will be lived in for less than a year, your space should reflect yourself. The way others perceive you doesn't just depend on your interactions but also your space and artifacts. So despite seeming like a silly thing to spend your time on in the midst of studying for exams and working to build a future, the level of effort you put into making your dorm a home away from home does matter!
When looking to decorate your dorm, inspiration can be easily found. Pinterest and Etsy are excellent resources for culminating ideas for crafts, while Instagram and Tumblr are also worthy sites in the search for creative bliss. Projects can range from as small as picture frames to as big as wall-sized lighting setups and can be copied or simply used as a springboard to adapt your own ideas.
"I like to see what all my friends are making for their rooms and get ideas from the Internet," said Gonzaga sophomore Kelsey Forman. "I know what I like, and then I make it my own."
Forman loves to craft in her free time and explained that it is an easy artistic outlet that doesn't require much planning in advance. Her creative skills also extend to knitting clothing such as hats and scarves and making bracelets and key chains on her loom.
"If I'm all caught up on homework, I'll reward myself by doing these things," Forman said. This year Forman has made a range of crafts from door decs to painted jars to wall art made from coasters and fabric from Joanne's.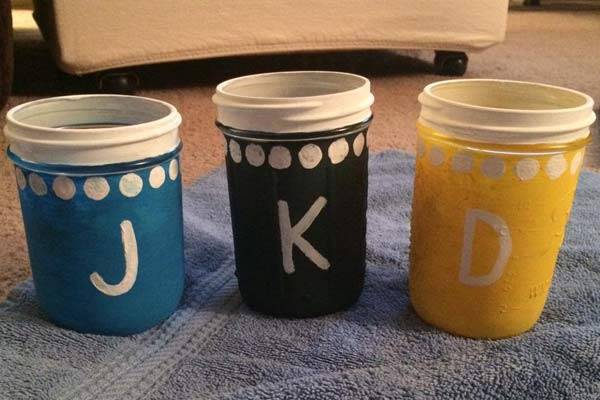 Decorating is all about aesthetic; you don't have to plaster every inch of your wall in order to decorate your dorm. Gabrielle Herron, a freshman at Northwest Christian University in Eugene, Oregon, decorated her room and documented it on Instagram. She tagged the official Urban Outfitters account, which frequently posts flat-lay fashion, nature, and decorations that exhibit young style. Urban Outfitters reposted Gabrielle's photo to their 3.8 million followers, and it currently has over 112,000 likes.
"I thought it was both exciting and funny. I think it's interesting that potentially 75,000 people could copy my room," Gabrielle said, referring to the number of likes her photo had received at the time of this interview. She said she spent $35 on the wall art she bought and the pieces she made, with everything in the photo totaling to only $100.
Personalizing your space on a budget can start with store-bought items used in unique ways, such as hanging Christmas lights to spell out words. Photo collages can also be displayed to remind you of your favorite memories and show off your creativity. Artistic vision doesn't need to be confined to the wall, as typical objects such as mirrors, bookshelves, and cabinets can be decorated in non-permanent ways that reflect your personality as well.
College students are definitely not the demographic known for having an abundance of spending money lying around. Money goes to tuition first, then to essentials, and then the comforts of life can be considered. DIY dorm crafts can be dazzling alternatives to store-bought decorations and can be quite functional.
"I try not to spend a lot of money. For example, I got fabric from Joanne's but waited until I had a coupon and only spent $10 for the curtain panel," said Zoe Herron, older sister of Gabrielle Herron. She has made her own curtains and lighting, a travel-themed wall collage, a decorative board for her side table, and magnets for her room. Zoe created these Pacific Northwest–themed magnets for only a few dollars from Mod Podge, magazine cutouts, and glass dome magnets.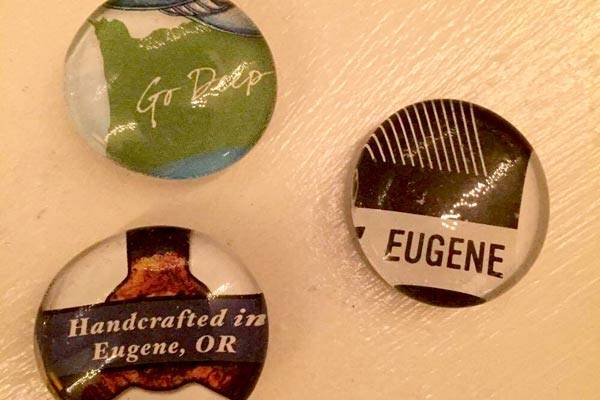 Sometimes decorative dorm crafts don't cost anything at all. This decorative side table board Zoe created was a found-craft piece, consisting only of a board, some glue, and Scrabble pieces to spell out her name.
"Last year my roommate and I were going to throw garbage out, and we found this big picture frame made out of wood. And I took it out of the trash and painted it, and so it was like free crafts," Forman said.
Lastly, DIY dorm crafts can be fun just for the sake of making them. Zoe's favorite part of crafting is "the satisfaction of knowing that you made something you tailored to what your needs are and what you like. If you bought it, it wouldn't have been as personal."
Want to show off your hard work, DIY-ers? Tweet a pic of your own dorm room craft and tag us @CollegeXpress!