If you're currently in the midst of studying for or taking your finals, you're likely especially aware of your sleep patterns this week. If you're used to hitting the hay early and rising with the sun, a few late night cram sessions can really take their toll. And if you normally stay up late, getting up early to hit the library can leave you feeling like a zombie. It's exhausting.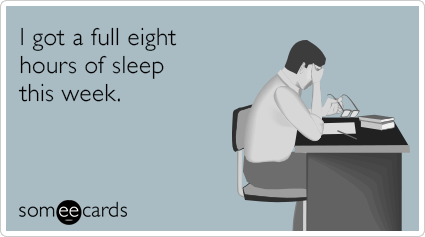 You may think that being an early bird or a night owl is nothing more than a matter of personal preference, but as it turns out, your sleeping habits are actually due in large part to genetics, and they can reveal a great deal about you. A new video by AsapSCIENCE, a YouTube series that offers a "weekly dose of fun an interesting science," takes a fascinating look at the science of sleep preferences and concludes that the early bird doesn't necessarily get the worm.
According to the video, early birds tend to be more proactive and optimistic and, in turn, they often tend to perform better in school. Night owls, on the other hand, can suffer from something called "social jetlag" when required to wake up and engage in social interactions before they've had enough sleep. For night owls in college, that can translate into lower grades. Early birds are also less prone to depression and addiction than night owls because their brains are wired differently.
It's not all bad news for night owls, however. Though they may be less proactive, they tend to be more creative than early birds and are able to maintain a higher level of energy later on in the day, when early birds are starting to crash. Night owls also tend to take more risks than early birds, which can lead to success in their careers.
Earlier this year, a study conducted by the University of Barcelona reached similar conclusions. Those researchers found that early birds tend to be more persistent and resistant to fatigue and stress, while night owls tend to be more extravagant, temperamental, and impulsive.
Watch AsapSCIENCE's video below to learn more about the science of early birds and night owls, and next time your "morning person" roommate is acting a little too chipper for your night owl proclivities, take comfort in the fact that you both have your own unique strengths—and you both hate finals equally.