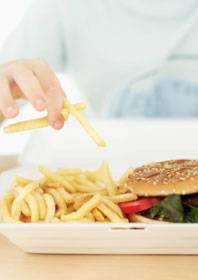 Confession time: I love food. I gained the freshman 15 faster than you can say banana sundae. But how could any new college student not gain weight? With the simple swipe of a card, you have access to a copious amount of snacks, meals, drinks—you name it. Why choose a bowl of lettuce and carrots when you can have a bacon burger, fries, and a caramel pecan brownie topped with 30 scoops of ice cream?
I'm not alone in the desire to consume delicious culinary creations, though. One of my favorite characters, Liz Lemon on 30 Rock, often discusses her passion for hard cheese. Remember Keenan and Kel? Kel loooooved orange soda. Even Winnie the Pooh would drop whatever important task he was tackling for some honey. These characters are but fictitious examples that accurately show the obsession we have with food.
So one day, as I sat in my cubicle with a rumbling stomach, I had an inconceivable craving for a college cafeteria staple: tater tots. I suddenly longed to drive the eight-hour trek to Pennsylvania just to fill my plate with the crispy, fried, potato-y paradise that we all know as tater tots. But that got me thinking . . . what are some of the all-time favorite college foods? I embarked on a quest to find out, and solicited friends, family, and strangers to confess their favorite college cafeteria cuisine.
Please note: If you're looking for tips on how to find healthy food at college, I highly suggest you direct yourself elsewhere. Simply reading this might clog your arteries.
I was able to compile these favorite foods into four categories.
Breakfast
Tater tots are one of my favorites, and they were for another coworker as well. But what takes the cake during breakfast/brunch are the French toast sticks. Never experienced French toast sticks? Just imagine French toast that you can hold in your hand and dip in syrup. There's no bread-cutting involved, creating a streamlined transition from plate to mouth.
And of course, who could forget the waffle maker that's found in almost every college cafeteria? You know you all loved overflowing it with batter and, thus, creating little waffle stalagmites. Custom omelets were another favorite, enabling you to add as much ham, cheese, and veggies as you want (or don't want). But let's be honest: who needs veggies when you can have bacon?
Chicken
Roughly 60% of the feedback I received involved some sort of chicken, which is why the revered poultry gets its own category. A former newspaper colleague brought back my distant memories of Penn State's chicken cosmo, a chicken sandwich with a cult following that was officially taken off the menu in 2008. Chicken fingers were a popular response, and more so, chicken finger wraps seem to be a favorite. To take a direct quote from my cousin, "Fried chicken wrap with lots of ranch babyyyyyy. Maybe add a sprinkle of lettuce for color." Veggies for nutrients? Unnecessary. They're just added for pizazz.
Dessert
Life is short: eat dessert first. It's easy to live by this if you're at school. One food that was mentioned often was ice cream. Think about it: in high school, you had to sneak into the freezer and take slow scoops from a carton so your parents didn't notice. But college? You had a soft serve machine at your beck and call, and as a coworker said, "More jimmies than you could handle." You could even go all out, as a friend did, and put ice cream on your waffles. Sorry Folger's, the best part of waking up ain't coffee.
And don't forget the cookies: Penn State's West Halls cafeteria is famous for their soft, gooey chocolate chip cookies—and I don't exaggerate when I say famous: there's a Facebook page for the delectable dessert.
Fried food
Everything is better when it's fried: cheese, chicken, vegetables, socks—seriously, everything. One Twitter user suggested spicy curly fries with ranch dressing. One of the healthier suggestions was the ever-popular stir-fry, where you could pick your own veggies, meat, and sauce. But heck with healthy: graduates wanted to divulge in other fried treats like mozzarella sticks, grilled cheese, paninis, and for those lucky few college campuses, Pokey Sticks from Gumby's Pizza.
In a future entry, I'll discuss the best ways for college students to burn off all these calories. Until then, grab your tray, stack it high with some cafeteria food, and add any more favorites in the comments section!