College is a place of growth, new experience, and development. Generally speaking, though, it is best to go into college with a "clean slate"—to enter with as few preconceptions, biases, and assumptions as possible about the path your college career will take. Juxtaposed with the constant repetition of high school and elementary school, college is a fresh start that ought to be embraced.
With that considered, there are limitations as to just how much students can immerse themselves in college life without a few guiding principles. New experiences often thrust us into new challenges, and while a critical point in the maturation process is learning how to excel in difficult times, the risk of failure can often be overwhelming.
Here are a few things that you should enter college with, from the pragmatic to the psychological:
Bring proper clothes
You don't want to be that person wearing shorts in freezing cold weather or the one without boots in a snowstorm. Likewise, make sure that you have the proper clothes for interviews and job fairs; though you probably will not need a suit, you should have a few "business casual" outfits (dressier slacks, skirts, button-down shirts, sweaters, shoes, etc.), as you may need them for other events like class presentations.
Get a good meal plan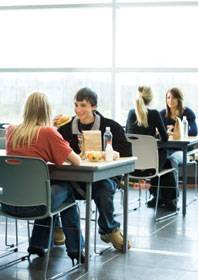 Maintaining a healthy weight can be difficult; if your first-year budget doesn't allow for proper meals, you may be lead to overcompensation and overeating later. It may make the most sense—both economically and health wise—to enroll in a campus meal plan, and you should certainly take advantage of a meal plan if you are required to have one. Try to assess your eating habits too. There's no need to get the 28-meals-per-week plan if you typically skip breakfast (though you should probably not skip breakfast . . .). Conversely, you don't want to opt for a scant meal package and run out of meals each week.
Keep your room organized
This may be the first time you are handling important documents, from scholarship applications to things like your birth certificate. Losing them or seeing them tarnished would be another serious problem that would do little to convince mom and dad you are doing well.
Make a calendar
If you are properly taking advantage of all that a college has to offer—and there is quite a lot—then you will likely find yourself with more activities than there are hours in a day. It's time to use those time-management skills! Just telling yourself that you'll finish homework on weekends is not good enough and is an especially poor habit as the years pass and classes get more difficult. The rule of thumb is to devote three hours of study for every one credit hour; this varies greatly from person to person and class to class, but chances are very likely you will devote a substantial amount of time to classwork. If you make an actual calendar (paper or online), you can set aside blocks for classes, homework/studying, extracurriculars, and work, if applicable. This will also allow you to plan ahead for big tests and projects. Looking at the finished calendar, you may be scared of your jam-packed weekdays—but staying on top of these commitments during the week means you'll have even more time on the weekends for that other important facet of college: your social life.
Ask for help
You're attending classes, you're putting in the effort, but things still aren't clicking in that calculus course. Professors hold office hours for a reason, so be sure to visit them if you're struggling in class. Additionally, nearly every college has a writing center, a math center, and/or general tutoring. And finally, you will likely find friends or classmates that are skilled enough to give you assistance with homework assignments and projects if you need it.
Take every class seriously
Let me say that again: take every class seriously! Each course you take—truly, every single class, period—represents hundreds of dollars. Missing them and/or not applying yourself is simply wasteful. Besides, before you start accumulating real-world experience, your academic record is one of the only things by which you may be judged, and you don't want to kill a chance at a great internship, grad program, or law/med school just because you blew off English 101.