There's plenty of advice out there for decorating dorms—most of it directed toward women. Not much is said about creating a modern dorm space for a young man to live in while he is in college. I'm going to help change that.
Gentlemen, you're in college now. You don't want to be sleeping in another (more cramped) version of your childhood bedroom. And since you're going to be spending a lot of time in your dorm, it's important to furnish and decorate it in a manner that makes you feel comfortable and mature. Whether it's a big room you share with three people or a roomy single, the space is what you make of it. It can be a sloppy place where you simply come to sleep, or it can be a cool space where you actually like spending your leisure and study hours.
Your bed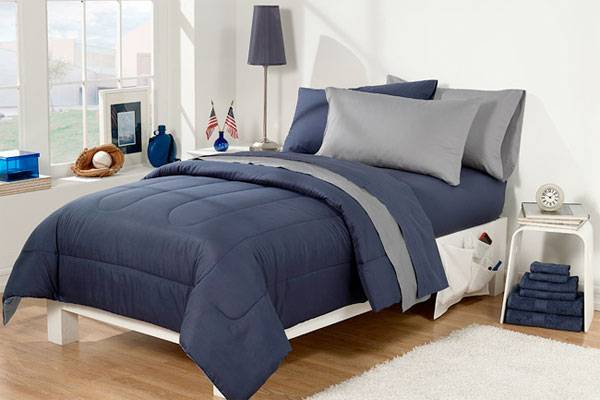 When it comes to decorating your dorm, I would start with the bed, the fundamental piece of any dorm. Taken alone it is probably a frumpy twin XL mattress, but with some inexpensive but nice solid grey sheets, like these, and a simple navy comforter, the bed can look modern. And if you really want to up your game, you can get some extra pillows to lay along the wall edge (assuming your dorm bed is against a wall), so it also acts like a couch.
Your desk
The next essential aspect of any dorm room is the desk. Every desk must have a few of things on it: A small lamp for late-night studying (like this one). A cup with a selection of good pens (my favorites are the Uni-ball Signos). Notebooks (Moleskines are the best). And, of course, a laptop with a nice keyboard and mouse. Everything else is negotiable.
Be mindful when you are selecting a laptop to choose something that is light and portable, with solid battery life. But also remember you will be typing on this thing for at least four years, so you need to pick something you can stand to stare at for at least that long. If you are a Mac person, I recommend the Macbook Pro 13" with Retina Display. If you use Windows, try the Dell XPS 13 or the Razer Blade Stealth. I would also suggest that you invest in a laptop stand. Not only will this provide a better angle look at your computer it will also free up much needed desk space. If you do chose to use a laptop stand, you will also need a keyboard (I like the Apple Magic Keyboard or the Logitech K810) and a mouse (I like the Logitech m705).
Your space
But your dorm is more than just a desk and a bed. It is important to create a unique and inviting space. The easiest way to do this is to upgrade basic things you would normally need. (Don't just pack a bunch of stuff—you don't have a lot of space as it is.) Instead of posters of your favorite band, celebrity, or car, why not a framed picture or canvas print? Instead of those clear plastic Rubbermaid storage boxes under your bed, why not a steamer trunk, which can also be rolled out and used as a makeshift coffee table or foot and/or popcorn rest for Netflix nights? Instead of stepping on the dull carpet or cold laminate floor, why not lay down a patterned area rug? (It's way nicer on your feet.)
Decorating your dorm is a chance to show your personality. For example, if you love music, you could have a record player and a couple of vinyl albums. If you are more of a reader, you could stack your favorite books on a shelf or bookcase. If you love art or photography, you can display your work in frames or small canvas prints on the walls.
A dorm room is supposed to more than four walls and a bed. It is a space for growth, learning, and, yes, style.