If you're about to graduate from college, get ready to hear advice—lots of advice—from your family to whatever fancy commencement speaker your school has lined up. Some of it will be funny, some poignant, some unsolicited, some invaluable . . . some obnoxious. But there's a reason why people (adults who have been around the block, so to speak) are so eager to give you this advice: you're about to face a big transition, and you're probably going to need the help.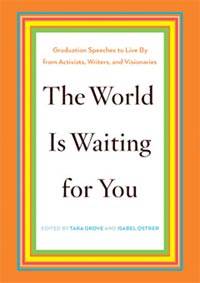 Recent Harvard grad Isabel Ostrer found she needed some words of encouragement after leaving college, and she drew inspiration from the commencement speeches of some of the world's greatest visionaries and activists. She was so inspired she co-edited a book about those speeches. And so inspired she wanted to share some of her favorites with you.
I am always anticipating my next move in life. When I was in high school, I couldn't wait to start college. A year or two into college, I couldn't wait to get out into the "real world" and learn how to be a "grownup," which at the time meant getting a job and paying my own rent, tasks I was shielded from in my college bubble. Needless to say, I was totally clueless about what life in the real world is really like. Despite my cluelessness, I did have big hopes for the impact I was going to have on the world. Throughout my college years, it was impossible to escape headlines about surging rates of homelessness in my own backyard, a plague of mass incarceration in the United States, Ebola tearing apart communities, and climate change overrunning our planet. In a world that seemed to be falling apart, I felt a moral obligation to make some type of positive impact. While I was able to conceive of the large-scale problems affecting my community, our society, and the planet more broadly, it was challenging to know where to begin to make positive change.
Advice from writer Isabel Wilkerson resonated with me deeply. She spoke the encouraging words, "No matter what course your life takes, there is but one thing that you absolutely must do before you leave this planet. You must make it a better place than it was before you got here. You must leave this world a better place than it would have been if you had not existed, fortunately or unfortunately, that is actually not as difficult a task as it sounds. Wars, poverty, inequality, intolerance, child abuse, climate change, sickness, disease, social injustice—there are so many challenges that we face, the world needs you now more than ever." I agree whole-heartedly with Wikerson's sentiment. It is my generation's turn to do something, anything, to leave the world slightly better than we found it.
My grand dream of creating positive impact was somewhat frustrated when it came time to look for a job. What was I, with little experience, qualified to do? What real change could I effect? It was at this point in my journey into the "real world" that I came across Marian Edelman's words. "Take care and pride in your work and take the initiative in creating your own opportunity. And don't wait around for other people to discover you, or do you a favor. Don't assume a door is closed . . . and if it is closed today, don't assume it's closed tomorrow. Keep pushing on it." Her example as a young woman of color growing up in the South and as the first African American woman admitted to the Mississippi Bar is profound. I distilled her advice down to a simple message: Do not give up. Do not take no for an answer. Be persistent. Through any challenges that I encounter I try to channel her voice and keep pushing and striving to be better, do better, and achieve better.
In the months since I graduated from college I have never experienced a more intense emotional roller coaster. I left behind a community in which I had a strong support system: I had dedicated friends, teachers, and advisors who were there for me at every turn, and my time was occupied with intellectually rigorous classes and inspiring conversations, not to mention a full social calendar. My transition into the real world has been lonely and challenging. My twin sister and I are living in separate cities for the first time in my life. I live with strangers. Being on my own is daunting, but at times like these Anna Quindlen's advice reassures me: "Live each moment as though it might be the first . . . throw your arms wide to the new, the unexplored, even to that of which you may be afraid." As a recent college graduate I am afraid of the daunting tasks ahead of me: developing a career, forming new relationships and building a life for myself. But as she continues, "Don't cave to the status quo. Don't trade happiness for deferred gratification. Don't give up adventure for safety and security. The safe is the enemy of the satisfying," I draw inspiration. As difficult as transitioning into the real world may be, this is my moment to explore, to challenge myself, and to strive for adventure.
Finally, Cecile Richard's words are ones that stick with me and encourage me on a daily basis. Paying rent and other tasks that college-Isabel thought would be difficult proved to be the simple part of transitioning into real life. The communities that encouraged me to think critically and strive for change are sorely lacking in my "real world" life. I no longer have a seminar in which to discuss how to tackle basic social inequalities, and I no longer have friends and classmates who are all striving towards a similar goal of effecting positive change. Richards' words, "Life as an activist, troublemaker, agitator, is a tremendous option and one I recommend highly," give me the courage to know I can and will continue on my path towards change. The world is waiting for my generation, waiting for us to remake our communities, country, and all other nations stronger and smarter, and I am here, still anticipating my next move, and striving to contribute to that change.